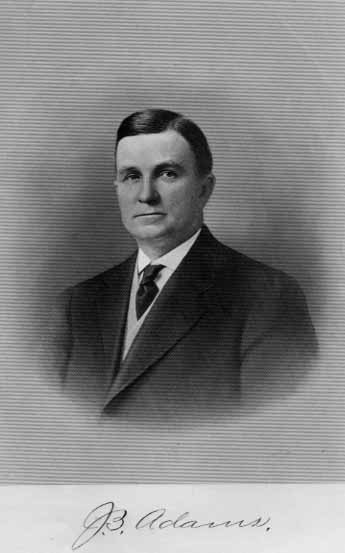 John Bunyan Adams.—To the citizens of the State of Kansas Mr. Adams is favorably known, through his service in connection with the work of its legislature, of which, for six years, he was a member; as a prominent and influential member of the Republican party, chairman of its State Convention, in 1904, and acclaimed by many as of Congressional timber. To the banking fraternity he is known as one of the most progressive, capable, and successful men in the Kansas field of finance, and to the residents of Butler county he is known as one of her native sons, who, through well directed effort, untiring energy, honesty and cleanliness in his business, political, and social relations, has achieved well deserved honor and position as well as great personal popularity.
John Bunyan Adams was born on his father's farm, near Potwin, Butler county, Kansas, March 25, 1873, son of Amos and Nancy M. (Cain) Adams, member of old and honored American families. The Adams family was founded in America by Joshua Adams, who immigrated to Massachusetts colony from England, in 1660, and settled in Braintree. The family has been representative of the best in citizenship, and its sons fought in the French and Indian, the Revolutionary and the Civil wars, and have been active factors in the growth and development from a pioneer standpoint of Massachusetts, Maryland, Vermont, Illinois and Kansas. William Adams, the grandfather of John B. Adams, was a native of Hagerstown, Md., who came as a pioneer to Fulton county, Illinois, in 1835, and there became a successful farmer and a citizen of influence. His brother, Joseph Adams, came to Kansas, in 1859, and settled three miles north of Potwin, Butler county, where he was a pioneer and achieved success in his pursuits. Amos Adams, son of William Adams and father of John B., was born in Vermont, Fulton county, Illinois, Feb. 25, 1843. He served as a soldier in the Civil war, being a member of Company D, One Hundred and Fifty-first Illinois infantry. This regiment was organized at Quincy, Ill., and was mustered into the United States service, Feb. 23, 1865, for one year. It was mustered out at Springfield, Ill., Feb. 8, 1866. Shortly after his discharge Mr. Adams came to Butler county, Kansas, where his uncle, Joseph Adams, had resided since 1859. He took up a homestead, near Potwin, and engaged in farming. During a residence of forty years in Butler county, Mr. Adams was a potent factor in many phases of her growth and development. He acquired extensive holdings in choice farm land, banking interests of value, improved business and residence property, both in Potwin and Eldorado, was an influential Republican, but would never accept public office. He was actively identified with the Christian church and extended to it generous support. With the late N. F. Frazier, he was one of the organizers of the State Bank of Eldorado and was for several years its vice-president. Mr. Adams married, on April 18, 1866, Nancy M., daughter of Jesse Cain, M. D., of Fulton county, Illinois, one of the prominent physicians of that section of Illinois. They were the parents of seven children, five of whom, with Mrs. Adams, survive the father, who died April 26, 1904. John Bunyan is the eldest; Myrtle E. is the wife of Milo E. Ball, of Potwin, Kan.; Fern resides with her mother in El Dorado, Kan.; Olive is the wife of Clarence King, of Eldorado, and Rectina L. also is a member of her mother's household. Two girls died in early childhood.
John Bunyan Adams secured his early education in the schools of Butler county and subsequently entered the Kansas State Normal, at Salina, where he graduated with the class of 1893. He taught school in Butler county during the school years of 1890-91 and 1893-94. In May, 1894, he founded the "Leon Press," at Leon, which he conducted there until January, 1895, and then removed his plant to Augusta and changed the name of the paper to "Augusta Press." He sold this newspaper in September, 1896, and removed to Eldorado, where he accepted the position of teller in the Farmers' & Merchants' National Bank. In July, 1899, in company with the late Nathan F. Frazier, he founded the Citizens' State Bank, of Eldorado, and was made cashier of the same. On the death of Mr. Frazier, in 1907, he became the active manager of the bank and continued as such until 1909, when he disposed of his interest in the institution. He immediately organized the Butler County State Bank, with a capital of $25,000, which at this writing, 1911, has surplus and profits of $3,200, deposits of $150,000, and it has paid, during its two years of business life, satisfactory dividends to its owner. Mr. Adams is the cashier, managing executive and its controlling stockholder. He is also a stockholder and vice-president of the State Bank of Douglas, Kan., and a stockholder in the Prudential Trust Company and the Osage Fire Insurance Company, of Topeka. In 1903 he served as vice-president, and in 1904 as president, of the Kansas State Bankers' Association. These honors came to Mr. Adams in the eight years of his banking career; an exceeding high compliment to his value as a bank executive and as an active and influential factor in the state organization.
As chairman and as a member of the Committee on Banks and Banking in the lower house of the state legislature, sessions of 1899, 1901, and 1903, he was successful in securing the passage of several amendments, of which he was the author, to the banking laws. A member of the Republican party, he was elected to the legislature, first in 1898, and reëlected in 1900 and again in 1902, serving in all six years. During the session of 1901 he served as chairman of the Committee on Penal Institutions, and during the session of 1903 was chairman of the Committee on Banks and Banking and a member of this committee during his three terms of service. He was also a member of the Judiciary Committee. In 1904 he was nominated for the office of state senator, but, with his party, was defeated at the ensuing election. In this year he served as chairman of the Republican State convention. He has been urged by his friends to contest for the nomination for Congress in the Eighth Kansas district, a position wherein his unquestioned ability and energy would prove of value to the party. During his banking life he has found time to study law and was admitted to the bar in 1899, but has never entered upon the practice of that profession, his object in qualifying himself for the bar being to assist him in his banking enterprises.
Mr. Adams is the owner of several tracts of valuable farming land in Kansas and Oklahoma, and manages, for his wife, a 1,000-acre farm situated twenty-five miles south of Kansas City, and which is one of the beautiful places of northwestern Missouri. Mr. Adams has attained to the Knights Templar and Scottish Rite degrees in Masonry and is affiliated with Midian Temple Shrine of Wichita.
On Nov. 29, 1905, Mr. Adams wedded Miss Edna Frazier, only daughter of the late Nathan F. Frazier, of Eldorado (see sketch), and they have two children: Frank Frazier, born Oct. 10, 1907, and John Bunyan, Jr., born Jan. 20, 1911. Mrs. Adams is a lady of culture, a great favorite in social circles, of which she is a leader, and their home on Walnut Hill, Eldorado, is the scene of many gracious hospitalities.
Pages 536-538 from volume III, part 1 of Kansas: a cyclopedia of state history, embracing events, institutions, industries, counties, cities, towns, prominent persons, etc. ... / with a supplementary volume devoted to selected personal history and reminiscence. Standard Pub. Co. Chicago : 1912. 3 v. in 4. : front., ill., ports.; 28 cm. Vols. I-II edited by Frank W. Blackmar. Transcribed December 2002 by Carolyn Ward. This volume is identified at the Kansas State Historical Society as microfilm LM195. It is a two-part volume 3.