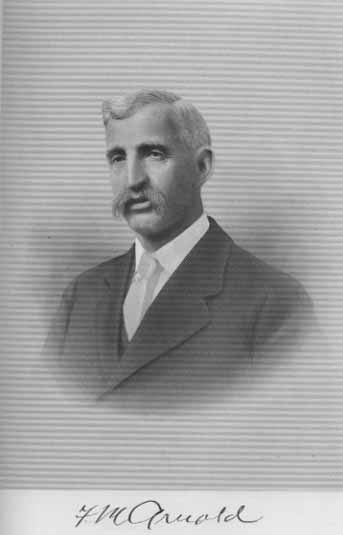 Frank M. Arnold.—The name of Mr. Arnold is inseparably linked with the history of Clark county and the town of Ashland through his connection with the organization of Ashland, the county seat, and a period of over twenty years of energetic industrial and commercial activity, an activity that has contributed largely to the progress and development of Clark county and of that section of Kansas.
Mr. Arnold is a native of Virginia, born on a farm in Lee county, May 4, 1859, son of Alexander T. and Sirilda (Thompson) Arnold. The father was born in North Carolina, in 1837, and was a farmer by occupation. During the great internecine conflict of 1861-65 his sympathies were with the Southland, in defense of which he served in the Confederate army as a lieutenant under Gen. Robert E. Lee. He died at Anthony, Kan., in 1887, whither he had removed with his family in 1879. His mother, Sirilda Thompson, was a native of Virginia and a granddaughter of Elizabeth Starr, who was kidnaped in London, brought over to Jamestown, sold to a planter for a wife, and became the mother of one of the early families of Virginia. Sirilda (Thompson) Arnold resides at Anthony, Kan., at the age of 85. To her and her husband were born nine children—six daughters and three sons—of whom five survive: Andrew Jackson is a merchant at Hinton, Okla.; Polly is the wife of Jefferson Collins, a farmer residing near Winfield, Kan.; America, of Ontario, Ore., is the widow of Crocker Johnson; Bettie is the wife of F. M. Coggins, a railroad office man at Hutchinson, Kan.; and Frank M. Mr. Arnold acquired his education in the public schools of Saline county, Missouri, and accompanied his parents to Kansas when nineteen years of age. He was engaged in farming and stock-raising, in Harper county, Kansas, until December, 1884, when, with others, he laid out the town of Ashland, in Clark county. He was also one of the organizers and directors of the second bank started in Clark county. On the opening of the new town he engaged in the real estate business, in which he dealt on a large scale and in connection with which he loaned money to settlers. From the start he was successful to an unusual degree, and in the intervening years has built up an extensive and profitable business. In 1893 he went into the cattle business on a large scale, buying and shipping from 5,000 to 10,000 head of western cattle each year, grazing them on his own land in Clark county. He is also interested in the cattle business in Texas. In 1910 he sold 10,000 acres of his holdings in Clark county and still retains about 12,000 acres, some of which is improved farm lands. In numerous ways Mr. Arnold has done much to develop his county and town and thereby has added to the progress of the whole state. In 1905, with others, he organized the Clark County Telephone Company, of which he is general manager, and which has rural lines all over the county. He is a stockholder in the Commercial National Bank, of Kansas City, Kan., and financially is interested in various other enterprises. He retired from active business in 1906, however, and with his family spends much time in travel.
On June 17, 1888, Mr. Arnold married Miss Ifie M., daughter of George W. Espey, a druggist at Ashland and a veteran of the Civil war who served as a lieutenant of Company E, Fifty-ninth Ohio infantry. Mrs. Arnold was born Feb. 17, 1870, at Bushnell, Ill. Her father was a native of Ohio and her mother, who bore the maiden name of Martha Patterson, was born in Indiana and died May 8, 1870, when her daughter was but a few months old. Mrs. Arnold received the usual common school education and also attended Hull institute, at Hull, Iowa. She entered the teaching profession at the unusual age of thirteen and earned the funds to defray her expenses at college. Mr. and Mrs. Arnold have two sons and two daughters: Lucile M., born March 15, 1889, graduated at Cottey College, Nevada, Mo., in 1907, subsequently was a student at Washburn College, Topeka, two years, and will graduate at the University of Kansas with the class of 1912; Francis H., born Aug. 13, 1895; Marion Espey, born Oct. 4, 1897; and Iras May, born Aug. 14, 1902.
Pages 504-505 from volume III, part 1 of Kansas: a cyclopedia of state history, embracing events, institutions, industries, counties, cities, towns, prominent persons, etc. ... / with a supplementary volume devoted to selected personal history and reminiscence. Standard Pub. Co. Chicago : 1912. 3 v. in 4. : front., ill., ports.; 28 cm. Vols. I-II edited by Frank W. Blackmar. Transcribed December 2002 by Carolyn Ward. This volume is identified at the Kansas State Historical Society as microfilm LM195. It is a two-part volume 3.