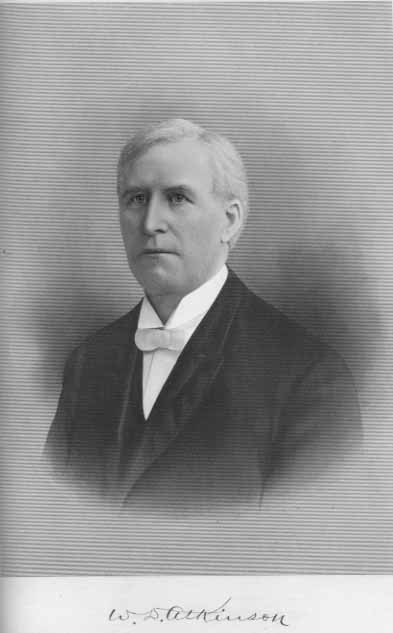 William D. Atkinson, a prominent lawyer of Parsons and a former justice of the Supreme Court of Kansas, was born near Dubuque, Iowa, March 26, 1861, his parents being John and Permelia (Dodson) Atkinson. His father was a native of New Jersey and a son of John Atkinson, who removed from New Jersey to Ohio in an early day and settled in Hamilton county, which was the birthplace of Permelia Dodson. John Atkinson and his wife removed to Iowa, soon after their marriage, and settled on a farm in Dubuque county. They subsequently removed, in 1865, to Jones county, that state, where their son, William D., was reared on a farm. Their children, five in number, were: Edward L., Adelbert J. (deceased), William D., George L., and Alta P. In 1882 the parents came to Neosho county, Kansas, and there spent the rest of their days on a farm. These loved and honored parents were quiet and unpretentious, but highly respected by all who knew them. They were devout members of the Methodist Episcopal church.
In 1879 William D. Atkinson became a student at the Iowa State College, where he completed the prescribed course in 1882. At the age of seventeen he entered the teaching profession and thereafter alternately taught and attended school until he had completed his literal education and had prepared himself for the practice of law. While visiting his parents in Kansas, in 1884, he was induced to take charge of the schools at Galesburg. Later, he had charge of the public schools at Thayer, Kan. In the meantime he had begun the study of law. He had as an able preceptor, Hon. Walter L. Simons, then of Parsons, but now a resident of Fort Scott, Kan., who afterward served on the district court bench of Bourbon county twelve years. After Mr. Atkinson's admission to the bar, Dec. 6, 1886, he was for some time a law partner of Judge Simons. He has resided in Parsons since entering upon the practice of law and served as city attorney of Parsons ten years. On Jan. 1, 1904, he was appointed by Governor Bailey to fill a vacancy on the Kansas Supreme Court bench and served as a member of the Supreme Court one year. He then resumed his law practice at Parsons. Judge Atkinson has been very successful in his profession and has attained high rank in the state as a lawyer and jurist. In politics he is a Republican. Fraternally, he affiliates with the Masonic order, in which he has attained the Knights Templar degree.
On Oct. 13, 1892, was celebrated the marriage of Mr. Atkinson and Miss Fannie Cooper, of Parsons, a daughter of Newberry and Susan Day Cooper. These parents were pioneers in Labette county. They were born in Virginia, came to Missouri in an early day, and from there, in 1866, to Kansas, where they took a government land claim. Before her marriage, Mrs. Atkinson was a teacher in the Parsons schools, had studied law, and was admitted to the bar. While she has never actively practiced law, she has been of valuable assistance to her husband in his profession. She is well educated, of a literary turn of mind, and is a cultured and much appreciated woman in a large social circle in Parsons. She is president of the Kansas Federation of Women's Clubs.
Pages 560-561 from volume III, part 1 of Kansas: a cyclopedia of state history, embracing events, institutions, industries, counties, cities, towns, prominent persons, etc. ... / with a supplementary volume devoted to selected personal history and reminiscence. Standard Pub. Co. Chicago : 1912. 3 v. in 4. : front., ill., ports.; 28 cm. Vols. I-II edited by Frank W. Blackmar. Transcribed December 2002 by Carolyn Ward. This volume is identified at the Kansas State Historical Society as microfilm LM195. It is a two-part volume 3.