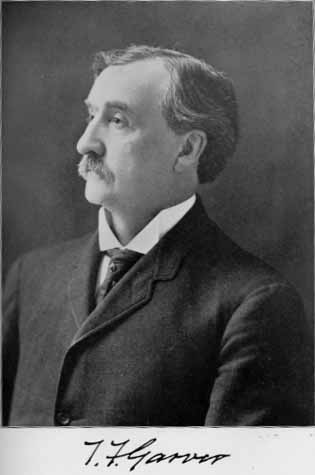 Theodore Franklin Garver, of Topeka, a prominent attorney and jurist of Kansas, was born in Franklin county, Pennsylvania, Nov. 4, 1845, the son of Samuel Garver, a farmer in Franklin county during the greater part of his life, who is now (1911) in his ninety-first year, residing in Atlantic City, N. J. Samuel Garver is a native of Maryland, born March 18, 1821, and was the son of Samuel Garver, whose father, Christian Gërber (as the name was originally spelled), was a native of Germany, who came to America about 1780. The mother of Judge Garver, Sarah (Coldsmith) Garver, was born in Franklin county, Pennsylvania, in 1820, the daughter of David Coldsmith. She died in her native county in 1904. Theodore F. Garver is the second in a family of six children, five of whom are living. The four sons in this family all became professional men. The death of one of the brothers, Charles Leander, a physician, at Chambersburg, Pa., occurred in 1881. Austin Samuel entered the ministry and was pastor of the First Unitarian church at Worcester, Mass., for twenty-five years, retiring recently from active service. Theodore Franklin and John Anson both have risen to prominence in their profession of law, the latter being a member of the firm of Shearman & Sterling of New York city. The siters of Mr. Garver are Mrs. Emma Garver Thompson, of Atlantic City, N. J., and Mrs. Alice Garver Bond, of Salina, Kan. Theodore F. Garver was reared on his father's farm in Franklin county, Pennsylvania, receiving his early education in the country schools. At the age of fifteen he entered the Missionary Institute at Selinsgrove, Pa., and after completing a preparatory course there, became a student in Pennsylvania College at Gettysburg, where he was graduated in 1867. During this period of his life the Civil war broke out and his school career was interrupted for a time when he abandoned his studies to give his services in defense of the Union. He first saw active service in 1862, when the Confederate army crossed into Maryland and attempted to enter Pennsylvania but was driven back by the Federal troops. The following year, when General Lee's forces invaded Pennsylvania, he enlisted with a company of college boys in the Twenty-sixth regiment of Pennsylvania state volunteers. This regiment met an advance body of Confederate skirmishers near Gettysburg, a few days before the famous battle at that place, and were forced to retreat towards Harrisburg. Part of the regiment, including young Garver, was captured by the enemy and held prisoners within the enemy's lines until shortly after the battle, when they escaped and rejoined their command. Soon after the retreat of Lee's army across the Potomac, the regiment was mustered out and Mr. Garver returned again to his studies. After his graduation from Pennsylvania College, in 1867, he held the position of professor of mathematics in the Missionary Institute at Selinsgrove, Pa., for one year. He also took up the study of law, graduating at the Albany Law School at Albany, N. Y., in June, 1869, with the degree of Bachelor of Laws. He began his professional career at Chambersburg, Pa., and came to Kansas in February, 1871, locating in Topeka. About August, 1871, he removed to Lincoln county, where he made his residence until February of the following year (1872), when he located at Salina, Kan. There he was a prominent lawyer and influential citizen for a period of twenty-five years, serving during this time as city attorney and as a member of the board of education. In 1895, upon the creation of the courts of appeal by the state legislature, Governor Morrill honored him with the appointment of judge of this court for the northern department of Kansas. At the expiration of his term in January, 1897, after two years of efficient service as a member of the judiciary, he removed to Topeka and resumed the practice of law. He is now a senior member of Garver & Garver, one of the best known law firms of that city, in which his son, Robert Diller Garver, is his partner. Judge Garver has been nominated by the Republican party for several of the important offices of the state. In 1892 he was the candidate for attorney-general of Kansas and was the Republican nominee for chief justice of the state in 1896. In both years he went to defeat with the Republican state ticket before the Populist party, which was then in the ascendency. He has served his fellow citizens of Topeka for eight years as a member of the board of education and was president of that body for two years. He is president of the Topeka Provident Association and of the Society for the Friendless, an organization devoted to aiding ex-prisoners. In professional circles he has been honored with the presidency of the Kansas State Bar Association and is an influential member of the Shawnee county bar association. He is prominent in Masonry, being a Royal Arch and Scottish Rite Mason, and is a member of the Topeka Commercial and Fortnightly clubs.
On Feb. 10, 1870, a year before his removal to Kansas, Judge Garver married Miss Mary Diller, of Lebanon, Pa., and four children were born to this union. A daughter, Elizabeth, died in infancy, and the death of Bertram Samuel occurred in his eighteenth year. The two children now living are Robert Diller and John Diller Garver.
Pages 400-402 from volume III, part 1 of Kansas: a cyclopedia of state history, embracing events, institutions, industries, counties, cities, towns, prominent persons, etc. ... / with a supplementary volume devoted to selected personal history and reminiscence. Standard Pub. Co. Chicago : 1912. 3 v. in 4. : front., ill., ports.; 28 cm. Vols. I-II edited by Frank W. Blackmar. Transcribed December 2002 by Carolyn Ward. This volume is identified at the Kansas State Historical Society as microfilm LM195. It is a two-part volume 3.