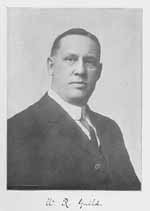 William R. Guild.—The standing of William R. Guild, president of the First National Bank of Hiawatha, as a private citizen and a man of affairs, is unimpeachable throughout that section of the Sunflower State which has been the scene of his activities. He is a native of Galva, Ill., born in February, 1869. He is a son of the Rev. R. B. and Susan (Bergen) Guild and the fourth in a family of four sons and three daughters: George A., cashier of the Central National Bank of Topeka; Harry L., cashier of the State Bank of Bern; William R.; Roy B., pastor of the Central Congregational Church at Topeka, Kans., and a Chautauqua lecturer; Fanny G., the wife of the Rev. M. L. Laybourn, of Fort Morgan, Col.; Susan M., dean of Carroll College at Waukesha, Wis., and Jessie S., a graduate of the Pratt Art Institute in New York City, and now an instructor in the Stanley Institute, Minneapolis, Minn.
William R. Guild was reared at Galva until the age of eight and had barely entered the public schools when his father the Rev. R. B. Guild, decided to remove to Kansas and take charge of the Congregational church at Seneca. But after two years Reverend Guild decided to return to Illinois, where his children could be afforded better educational advantages, and remained in that State until 1881, when he again became a resident of Kansas, taking charge of the Congregational church at Sterling, where he continued as a minister until his death, January 1, 1889. The mother was Susan Bergen, daughter of Mother Bergen, of Galesburg, Ill., where Susan was born and reared. She survived the Rev. R. B. Guild until August, 1908, when she passed away in Sabetha, Kans. William R. Guild received his preliminary education in the public schools of Sterling, Kans., until the age of nineteen, when he accepted a position as bookkeeper in the National Bank of Sabetha. He started in on a salary of $10 per month, out of which he had to pay his board. He accepted that position in the fall of 1888, and remained with the bank until 1890, when he was tendered the position of bookkeeper in the Central National Bank of Topeka, accepted the position, and remained with that institution three years, until 1893. He then became cashier of the State Bank of Bern, at Bern, Kans., where he remained thirteen years, during which time he not only placed the bank on a paying basis but also developed those qualities in a marked degree which are so essential to successful banking. In 1906, he removed to Sabetha and at once entered actively into the commercial life of the community. For about eighteen months after his location there he was actively engaged in the real estate, loan, and insurance business. Then he accepted the position of cashier of the National Bank of Sabetha, and held that position until January I, 1914, when he bought a substantial interest in the First National Bank of Hiawatha, Kans., and was elected president of that institution, which position he now holds. He was the first mayor of Sabetha under the commission form, and was president of the Sabetha Commercial Club for six years. He also takes an active interest in church and Sunday school work, having been a trustee and treasurer of the Congregational church for a number of years, as well as superintendent of the Sunday school. Politically he is a Republican, and fraternally he is a Mason, a member of the Modern Woodmen of America, the Knights of Pythias, and the Hiawatha Commercial Club.
In 18992,[sic] Mr. Guild married Miss Augusta Holland, of Sabetha, and this union is blessed with a daughter, Helen, now a senior in Washburn College, Topeka. The family are all members of the Congregational church.
Pages 304-305 from a supplemental volume of Kansas: a cyclopedia of state history, embracing events, institutions, industries, counties, cities, towns, prominent persons, etc. ... / with a supplementary volume devoted to selected personal history and reminiscence. Standard Pub. Co. Chicago : 1912. 3 v. in 4. : front., ill., ports.; 28 cm. Vols. I-II edited by Frank W. Blackmar. Transcribed October 2002 by Carolyn Ward. This volume is identified at the Kansas State Historical Society as microfilm LM196. It is a single volume 3.