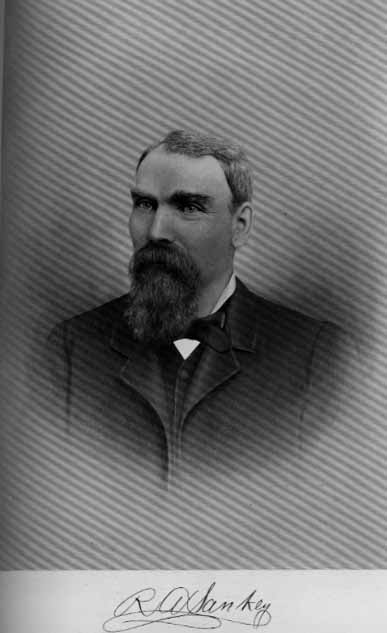 Robert Alexander Sankey.—The law business is at once the most sublime and the most learned of all pursuits. Its foundations are firmer, its scope is broader, its charms more enticing, its operations truer, its triumphs surer, its defeats keener, and its possibilities greater than those of any other calling. Medicine, alone, waves the banner of health, and at her feet lay the proud victories of life over death; theology, only, bears the fruits of righteousness, and scatters the seeds of future reward; agriculture, mechanics, and invention sparkle with gems of delight, while commercialism is teeming with the fascination of profit; authorship is illumined by the searchlight of genius, while philanthropy, fanned by the zephyrs of human kindness, is sweetened by the flavors of brotherly love. Every profession, and every vocation, if honorable, has, each in its own way, something to commend it—something to give it particular charm. But, after all, the law, with graceful superiority and modest mastery, sits on her stately throne, the queen regent of them all, and deals out to every one the immutable decrees of equity and justice. Therefore, as the law easily occupies the post of honor in every field of human endeavor, so, also, does the lawyer rank first as the most distinguished and the most honored of all men. To dispute his supremacy in this respect would be folly, for more honors are heaped upon the members of the legal fraternity, perhaps, than upon those of all other professions and callings combined. To be a successful lawyer is merely to reach the highest goal in professional life, and an ambition to be such has occupied the fondest dreams of practically every youth. The city of Wichita has had a number of such legal advocates, one of the best examples of which is the late Judge Robert Alexander Sankey, a brief history of whom it is herein designed to trace.
Judge Robert Alexander Sankey was born at Potter's Mills, Centre county, Pennsylvania, Sept. 23, 1837, and passed his boyhood on a farm. He was educated in the common schools, was educated as a lawyer at Dickinson Seminary, and was admitted to the bar at Bellefonte, Pa. In April, 1861, he volunteered his services to the United States, but was rejected on account of bad physical condition. In 1864 he located at Newton, Iowa, where he lived many years in prosperous circumstances. He moved to Colorado, in 1880, and there located valuable placer mines and developed extensive properties at Leadville and Breckinridge. From the mining districts he returned to Iowa for five years and for a year was general counsel of the Iowa Central Railway Company. When I. P. Campbell removed to Wichita, from Harper, Kan., in 1886, Judge Sankey, his cousin, came also, and the two formed the legal partnership of Sankey & Campbell, which continued until 1908. In the early years of this partnership Sam Amidon was associated with them for a time, the firm being Sankey, Campbell & Amidon. For seventeen years Sankey & Campbell maintained offices at the corner of Douglas avenue and Market street, over what is now Greenfield Brothers' clothing store. Many of their clients were farmers, and from them both partners developed a keen interest in Populism when that party was in its greatest activity. Judge Sankey, however, never held public office, and his title was conferred on him by his colleagues out of respect.
In 1908 Judge Sankey, who was in failing health, retired, and since then Mr. Campbell has died. In his retirement Judge Sankey was an omniverous reader, daily studying a vast array of newspapers and magazines in his private library, which is one of the finest in Wichita. All those years he maintained a vigilant interest in the city's welfare and contributed many weighty contributions to the discussions of public questions. Confined as he was, he kept himself well posted on what was going on, and looked after his property. He owned many valuable city properties, besides a farm east of College Hill, and farm properties in Labette and Woodson counties, in Kansas. He was open-hearted towards numerous philanthropies and was a liberal contributor to such institutions as the Children's Home, the Young Men's Christian Association, and the Salvation Army. As a member of the Sedgwick County Bar Association he will long be remembered for numerous kindnesses to younger members of the profession. He was of the Unitarian belief and was one of the founders and organizers of that church, in Wichita, as well as one of its chief supporters.
Judge Sankey was married, at Newton, Iowa, June 11, 1867, to Miss Mary Emily Rodgers, who still survives and is one of the most highly respected elderly matrons of Wichita. Three sisters—Jane, Rebecca, and Maggie—and four brothers—Asher, Henry, Wesley, and Isaac—are dead. Although Judge Sankey and wife had no children they were especially kind and generous, and were like father and mother to numerous young relatives. They educated four nieces in Wichita and bestowed upon them many benefactions. These nieces are well known in Wichita, being Mrs. Arthur T. Butler, formerly Miss Emma Hill; Mrs. Frank Harris, formerly Miss Lillian Edgar; Mrs. Irvin Krum, formerly Miss Ada Hill; and Miss Florence Rhone, now of Pennsylvania. Two nephews—Henry K. and Charles Stahl—were also educated by them. The former became an attorney and was for a time his uncle's clerk, at Newton, Iowa. He is now a resident of California. Charles Stahl is an attorney at Los Angeles, Cal.
Mary Emily Rodgers, widow of Judge Robert Alexander Sankey, was born at Pendleton, Ind., Feb. 11, 1845, daughter of Dr. Henry Rodgers, a physician, who removed from Indiana to Iowa, in 1848, becoming the pioneer physician of Jasper county in the latter state. He was born in one of the Carolinas and was educated in Indiana and Iowa, his medical education having been obtained at Keokuk, Iowa, where he graduated. He died in 1854, when Mrs. Sankey was nine years old. The mother of Mrs. Sankey was Margaret Snodgrass, who died in 1849, the year after the family located in Iowa. The orphanage being made complete by the death of her father, Mrs. Sankey was brought up to womanhood by her uncle and aunt, Mr. and Mrs. William Rodgers, of Jasper county, Iowa. John F. Rodgers, of Newton, Iowa, is her brother, and she has one sister living, Mrs. Hattie E. Hill, of Byron, Okla. One other sister, Sarah J. Rodgers, deceased, first married James Edgar and upon his death became the wife of E. Kearns. Mrs. Sankey has been a member of the Unitarian church of Wichita ever since it was established.
Judge Sankey was a man of strong convictions and an advocate of freedom and liberality in thought and action. Accordingly, after reading in a current magazine of an original method of curing diseases by a vigorous fast of ten days, he had the courage to apply the novel experiment to his own case. Already weakened by long confinement, and by chronic rheumatism which had tortured and crippled him, he nevertheless had the strength of mind to put the most unusual method to a practical test. For eight long days he abstained absolutely from nourishment, resolutely following the prescribed treatment as described in the magazine article. Bravely assuming individual responsibility, he declined professional medical assistance until he had tried out several days of the prescribed course. On the eighth day of his fast period, which was Wednesday, when he attempted to resume a light diet, it was necessary to summon a physician. He was found to be in a critical condition, unable to take food at all, and on the following Thursday, May 5, 1910, he died.
Thus ended the career of an upright citizen, an able lawyer, a devoted husband, and a good man. Long will the name of Judge Robert A. Sankey be remembered in Wichita, for his goodness of heart and his estimable qualities. A man of high character, strict integrity, and inflexible honesty, he was a type of citizen in which a fine business ability and a warm-hearted, generous nature were beautifully combined. Despite his liberal nature and his many philanthropies, he amassed a fine estate, and at the time of his death was one of the most substantial members of the Wichita bar. His widow, an estimable lady of generous impulses and superior qualities of womanhood, who was his devoted helpmeet for more than forty years, is now in complete possession of the fine estate left her by her husband, it being her amibtion[sic] to convert it later into a substantial and permanent memorial of some kind to Judge Sankey's memory. Such an ambition is only worthy of a woman of her generous tendencies and philanthropic nature, and its execution will reflect scarcely less credit upon her than upon him. She still occupies the splendid old homestead at 536 North Lawrence street, which is located in one of Wichita's most select residence sections, and which, for many years prior to his death, was the home of her lamented husband.
Pages 296-298 from volume III, part 1 of Kansas: a cyclopedia of state history, embracing events, institutions, industries, counties, cities, towns, prominent persons, etc. ... / with a supplementary volume devoted to selected personal history and reminiscence. Standard Pub. Co. Chicago : 1912. 3 v. in 4. : front., ill., ports.; 28 cm. Vols. I-II edited by Frank W. Blackmar. Transcribed December 2002 by Carolyn Ward. This volume is identified at the Kansas State Historical Society as microfilm LM195. It is a two-part volume 3.