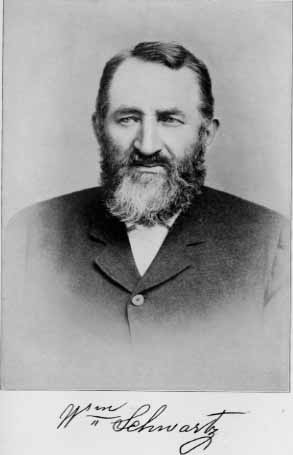 William Schwartz, of Paola, capitalist and banker, is one of those sterling pioneers of Kansas who came here before it entered its statehood and has for half a century witnessed its phenomenal growth and development. In 1856, when seventeen years of age, he came to this country from Germany, a stranger without influence or friends, to push his way in a strange land. He was born in Selters, Dukedom of Nassau, Germany, May 4, 1837, and was educated in the excellent public schools of his native land until fourteen years of age, at which time he was apprenticed to learn the millwright trade, and at the same time attended a commercial school three nights each week. He spent two years learning his trade, during which time he received no compensation and had to pay $50 to learn his trade. After having mastered his trade he continued with his employer one year as a journeyman millwright. In 1856 he came to America, crossing the water on the then new steamer "Constitution," plying between Havre, Belgium, and New York City. His capital, with which to begin life in the new world, consisted of the traits of thrift and industry proverbial of the German, a stout heart, and willing hands, and $3.50 in money. He secured employment in a furniture factory at Port Carbon, Pa., and remained there one year, receiving in wages $8 per month. In 1858 he came to Kansas. At that date Jefferson City was the nearest railroad point, and thence Mr. Schwartz came by rail, from there making the journey to Kansas City by boat. The last named place at that time was a village of shanties and log cabins. What is now Grand avenue was then a gulch, with a road dug in the bank and with wide places here and there for travelers to pass. His first employment was to rebuild for a Mr. Carkle a mill, three miles below Kansas City, near the Randolph bridge. He was thus engaged three years and successfully completed the mill. In 1858 he purchased forty acres of land in Wea township, Miami county, Kansas, paying $2.50 per acre for land that is now worth $125 per acre. That first forty acres of his homestead, now comprising 320 acres, was paid for by work. He resided on this place until 1901, when he removed to Paola. In 1860 a brother of Mr. Schwartz joined him in this country and engaged in the saw mill business in Kansas. Mr. Schwartz paid a visit to the Fatherland, in the summer of 1862, and on his return brought five more German immigrants with him. He was always a strong Union man, and as his interests were in that section where the border war was severest, he passed through many thrilling experiences. In the fall of 1862, with his cousin, Anthony Vose, he was captured one night by "bushwhackers," while asleep on his farm. They were not given time to put on their boots and were hurried toward Missouri, where it was intended to hang them. They received their timely rescue, however, at the hands of Union soldiers.
Mr. Schwartz was engaged in prairie breaking five or six years and averaged about $10 a day at that employment. He had five yoke of oxen and their management, together with that of the plow, was far from light toil, but never in his whole career has he been one to shrink from labor. He broke all of his own land and planted much of it in wheat, which was especially profitable during the war and the period immediately following. The grass in those days was as high as his shoulders and gathered much dew. He gave almost his whole attention to agricultural pursuits until 1901, when he removed to Paola, and since then has given his time to his other interests. He was one of the organizers of the Citizens' State Bank, of Paola, Sept. 11, 1903, and has served as its president since that time, with the exception of the first six months. He was also one of the organizers of the Bank of Louisburg, at Louisburg, Kan., in 1875, and has been its president the last fifteen years. He also owns $55,000 worth of stock in the Inter-State Mercantile Company, of Louisburg, of which concern his son, William A. Schwartz, is manager. He owns the $18,000 building occupied by the Miami County Mercantile Company, at Paola, and also has valuable realty holdings in Kansas City, Mo., where he built a factory in 1910, costing $25,000. He was extensively interested in the Paola Brick and Tile Yard, which he operated himself five years, during which time he introduced important improvements in that business. All this represents the energy and accomplishment of a man who began his business career without capital, but through industry and perseverance has builded a fortune, of which he may justly be proud, and which has fully justified the faith he had in the ultimate future of Kansas when he decided to cast his permanent lot with this state. Mr. Schwartz has been twice married. His first wife was a Miss Anna Daugherty, whom he married in 1864. Of their union were born four children: Jacob A., died at the age of twenty-three, in California, where he had gone to seek health; William A., (see sketch); Dorothy M., is the wife of Michael Kelley, who resides on the old homestead of Mr. Schwartz and also owns a half-section of land of his own; and Thomas Edward, is cashier of the Citizens' State Bank of Paola. After the death of the first wife, Mr. Schwartz married Josephine M. Dorehammer, of Russell county, Kansas.
In politics Mr. Schwartz has always been an independent voter, but in principle is a Democrat. He is a devout communicant of the Roman Catholic church. Miami county numbers Mr. Schwartz among its most prominent and respected citizens, not alone for the distinctive success he has made of his life in a commercial sense, but also for his public spirit and interest in all that touches the welfare of his county and state. Mr. Schwartz, now in his seventy-fourth year, is the picture of health and strength. He was an exceptionally strong man physically, when in the prime of life, and afterward performed athletic feats which few were able to do.
Pages 592-594 from volume III, part 1 of Kansas: a cyclopedia of state history, embracing events, institutions, industries, counties, cities, towns, prominent persons, etc. ... / with a supplementary volume devoted to selected personal history and reminiscence. Standard Pub. Co. Chicago : 1912. 3 v. in 4. : front., ill., ports.; 28 cm. Vols. I-II edited by Frank W. Blackmar. Transcribed December 2002 by Carolyn Ward. This volume is identified at the Kansas State Historical Society as microfilm LM195. It is a two-part volume 3.