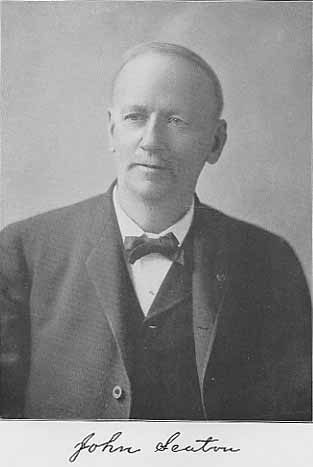 John Seaton.—Death's fingers closed the eyes of a noble man and opened the portals of eternity when John Seaton crossed the valley of the Great Beyond at his home in Atchison, Jan. 12, 1912. In his passing Kansas lost one of her oldest and best known politicians and Atchison one of her most wealthy and public spirited citizens. His was a life of usefulness. Aside from his eighteen years [Transcriber's note—Handwritten note in margin says "16 years"] in the Kansas legislature, which caused him to be known as "the father of the house," his life was full of the unusual and filled with interesting events.
John Seaton was born in Cincinnati, Ohio, June 11, 1834, and when three weeks old was taken by his parents upon their removal to Louisville, Ky., where he spent his boyhood. His father became a soldier under General Scott in the Mexican war and was killed in the storming of Cerro Gordo. Being thus robbed of his parent at an early age Mr. Seaton was thrown upon his own resources, and at the age of fifteen apprenticed himself to learn the machinist's trade. Before he reached his majority he worked as a journeyman in St. Louis. At the age of twenty-two he established a foundry at Alton, Ill., having but $2.50 which he could call his own, but he prospered and had fifty men in his employ when he removed to Atchison, in 1872. At the beginning of the Civil war he offered his services to his country and became captain of Company B in the Twenty-second Illinois infantry, serving under Grant when that commander fought his first battle at Belmont. Captain Seaton was in command of the skirmish lines which opened that engagement and received a letter from General Grant commending him for the efficient manner in which he did it. His career as a soldier was filled with deeds of heroism.
Mr. Seaton came to Atchison from Alton, Ill., in 1872. Six months before his arrival the city had voted $10,000 in bonds to any man who would establish a foundry there. He accepted the bonds and it proved to be a good investment for the city, as he gave employment to 200 men and built up an industry that stands without a peer in its line in the West. The secret of his success was that Mr. Seaton did strictly first class work. For eighteen years he carried his dinner with him to the foundry and worked with his men, although he owned a summer house on the seashore at Orient, Long Island, at the time of his death No cheap work was ever allowed to go out of his establishment under any circumstances, and no one in the West stands higher than did he with architects and builders. In addition to general architectural work he filled orders for the Santa Fe, Missouri Pacific and Fort Scott & Gulf railroads, such as casting locomotive wheels, smokestacks, steam cylinders, car stoves, etc. He was in business continuously from 1856 until the time of his death, and in all that time never failed to pay his bills at maturity. The business of his establishment at Atchison amounts to $250,000 annually and the works cover an area of 700 by 400 feet.
Mr. Seaton was a useful man in many other ways, and he always took an active interest in the affairs of state. For a period of eighteen years a member of the Kansas legislature his name is associated with many of the important measures passed by that body. He was the father of the binding twine factory law, which act is responsible for the establishment of a plant at the state penitentiary. He probably did more toward the success of the "Douglass house," during the legislative trouble of 1893, than any other member of the Republican body. As a citizen and legislator he enjoyed the confidence and respect of Kansas people generally, without regard to party affiliations. He was unalterably opposed to trusts, and in general principles to corporations of a private nature, as he believed that corporations generally are devoid of souls.
Besides the widow four children survive Mr. Seaton. They are: John C. of Eldorado Springs; Roy of Atchison; Mrs. W. H. Condit of Kansas City; and Mrs. G. W. Hendrickson of Atchison. Another daughter, Mrs. Nellie (Seaton) Bryan, died several years ago.
Pages 1024-1025 from volume III, part 2 of Kansas: a cyclopedia of state history, embracing events, institutions, industries, counties, cities, towns, prominent persons, etc. ... / with a supplementary volume devoted to selected personal history and reminiscence. Standard Pub. Co. Chicago : 1912. 3 v. in 4. : front., ill., ports.; 28 cm. Vols. I-II edited by Frank W. Blackmar. Transcribed December 2002 by Carolyn Ward. This volume is identified at the Kansas State Historical Society as microfilm LM195. It is a two-part volume 3.