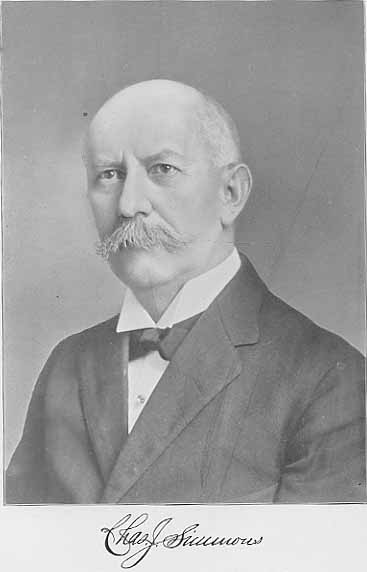 Charles Jefferson Simmons, M. D., is one of the ablest and most favorably known physicians and surgeons of Kansas. He has lived in this state since ten years of age, was educated in the city schools of Lawrence, and graduated at the University of Kansas in 1882, receiving the degree of Bachelor of Arts. He began the study of medicine at Dartmouth (N. H.) College. Afterward he entered the University of Vermont, from which institution he received the degree of Doctor of Medicine, in 1884. He spent two years at Bellevue Hospital Medical College at New York City, completing a course in that far-famed institution. He also graduated at the Eclectic College at Cincinnati, Ohio, and began the practice of medicine at Lawrence, in association with his father, the late Noah Simmons, M. D. He has done much post-graduate work. In 1895-6 he took a postgraduate course in the Post-Graduate Medical College, New York; in 1897-8 took a course in surgery at the New York Polyclinic, and the next year a like course in the Polyclinic School at Philadelphia. He spent two winters studying under Dr. Joseph Price, the eminent specialist in abdominal surgery, at Philadelphia. He has taught general surgery in the University of Kansas; has been a member of the Kansas State Board of Medical Registration and Examination, and also civil service examiner, United States pension examiner, and city physician; and he is a member of the Douglas county and Kansas state medical societies, and the American Medical Association. He has attained a state-wide reputation in his profession and is one of the recognized leaders in Kansas. He established the Simmons Hospital at Lawrence, and under his management it has become an important, well kept, well regulated, and well disposed institution. It was established in 1903 and has responded to the deeply felt need of the city of Lawrence ever since. It is fitted with all convenience and appurtenances which go to make for efficiency in such an institution. There are trained nurses of successful experience, and the hospital stands as a monument to the spirit of progress, which Dr. Simmons has always manifested as a physician and surgeon. Fraternally he is a member of the Modern Woodmen and the Knights of Pythias. In politics he supports the men and measures of the Republican party. In 1891 Dr. Simmons married Miss Emily, daughter of Jerry Gladhart, of Lawrence, and unto the marriage were born two children—Jerre and Stella.
Among the people of Lawrence Dr. Simmons is regarded as one of the leaders of public thought and action. He is a native of Indiana, born at Union City, that state, Feb. 25, 1858, the oldest of three sons born unto Dr. Noah Simmons and Elizabeth (Toms) Simmons. The other sons are Frank and Harry Simmons. Dr. Noah Simmons, deceased, was born in Piqua, Ohio, March 21, 1828, and died at Lawrence, April 27, 1898. His father, Adam Simmons, was a native of Switzerland and a farmer by occupation. Noah Simmons studied medicine in Miami county, Ohio, under a practicing physician as his preceptor, and then took a course in the Eclectic Medical College at Cincinnati; but he began the practice of medicine at Union City, Ind., before graduating, and did not complete his course until two years later, in 1865. In June, 1868, he came to Lawrence, Kan., where he afterward resided and practiced his profession until his death. He became a skilled physician and attained to high rank in his profession. He was one of the builders of Lawrence and took an active and commendable interest in civic affairs. In politics he was a Republican and served two terms as a member of the Kansas legislature; was a member of the state board of health, and also served as mayor of Lawrence. He became prominent as a member of the Kansas State Medical Society, of which he was secretary several years and then president. He was an able writer and an entertaining speaker and conversationalist. In church faith Dr. Noah Simmons was a Methodist, and he was a member of the Masonic fraternity and the Independent Order of Odd Fellows. In 1857 he married Elizabeth Toms, who was of English lineage and worthy ancestry. She was born near Dayton, Ohio. Dr. Noah Simmons was one of the most highly respected citizens of Lawrence for many years. He led an exemplary life and will long be held in memory by the people of that city. He was notedly devoted to his profession, but was a man of public spirit as well. Under his able instruction his son, Dr. Charles J. Simmons, received his preparatory training in medicine, and the latter has manifested the strength of professional ability that characterized the career of his father.
Pages 1328-1329 from volume III, part 2 of Kansas: a cyclopedia of state history, embracing events, institutions, industries, counties, cities, towns, prominent persons, etc. ... / with a supplementary volume devoted to selected personal history and reminiscence. Standard Pub. Co. Chicago : 1912. 3 v. in 4. : front., ill., ports.; 28 cm. Vols. I-II edited by Frank W. Blackmar. Transcribed December 2002 by Carolyn Ward. This volume is identified at the Kansas State Historical Society as microfilm LM195. It is a two-part volume 3.