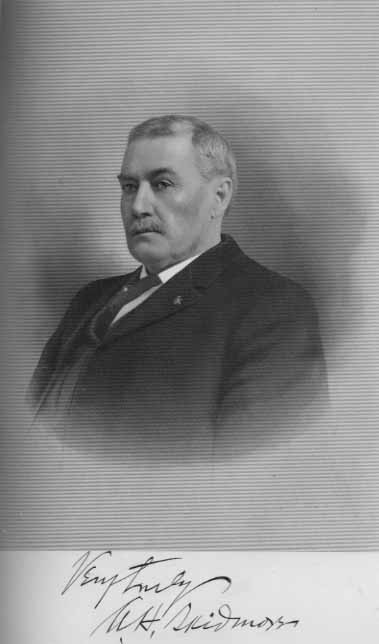 Andrew Hamilton Skidmore, of Columbus, is a prominent citizen, able lawyer, and distinguished jurist. Predilection led him to prepare for the profession of law, for which profession he was educated in the law department of the University of Michigan, where he completed a two-years course in 1875. He passed a successful examination before the Illinois supreme court, at Ottawa, Ill., and was admitted to the bar, Sept. 14, 1876. On the 14th day of the following November he opened a law office in Columbus, Kan., and regularly entered upon the practice of law. He soon gained a large clientage and an enviable reputation as one of the ablest lawyers of the Cherokee county bar. In 1894 he became the Republican candidate for judge of the Eleventh judicial district court and was successful at the polls that fall. He qualified for the office Jan. 14, 1895, on which date he took up the duties as district judge. Four years later he was elected for a second term of four years. With the close of a splendid record on the bench of the district court, he returned to the practice of law at Columbus. Profound in the law, and possessed of an analytic turn of mind, his rulings and decisions on the bench were seldom reversed. With fairness and justice he presided over the court, and when he retired from the bench he closed an eight-years service, to which his many friends still point with pride and delight.
Judge Skidmore is a native of West Virginia, but was reared on his father's farm in Illinois, to which state his parents moved in 1857, when he was two years of age. His parents settled in Vermilion county, Illinois. They were living in Randolph county, West Virginia, when their son was born, Feb. 14, 1855. The parents were James and Rebecca (McBee) Skidmore, natives of West Virginia. The father was born in Hardy county, that state, June 17, 1830, a son of Andrew Skidmore, of Irish lineage. He served four years and nine months in the Union army during the Civil war, in Company I, Fifty-first Illinois infantry, and was mustered out of the service at the close of the war as brevet captain. He returned to his home in Illinois and there resided and farmed until 1874, when he came to Kansas and settled in Cherokee county, where he farmed up to a recent date, when he retired and removed to the city of Columbus, where he now resides.
Judge Skidmore has been twice married. His first wife, who bore the maiden name of Hattie M. Allen, and whom he married in 1878, died in December following her marriage, leaving one child—Daisy M. In 1881 Judge Skidmore married a second time, Miss Alice M. Allen becoming his wife. Unto the second marriage four children were born—Etta May, who is the wife of J. C. Broadley, a banker at Weir City, Kan.; Hazel B., who died when six years old; Andrew A., and Helen C. Aside from the practice of law, Judge Skidmore has been and is now interested in several business enterprises, among them being the Citizens' State Bank at Weir City, of which he is president; the First National Bank of Columbus, of which he is vice-president; and the Altoona Vitrified Brick Company, of Altoona, Okla., of which he is vice-president, director and counsel. Fraternally, Judge Skidmore is a Knight Templar Mason and a member of Mirza Temple, Ancient Arabic Order Nobles of the Mystic Shrine, at Pittsburg, Kan. He is a Knight of Pythias.
Pages 288-289 from volume III, part 1 of Kansas: a cyclopedia of state history, embracing events, institutions, industries, counties, cities, towns, prominent persons, etc. ... / with a supplementary volume devoted to selected personal history and reminiscence. Standard Pub. Co. Chicago : 1912. 3 v. in 4. : front., ill., ports.; 28 cm. Vols. I-II edited by Frank W. Blackmar. Transcribed December 2002 by Carolyn Ward. This volume is identified at the Kansas State Historical Society as microfilm LM195. It is a two-part volume 3.