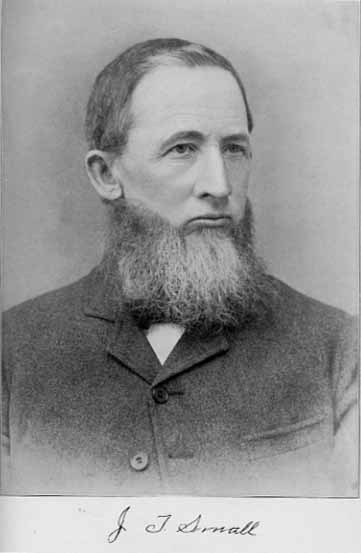 James Todd Small, of Scammon, has led a long, useful and successful life. He was born in Miami county, Ohio, Jan. 4, 1836. His parents were John and Margaret K. (Betson) Small. His father was born in Montgomery county, Ohio, and was a son of Andrew Small, who was a Pennsylvanian by birth, a scion of Scotch parentage, and a soldier in the Revolutionary war, after the close of which war he settled in Ohio. The mother of James Todd was born in Montgomery county, Ohio, and was a daughter of John Betson, a Frenchman. About ten years after their marriage John Small and wife obtained a Government patent to land in Miami county, Ohio, moved onto the land, developed it into a fine farm, and spent the rest of their days in that county. They had ten children, nine of whom grew to mature years, and three are now (1911) living.
James Todd Small was born and reared on his father's farm, in Miami county, and remained under the parental roof until twenty-one years of age. In the old primitive country schoolhouse he obtained his preliminary education, which was supplemented by a high school education, obtained at Piqua, Ohio. At the age of twenty-two years he began teaching in the country or district schools of Ohio. For ten years he taught in the schools of Miami and Montgomery counties, following farming during the summer seasons. Mr. Small was married Feb. 28, 1866, to Miss Hannah Wheatley, who was born in Montgomery county, Ohio, Feb. 26, 1839, a daughter of Joseph and Mary Ellen (Lowry) Wheatley. Her father was born in Massachusetts and was a son of Richard Wheatley, an Englishman, who first settled in Massachusetts and thence removed to Ohio. Mrs. Small's mother was born in Maryland, not far from Washington City. She was of English descent. She bore her husband eight children, seven of whom grew to manhood and womanhood, and six of them are still living. The father was a farmer and also operated a sawmill. Their days were spent in Ohio after coming to that state. Mr. and Mrs. Small have had seven children, three of whom died in childhood. Those living are: Emma, the wife of David Mackie, Jr., of Scammon; Mabel, the wife of Thomas Pryor, who is associated with Mr. Small in business, at Scammon; Mary, the wife of Ernest Coontz, of Ft. Scott, Kan.; and Hubert Edwin, now studying music in Chicago.
In 1872 Mr. and Mrs. Small came to Kansas and settled on a farm at Pleasantview, about six miles east of Scammon. There they lived and farmed until 1890, in which year they left the farm and removed to the town of Scammon, where they have since resided, and where Mr. Small has since been successfully engaged in business. He has been and is now interested in the lumber business. He is also a hardware merchant, and is engaged in the furniture and undertaking business. Beginning life as a school teacher and then farming on a limited capital, then coming to Kansas and farming here for eighteen years, his business career since he left the farm covering a period of over twenty-one years—he has been an active man, forging his way in the commercial or financial world from a poor to that of a moderately wealthy man. He well deserves the rest from active business which he is now enjoying. During all these years of perseverance and struggle his devoted and faithful wife has proven, indeed, a helpmate, brightening life's pathway for him. Both he and his wife are members of the Presbyterian church, in the faith of which they have brought up their children. They were organizers of the Presbyterian church at Pleasantview, but are now members of the Scammon congregation. Since coming to Kansas Mr. Small has been a ruling elder in the church. He and his wife have led exemplary lives and merit the high esteem in which they are universally held by all who know them. In politics Mr. Small has always been a Republican, but he has never sought political honors, preferring to devote his time to his personal affairs; yet he has always manifested a becoming interest in the public welfare. In 1864 he enlisted in Company D, One Hundred and Thirty-first Ohio National Guards and served 100 days in the defense of the Union. His life has been such as is deserving of emulation. He is a worthy citizen.
Pages 552-553 from volume III, part 1 of Kansas: a cyclopedia of state history, embracing events, institutions, industries, counties, cities, towns, prominent persons, etc. ... / with a supplementary volume devoted to selected personal history and reminiscence. Standard Pub. Co. Chicago : 1912. 3 v. in 4. : front., ill., ports.; 28 cm. Vols. I-II edited by Frank W. Blackmar. Transcribed December 2002 by Carolyn Ward. This volume is identified at the Kansas State Historical Society as microfilm LM195. It is a two-part volume 3.