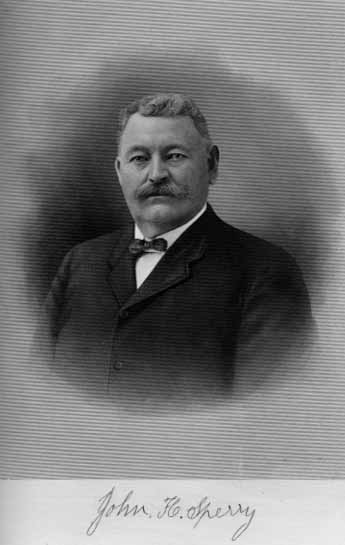 John H. Sperry, of Thayer, president of the Thayer State Bank, is a veteran of the Civil war and a pioneer resident of Neosho county, where for nearly forty-five years he has witnessed its remarkable growth, to which he has been a large contributor as a farmer, stockman, and banker. Both the paternal and maternal descent of Mr. Sperry is from sturdy German ancestors. He was born in Cambridge City, Wayne county, Indiana, Nov. 18, 1841, to George and Catherine (Delano) Sperry, natives of Germany. They left the Fatherland in 1833 and came to the United States, where they located first in Ohio, but later removed to Indiana. The father was a cabinet maker by trade, but settled on a farm in Indiana and there gave his attention to agricultural pursuits until his death, in 1853. Both parents were members of the Evangelical church. Rear Admiral Charles S. Sperry of the United States navy, now retired, and a resident of Newport. R. I., is a member of this same branch of the Sperry family.
John H. Sperry received his education in Wayne county and in Hamilton county, Indiana. In the fall of 1862, before having quite reached his majority, he enlisted in Company I, Seventy-fifth Indiana infantry, with which he served until the close of the war. He was entered as John Sperry and served as a corporal and later as sergeant. This regiment was organized at Wabash, Ind., and was mustered in Aug. 19, 1862. It left the state on Aug. 21 for Lebanon, Ky., but retired to Louisville upon Bragg's advance. It then moved to Frankfort, Scottsville, Gallatin and Cave City, in pursuit of Morgan. It was in camp near Gallatin during December and moved in January, 1863, to Murfreesboro, being engaged in scouting and brief expeditions, with the Second brigade, Third division, Fourteenth corps. On June 24 it started for Tullahoma, participated in the battle at Hoover's Gap, and was the first regiment to enter the enemy's works at Tullahoma. Moving then towards Chattanooga, it was engaged at Chickamauga; it XXXXXXear Chattanooga during the fall and winter and was engaged XXXXXXle of Missionary Ridge. It moved to Ringgold, Ga., in the XXXXXX1864, joined the campaign to Atlanta, and was engaged at XXXXXXaca, Dallas, Kenesaw Mountain, Peachtree creek, in front XXXXXX and at Jonesboro. At Atlanta Mr. Sperry was severely XXXXXX was detained in a hospital several months, but rejoined XXXXXXas soon as he was again able for service. On Oct. 4 the Seventy-fifth moved with its corps to Pine Mountain and arrived in ume to threaten the rear of French's division of Hood's army, which was investing the garrison at Allatoona. The regiment returned in time to join the march upon Savannah and the march through the Carolinas, participating en route in the battles of Fayetteville and Bentonville. It moved with the advance of the army to Raleigh, thence to Richmond and Washington, and was mustered out at Washington June 8, 1865.
After the close of the war Mr. Sperry returned to his Indiana home, where he was married, in 1866, and with his young wife came to Kansas 1869. In Neosho county he preëmpted a piece of land, which he still owns and to which he has added by purchase until he has 640 acres of well improved farm land. Soon after coming to this state he went into the stock business, in which he has been very successful. He has frequently fed and shipped as many as sixty car loads of cattle a year, and the last year he was actively engaged in that business he shipped sixty-four car loads in four months. In 1897 he rented his farm and removed to Thayer, where he built a fine home and now lives retired, except for his duties in the bank. He is president of the Thayer State Bank, which was organized in 1899 and has a capital of $10,000, with a surplus of $2,700.
The wife of Mr. Sperry was a Miss Mary E. Deatrich before her marriage. She was the daughter of John Deatrich, who removed from Pennsylvania to Indiana in an early day and died in the latter state. The union of Mr. and Mrs. Sperry was blessed by six children: Minnie is the wife of Joseph Horr, of Thayer; Dora is Mrs. F. C. Petri, of Labette county, Kansas; Pearl D. is at the parental home; John F. is a resident of Kaw City, Okla.; Albert O. is assistant cashier of the Thayer State Bank; and Ray E. is located at Fairfax, Okla. Mrs. Sperry died in 1909; she was a devoted member of the Methodist Episcopal church. Mr. Sperry is a Knight Templar Mason. In political affairs is aligned with the Republican party, in the work of which he has always taken an active interest. He is also a member of the Thayer Post, No. 139, Grand Army of the Republic. There were six sons in the family of Mr. Sperry, and four of them were soldiers in the Civil war. Their mother was a widow at the breaking out of the war.
Pages 424-425 from volume III, part 1 of Kansas: a cyclopedia of state history, embracing events, institutions, industries, counties, cities, towns, prominent persons, etc. ... / with a supplementary volume devoted to selected personal history and reminiscence. Standard Pub. Co. Chicago : 1912. 3 v. in 4. : front., ill., ports.; 28 cm. Vols. I-II edited by Frank W. Blackmar. Transcribed December 2002 by Carolyn Ward. This volume is identified at the Kansas State Historical Society as microfilm LM195. It is a two-part volume 3.