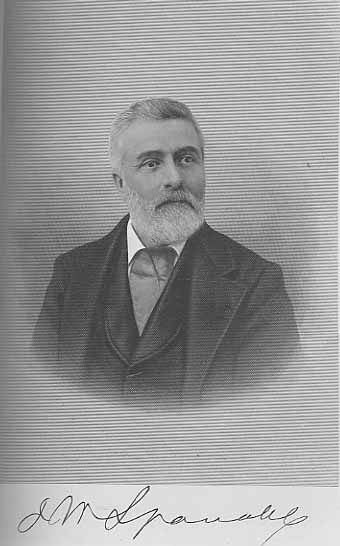 John Warren Sponable, one of the most conspicuous pioneer business men of eastern Kansas in his day, was born at Oppenheim, Fulton county, New York, Nov. 2, 1832. His father was a prosperous farmer and his grandfather, Philip Sponable, was a soldier in the Continental army in the Revolutionary war, and was present at the surrender of General Burgoyne at Saratoga. From his Dutch and English ancestry Mr. Sponable inherited many of his leading traits, which made him so successful in his business career. He received the rudiments of his education in the common schools and supplemented this by self-culture, becoming a well informed man. In this he was greatly assisted by his mother, a native of Massachusetts and much better educated than the average woman of her time. When seventeen years of age he left the farm and went to Cincinnati, Ohio, where he engaged in mercantile pursuits, in which he was successful. Two years later he removed to Camden, where he continued in the same line of business and also as a dealer in grain. In 1857 he came to Kansas and located at the town of Gardner, in Johnson county, where he opened the first store and built up a large trade. For several years he was the leading merchant in that section of the state, but in a raid made by guerrillas, in the fall of 1861, he suffered the loss of several thousand dollars, on account of goods taken by them. In addition to his mercantile interests he was extensively interested in real estate and farming operations. The loss caused by the guerrillas was soon recovered, through his energy and sound judgment. In 1873 he built a large mill at Paola and removed to that place. He was one of the incorporators of the Miami County Bank, of which he became vice-president, later becoming president and holding that office for twenty-one years, or until the time of his death, Nov. 1, 1899. Notwithstanding the claims of his private business concerns, Mr. Sponable always took a keen interest in public affairs. He was a public spirited citizen and did much for Paola. Among his benefactions was the site of the present public library, and he also contributed generously to the library in other ways. At the time of his death he was regarded as one of the wealthy men of Kansas, and every dollar of his accumulations was the fruit of energetic and intelligent effort. His career may well serve as an object lesson to the youth of the state, for it shows what energy and integrity can accomplish. Politically, he was a lifelong Republican and took an active interest in political affairs. In 1861 he was elected treasurer of the county and was reëlected in 1863. In the Price raid of 1864 he served with the Kansas state troops and aided in driving the enemy from the state. In 1866 he was elected to the Kansas legislature and well and faithfully served the people of Johnson county, but declined a reëlection. He was actively engaged in securing the building of the Kansas City & Santa Fe railroad, in 1868-69, and was largely instrumental in completing the line from Olathe to Ottawa. When the State Agricultural Society was organized he was its first superintendent and life member, and continued to serve as superintendent and director until 1870. He was elected mayor of Paola, in 1875, and served one term. Fraternally he was a member of the Independent Order of Odd Fellows and filled all the chairs in his lodge.
Mr. Sponable was twice married. His first wife was Miss Lydia Thomas, an accomplished young lady of Camden, Ohio, and of this union were born three children, one of whom, Fannie, is the wife of John Fordyce of Paola. Some years after the death of his first wife, he married Myra D., daughter of Dr. Woodman D. and Antress (Dudley) Shean, natives of Maine. Dr. Shean came to Kansas in 1857 and settled at Gardner, Johnson county, where he practiced his profession. He was an ardent free-state man and took part in the struggles of the border war. He served a term as state senator and was otherwise prominent in the political affairs of Johnson county. His wife was of English descent, a descendant of Lord Guilford Dudley. She now resides with Mrs. Sponable, at Paola, at the age of ninety-four, and is exceptionally well preserved for her age. She still takes an active part in various social functions. To Mr. Sponable's second marriage were born the following children: Edgar Dudley, who died at the age of seven years; Ella, wife of H. M. Washburn of Topeka; Fred (see sketch); Frank W. (see sketch); and Carrie, the widow of Fred W. McLaughlin, living in Paola.
Pages 896-897 from volume III, part 2 of Kansas: a cyclopedia of state history, embracing events, institutions, industries, counties, cities, towns, prominent persons, etc. ... / with a supplementary volume devoted to selected personal history and reminiscence. Standard Pub. Co. Chicago : 1912. 3 v. in 4. : front., ill., ports.; 28 cm. Vols. I-II edited by Frank W. Blackmar. Transcribed December 2002 by Carolyn Ward. This volume is identified at the Kansas State Historical Society as microfilm LM195. It is a two-part volume 3.