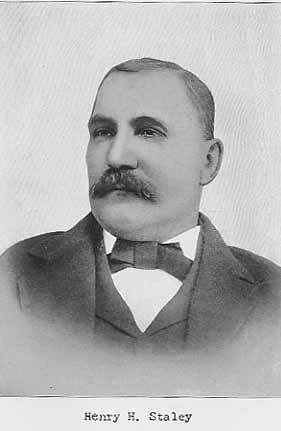 Henry H. Staley, deceased, was one of Franklin county's most successful farmers and stockmen. He was born at Marion, Ohio, Oct. 20, 1843, and when a small boy accompanied his parents, Jacob and Catharine (Meeks) Staley, to Iowa, and thence to Cass county, Missouri, ere he had reached his majority. He was reared an agriculturist and followed that occupation in connection with stock raising during his entire life. He came to Anderson county, Kansas, in 1874, locating in Putnam township, and continued to reside there and at Richmond until his death, on Feb. 21, 1908. He first purchased a quarter section of wild land, but as years passed and his business prospered he added to his original purchase until at his death he owned, in Anderson county, 1,800 acres of fine farm and grazing land, besides a large tract of Texas land. He was a man of strict integrity and was ever ready to assist in the upbuilding of the community. He always contributed liberally toward the building of churches and other laudable enterprises, and was a stanch Republican in politics, though he never sought political preferment in any way.
In March, 1886, Mr. Staley was united in marriage with Miss Elizabeth Bryce, born in Scotland, July 29, 1861, a daughter of John and Margaret (Gibson) Bryce, both of whom were natives of Scotland, where they were reared, educated and married. Mr. and Mrs. Staley became the parents of four children: Margaret, born Dec. 26, 1886, graduated from the Richmond High School and then took a course at the Agricultural College at Manhattan, Kan.; Frances G., born March 9, 1890, graduated from the Presbyterian College at Emporia, Kan., receiving her degree in 1909, and at present (1910) is taking normal training work in the Normal Training School at Emporia; Harry, born March 3, 1892, graduated from the Richmond High School, spent two years in college at Emporia, and is now (1910) taking the engineering course in the University of Kansas at Lawrence; Kathryne E., born Dec. 27, 1897, is attending the Richmond schools. Although Mr. Staley was not a member of any church, he attended and supported the local Presbyterian church, of which Mrs. Staley and the children are members. At the death of her husband, Mrs. Staley took charge of the large estate, which she has since managed with exceptional success. She resides in a fine modern home in the southern limits of Richmond, where she frequently entertains her friends with gracious hospitality.
Page 1320 from volume III, part 2 of Kansas: a cyclopedia of state history, embracing events, institutions, industries, counties, cities, towns, prominent persons, etc. ... / with a supplementary volume devoted to selected personal history and reminiscence. Standard Pub. Co. Chicago : 1912. 3 v. in 4. : front., ill., ports.; 28 cm. Vols. I-II edited by Frank W. Blackmar. Transcribed December 2002 by Carolyn Ward. This volume is identified at the Kansas State Historical Society as microfilm LM195. It is a two-part volume 3.