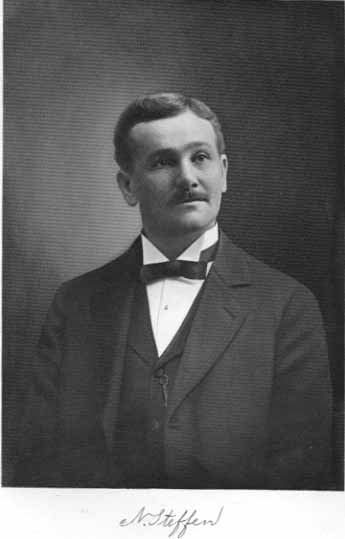 Nicholas Steffen.—When a great man dies in the fullness of maturity, with his head hoary and his life's work complete, he is deeply mourned by his family and friends, who, however, realizing that to die is the common fate of all, quickly recover their normal composure. But when he is stricken down in the meridian of life, with the suddenness of a thunderbolt, the entire community in which he lived is shocked, and, with hushed tongue and bated breath, it mourns as one vast being and weeps with the family of the bereaved. Such was the condition which obtained in the city of Wichita on the night of June 8, 1910, when the Grim Reaper, in a most tragic and shocking manner, claimed one of its worthy and beloved citizens, the late Nicholas Steffen. A devoted wife was made a widow, four children were made orphans, and the community was robbed of a good man—all in the twinkling of an eye. Such will be the sad results so long as locomotives are permitted to cross the busy paths of pedestrians, without due and timely warning, and thereby become death-dealing monsters of the rail, instead of simply the sublime and powerful giants of locomotion, which they are intended to be.
Nicholas Steffen was one of the most successful and popular business men of Wichita in his day, and hundreds of the best men in the city, to whom he was known as "Nick" Steffen, were his devoted friends. He was born in Madison, Ind., March 27, 1862, son of Nicholas Steffen and his wife, whose maiden name was Magdalena Klein. His parents were natives of Germany, but came to this country in early life, and they were married at Madison, Ind., where they lived for several years, and where the son, Nicholas, was born, as stated above, Later, the parents removed to Indianapolis, where the mother subsequently died, and where the father, one brother, and two sisters still reside. The date of his mother's death was Jan. 11, 1895. Besides his widow, his children, and his father, two brothers and three sisters survive him. They are John Steffen, Mrs. Theresa Kottlowski and Mrs. Katherine Reinert, of Indianapolis; Charles Steffen, of Chicago, and Mrs. Louise Russell, of Salt Lake City. Andrew Steffen, a prominent cigar manufacturer and dealer, of Indianapolis, is his cousin. His father, Nicholas Steffen, Sr., a shoemaker by trade, came to this country with his father and stepmother when a lad of seven. His mother, Magdalena Klein, came to this country with her parents in her early girlhood. Both the Steffen and Klein families located on the north bank of the Ohio river, in Southern Indiana, a most popular section in that day for German settlers and here it was that the parents became acquainted and were married.
Nicholas Steffen, the subject of this sketch, was reared to the age of eighteen at Madison, Ind., and received his early education in the public and parochial schools of that place. It was at Madison, Ind., in his youth, that Mr. Steffen became familiar with the baker's and confectioners trades, and it was there, also, that he got his first lessons in ice cream making, with all of which trades he subsequently became so prominently identified in Wichita. These fields of activity received his attention pretty much all his life, and it was as a confectioner, baker, and ice-cream maker, as well as a manufacturer and dealer in artificial ice, that he was destined to become a prominent figure in the life of a large and busy city, in after years. Mr. Steffen came to Wichita, in 1882, and first established the Indiana Bakery, on Douglas avenue. Later, he sold this business and for a short time was engaged in business at Wellington, Kan. He soon returned to Wichita, however, and then established the Bon Ton Bakery and Candy Kitchen on North Main street. This he conducted very successfully until 1899, when he sold it in order to embark in a larger business, and one more congenial to his tastes. The Bon Ton Bakery and Candy Kitchen is still in existence, and is being conducted, at No. 146 North Main street, in a building which belongs to Mr. Steffen's widow. Upon disposing of the Bon Ton Bakery he and W. H. Bretch formed a partnership in the manufacture of artificial ice, the business being known as the Citizens' Ice Company. They were manufacturers and dealers in both ice and ice cream, their business being both wholesale and retail. By 1903 the business of the firm had reached such proportions that the business was incorporated under the name of the Steffen-Bretch Ice and Ice Cream Company, of which Mr. Steffen became president and general manager and Mr. Bretch, secretary and treasurer. A system of branch plants was established, the first one being located at Oklahoma City, and others were later established at Hutchinson, Kan., and McAlister, Okla. In 1905, Mr. Steffen's health failing, he resigned the active management of the business to Mr. Bretch, still retaining, however, the presidency. In 1906 Mr. Steffen and Mr. Bretch sold a controlling interest in the business to C. M. Beachy. Both men retained stock in the concern and both continued on its board of directors, and Mr. Steffen was still one of its directors at the time of his death. Upon resigning the active management of the ice and ice-cream plants, Mr. Steffen bought a ranch of 340 acres, near Leon, Kan., thirty miles east of Wichita, and removed his family there, believing that the life of a ranchman would prove beneficial to his health. In the spring of 1910 he sold the ranch and returned to Wichita, and at the time of his death was just completing a magnificent home on North Rutan evenue.[sic] This place had formerly been the Hardy Solomon home and it was being entirely remodeled by Mr. Steffen. He was married Sept. 18, 1890, to Miss Cora B. Harrison, of Wichita, daughter of Edward O. Harrison and his wife, whose maiden name was Sarah Electa Epply. Mrs. Steffen's parents were born in Cincinnati, Ohio. They came to Wichita, in 1889, and now reside here. Mrs. Steffen was born in Cincinnati, Ohio, Aug. 21, 1870, and came to Wichita with her parents. Four children were the fruits of this marriage: Nellie Claire, born July 9, 1891; Edward Nicholas, born Aug. 6, 1895; Leona Louise, born Aug. 9, 1898; and Helen May, born Sept. 16, 1900. Mrs. Steffen, together with her four children, occupy a very commodious home at 1042 North Market street. She is a member of the First Baptist Church, of the Order of the Eastern Star, and is one of the most prominent young matrons in Wichita's best society. Her father, E. O. Harrison, is a veteran of the Civil war. Harry Oliver Harrison, the North Main street jeweler, is her only brother, and she has no sister.
Mr. Steffen was prominent in Masonic circles, being a Thirty-second degree Scottish Rite Mason and a Knight Templar, as well as a past master of his lodge. He had formerly been an Odd Fellow and a Knight of Pythias, and was a member of the Ancient Order United Workmen at the time of his death.
On the fateful night of June 8, 1910, he and a companion paid the death penalty at the hands of a switch engine, as they were attempting, in the darkness, to cross the Santa Fe tracks at the intersection of that railroad and Douglas evenue.[sic] Neither of them having any knowledge of its approach, and without any thought of danger, they deliberately and innocently stepped to their death and were swept into eternity by the monster which bore down on them the moment they reached the track, thus another sad example was made of the wanton and inexcusable negligence of railroads in general, in failing properly to safeguard the public from such catastrophes, by the use of gates and gatemen at all such points, which would place such disasters beyond the pale of possibility and stop forever the frequent and merciless crushing out of human life. In this connection the question may be asked, has a railroad a right to maintain a death trap in the heart of a busy community and to go on committing fatalities with startling frequency, without liability and with perfect impunity? To this question the voice of all humanity will answer such an emphatic no that the point ceases absolutely to be contestable. Mr. Steffen was one of the most successful and substantial business men of Wichita, as well as one of her most popular citizens. He owned much real estate and was constantly adding to his holdings. Some of his properties are the following: The large brick building at the southwest corner of Douglas and Rock Island avenues; a large warehouse in the second block on South Santa Fe avenue; the four-story building at 146 North Main street; several cottages and vacant lots near the corner of Fifteenth street and St. Frances avenue; several vacant tracts in various parts of the city, and the handsome residence on College Hill, which he was preparing for occupancy. The ownership and management of all these properties now rest with his widow, who has demonstrated that she has talent, rarely found in a woman, for managing large business interests.
Mr. Steffen's business career in Wichita was attended with remarkable success. A man of great energy and activity, whose capacity for business was of a high order; a man who used honest methods and correct means to win his way into the favor of the community; a man of good habits and high character who had a faculty to make friends and to keep them, in both his social and business relations, Nicholas Steffen carved an impress upon the business history of Wichita as few others have done, and he left behind him a good name to bear witness to his sterling worth as a citizen of the community.
Pages 672-675 from volume III, part 1 of Kansas: a cyclopedia of state history, embracing events, institutions, industries, counties, cities, towns, prominent persons, etc. ... / with a supplementary volume devoted to selected personal history and reminiscence. Standard Pub. Co. Chicago : 1912. 3 v. in 4. : front., ill., ports.; 28 cm. Vols. I-II edited by Frank W. Blackmar. Transcribed December 2002 by Carolyn Ward. This volume is identified at the Kansas State Historical Society as microfilm LM195. It is a two-part volume 3.