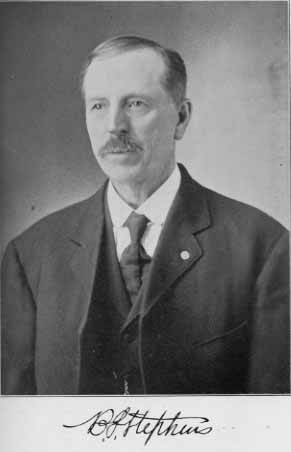 Benjamin L. Stephens, of Ashland, Kan., one of Clark county's most prominent and substantial citizens, was born on a farm in Boone county, Kentucky, Dec. 10, 1855. His parents, John and Emily M. (Rice) Stephens, were also natives of Boone county, Kentucky, where the former was born in 1826, and his marriage to Miss Emily M. Rice occurred in 1849. John Stephens was a farmer during his active career, but now lives retired at Erlanger, Ky., having reached the advanced age of eighty-six years. He is a member of the Masonic order, and has occupied a prominent place in the public life of Boone county, where he has held various county offices of trust and responsibility. During the Civil war he was drafted by the Union, but on account of being a sympathizer of the Confederacy he sent a substitute. John Stephens, grandfather of Benjamin L., was a native of Virginia, and was a slaveholder. He removed from Virginia to Kentucky, on horseback, and carried with him a saddle-bag full of gold, which he entrusted to the keeping of a negro slave in order to prevent robbery by the Indians, who at that time were making warfare in that section of the country and were later repulsed by Daniel Boone, the famous Kentucky pioneer, who signalized himself by his many daring exploits against the Indians. Emily M. Rice, the mother of Benjamin L. Stephens, was the daughter of Edward Rice, who also was a Virginian by birth. She died in Boone county, Kentucky, Sept. 10, 1907. To her and her husband were born eight children—five sons and three daughters: Frances A., born in 1850, is the wife of John S. Gaines, an insurance man at Colorado Springs, Colo.; Ezra K., born in 1852, is engaged in farming in Boone county, Kentucky; Benjamin L. is the third in order of birth; Edward R., born in 1857, is a merchant at Delhi, Ohio; Euna M., born in 1859, is the wife of Willis B. Arnold, a farmer at Hannibal, Mo.; Elizabeth B., born in 1861, resides with her father at Erlanger, Ky.; Richard J., born in 1863, is a farmer at Hannibal, Mo.; and Owen C., born in 1865, died in 1906.
Benjamin L. Stephens obtained his education in the public schools of Boone county, Kentucky, and assisted his father with the duties of the farm until twenty-one years of age, when he engaged in the mercantile business on his own account, at Bullittsville, Ky. To begin the business he borrowed $1,000 from his father, which sum he was able to refund at the end of the first year. He remained in the mercantile business nine years, until 1885. On May 19 of that year he wedded Miss Lula M. Kendall and with his wife came to Kansas, making his wedding trip his journey to this state. Mrs. Stephens was born in Louisville, Ky., in 1858, daughter of Edward Kendall, of Louisville. Mr. and Mrs. Stephens came by railroad to Harper, Kan., where he bought a wagon and team, and from there drove to Clark county, which at that time had no railroad. They located on government land, in the northeast corner of Clark county. In October, 1886, Mr. Stephens, with others, organized and platted the townsite of Lexington, Kan. A postoffice was established, with Mr. Stephens as the first postmaster. He opened the first store in the town, which he conducted until 1896; erected the first house in the town; and he was the town's first inhabitant and the last one to leave it, when the site was abandoned on account of the new railroad missing it seven miles. In 1896 he removed to Ashland, the county seat, with his stock of goods, and conducted a general store there until 1909, when he retired from active business, having spent thirty-three years, the greater part of his life, in active business pursuits, in which he was very successful. During his business career in Clark county he never refused credit to any one. Many of those to whom he a extended credit he had never seen or heard of before. He often accomodated a single person with credit to the extent of $2,000, and at times had over $25,000 on his books. This was during the hard times, following the panic of 1893, and he carried many of his customers for their supplies for from two to five years. He thus helped many of them to remain in the country, when otherwise they could not have done so, and a majority of them are here yet, owners of good farms, having paid their indebtedness and accumulated a goodly share of this world's goods. Mr. Stephens rejoices in the fact that he was able to help them. Besides his mercantile business, he has extensively engaged in farming and stock raising and owns 3,100 acres of land in Clark county, Kansas, besides farms in Missouri and Oklahoma. Of his various lands, about 1,200 acres are under cultivation, and of that portion 1,000 acres are sown to wheat annually. He has given much attention to the raising of thoroughbred horses and also raises large numbers of mules. He also owns considerable town property, included with which is the Stephens Opera House at Ashland. Since retiring from active business life he and his family have spent much time in travel. His one son, John E., born Jan. 7, 1889, at Lexington, Kan., graduated in the Ashland High School, at the age of sixteen, and then took a two-years' business course at Kansas City, Mo. He is an electrician and has a large garage at Ashland. Politically, Mr. Stephens is a Democrat, but has never sought office. He has, however, served as chairman of the Clark county Board of Commissioners, four years, and was a member of the Ashland city council three years. Fraternally he is a Mason. Mrs. Stephens is a communicant of the Episcopal church.
Pages 264-266 from volume III, part 1 of Kansas: a cyclopedia of state history, embracing events, institutions, industries, counties, cities, towns, prominent persons, etc. ... / with a supplementary volume devoted to selected personal history and reminiscence. Standard Pub. Co. Chicago : 1912. 3 v. in 4. : front., ill., ports.; 28 cm. Vols. I-II edited by Frank W. Blackmar. Transcribed December 2002 by Carolyn Ward. This volume is identified at the Kansas State Historical Society as microfilm LM195. It is a two-part volume 3.