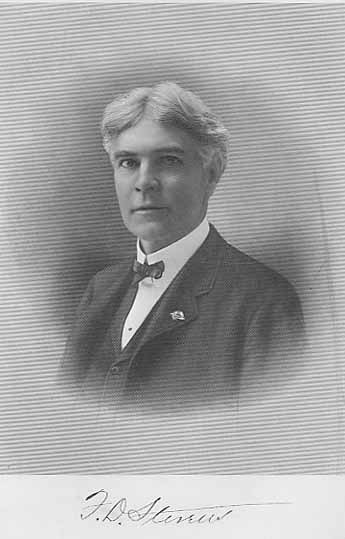 Frank D. Stevens.—One of the chief objects of a work of this character is to record faithfully the doings of the men whose efforts in various lines of activity have resulted in the advancement and development of the commonwealth. It is in connection with her flour mills—the one great manufacturing industry of Kansas—that Mr. Stevens has been brought prominently before the public view, and his labors in this field have been of such value as to merit distinctive recognition in this volume. Frank D. Stevens is a native of Missouri, having been born in St. Louis on Sept. 20, 1858, the son of Chester D. and Ellen (Madden) Stevens. The father was a native of New York and of English parentage. In 1846 he engaged with his father in the manufacture of lumber in Wisconsin, and the town which grew up around their mill, yards and store was named Stevens Point, in honor of its founders. He removed to St. Louis, Mo., in 1858 and embarked in the nursery business. He became a resident of Mendota, La Salle county, Illinois, in 1860, and came to Kansas in 1873, locating at Raymond, Rice county, where he became a successful farmer and stockman. He retired from active pursuits in 1889 and became a resident of Wichita, where he made his home until his death, which occurred on July 10, 1899. He was a stanch Republican and served during the Civil war as an officer in the commissary department. In 1856 Mr. Stevens married Miss Ellen Madden, daughter of Stephen A. and Mary Madden, residents of Mendota, Ill., and natives of Ireland. She was born in Taunton, Mass., July 10, 1837, and is now a resident of Wichita. Of this union were born the following children: Frank D., the subject of this sketch; George, born in 1860, an employee of the Chicago, Rock Island & Pacific traffic department at Guthrie, Okla.; Nellie, born in 1862, the wife of James H. Eungard, a locomotive engineer of Caldwell, Kan.; Sophronia, born in 1864 and died at Cartagena, Colombia, S. A., was the wife of George A. McQuade, a railroad superintendent; Chester H., born in 1871, a commercial trader of Wichita; Lucy, born in 1876, died in 1899; and Permelia, born in 1878, the wife of Frank Fulton of Wichita.
Frank D. Stevens acquired his education in the public schools of Mendota, Ill. In 1873, when but fifteen years of age, he learned telegraphy in the Atchison, Topeka & Santa Fe railroad office at Raymond, Kan., and the following year was given charge of that station. He has the distinction of being the youngest station agent ever in the employ of the Santa Fe lines. He continued in the employ of that company until 1891; was several times promoted and gained a thorough knowledge of both freight and passenger traffic. During the latter years of his service he read law, was admitted to the bar at Norman, Okla., in 1892, and was engaged in the active practice of that profession until 1896, at Norman and Oklahoma City jointly. He entered the milling industry in 1896 as manager of the Purcell mill and elevator at Purcell, Okla. In 1898 he purchased the Wichita mill and elevator, which he operated until 1899, when he resumed his former position as manager of the Purcell mill and elevator. This position he resigned on Jan. 1, 1903, to become secretary of the Southern Kansas Millers' Commercial Club. This position opened a field in which Mr. Stevens was enabled to exercise his comprehensive knowledge of railway freight traffic, and to demonstrate the possession of initiative energy and executive ability. During his incumbency of this office, covering a period of nine years, he demonstrated to the milling trade not only a mastery of business in its various details, but also a tact in organization which was of inestimable value. In 1911 he conceived the consolidation of a number of the best known mills of Kansas, with the object in view of a reduction in the manufacturing, selling and shipping costs, and a joint capacity sufficiently large to permit of handling an export trade to advantage. His ability as an organizer was again proven through the promotion and organization of the Kansas Flour Mills Company, incorporated on Dec. 4, 1911, of which he was made general traffic manager. The mills of the company have a capacity of 15,000 barrels, the capital is $9,000,000, and its officers and directors are among the most successful men in the milling business of Kansas. In the selection of Mr. Stevens as traffic manager, the directors have evidenced their appraisement of his railway and legal ability, and the future will undoubtedly prove their judgment good. Mr. Stevens owns and has operated for several years the Tonkawa Mill & Elevator Company of Tonkawa, Okla. In 1909 he conceived and promoted to successful organization the Master Millers' Benevolent Association of America, a fraternal benefit order, of which he has since served as supreme secretary. He has attained to the Knights Templars degree in Masonry and is affiliated with India Temple of the Mystic Shrine of Oklahoma City. He is also a member of Wichita Lodge, No. 427, Benevolent and Protective Order of Elks, and the United Commercial Travelers. Politically he is a Republican, but being essentially a business man he has had neither time nor inclination for public office.
Mr. Stevens has been twice married. On Jan. 27, 1885, he married Miss Lillian Humphrey, daughter of John and Mary E. Humphrey of Carbondale, Kan. She was born in May, 1862, and died on July 3, 1899. Three children were born of this union: Roland H., born Aug. 27, 1887, was killed in a railroad wreck at Cimarron, Kan., Oct. 10, 1903; Estella, born on Nov. 13, 1888, is the wife of George H. Ricker, sales manager of the Pratt Mill & Elevator Company of Pratt, Kan.; Helen, born on March 1, 1896, is a student at Carbondale, Kan. On Oct. 17, 1900, Mr. Stevens married as his second wife Miss Rose Ratner, born at Kharkof, Russia, Oct. 13, 1876, and came to America with her parents in 1880. They are the parents of two children: Dana, born July 3, 1902, and Frank D. Stevens, Jr., born Aug. 20, 1907. Mr. Stevens is a high type of the conservative, unassuming America, diligent in his various duties and commercial affairs and conscientious in all things.
Pages 1392-1394 from volume III, part 2 of Kansas: a cyclopedia of state history, embracing events, institutions, industries, counties, cities, towns, prominent persons, etc. ... / with a supplementary volume devoted to selected personal history and reminiscence. Standard Pub. Co. Chicago : 1912. 3 v. in 4. : front., ill., ports.; 28 cm. Vols. I-II edited by Frank W. Blackmar. Transcribed December 2002 by Carolyn Ward. This volume is identified at the Kansas State Historical Society as microfilm LM195. It is a two-part volume 3.