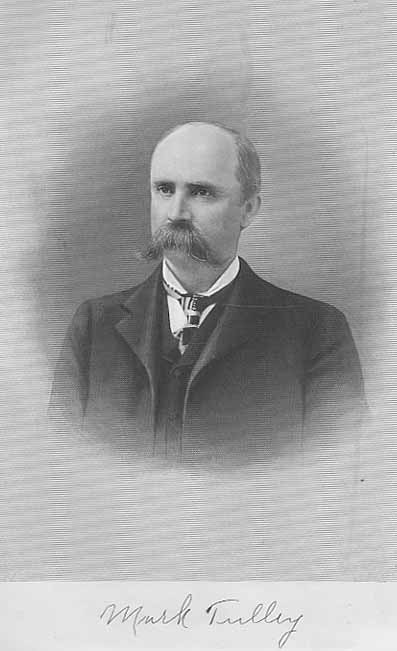 Mark Tulley.—There are many men who, by the practice of correct methods in private life, win the confidence and esteem of their fellows and by them are elected to public office. A considerable per cent. of them, however, though they may prove true to the trust, and be most efficient in the discharge of their professional duties, fail to maintain their standard of popularity and are retired to private life at the expiration of their first term. On the other hand there are many other public officials whose usefulness becomes more apparent as their period of service lengthens, and whose popularity not only continues but is also constantly broadened, with the result that they are reëlected to office and frequently are kept there as long as they will consent to serve. In other instances, as an additional mark of confidence in them, certain officials, after they have been tried out in minor capacities, are chosen to higher positions of public trust, and even then it occasionally happens that their fidelity to the public weal is so apparent, and the quality of their service is such that they will be honored with reëlection to the office, thus showing their fitness for the larger office to be quite as great as it had been for the smaller one. A conspicuous example of this class of men is the Hon. Mark Tulley, late of Independence, but now of Topeka, who is serving his third consecutive term as treasurer of the State of Kansas.
Hon. Mark Tulley, a man well known all over Kansas, and a man whom the people of the state have for a third time honored by election to one of the principal offices in the commonwealth, is a Hoosier by birth, born in Bartholomew county, Indiana, April 2, 1854. His father, William Tulley, born in Maryland in 1814, removed with his widowed mother from Maryland to Butler county, Ohio, when he was three years old, and was reared to manhood in that county. In 1837 he was married there to Martha Jane Cone, who was born in Ohio in 1822. Soon after his marriage he removed to Franklin county, Indiana, from where, in 1853, he removed to Bartholomew county, Indiana, where he and his wife spent the rest of their lives, she dying in 1897 and he in 1902, after having lived a peaceful and happy wedded life of more than sixty years.
Mark Tulley was reared to manhood on a farm in Bartholomew county, having the early educational advantages of a country school, which was later supplemented by a course in the Northern Indiana Normal School at Valparaiso, Ind., now known as Valparaiso University. In his early manhood he taught four terms of country school, previous to settling down to some life pursuit. In 1878 he came to Kansas and located at Independence, which city continued to be his home for a third of a century, until 1911, when he removed to Topeka, in order to have his family nearer him while discharging the duties of his present state office. For a few years after coming to Kansas he was engaged in mercantile pursuits, in Independence. Later he became a traveling salesman and for twenty-five years followed this pursuit constantly in the employ of the Missouri Glass Company, of St. Louis, with the exception of a period of four years—from 1900 to 1904—during which he had his first experience as a public officer, serving two terms as treasurer of Montgomery county. In 1906, while again traveling in his former commercial relation, he was nominated and elected to the office of state treasurer, and he is now serving his third consecutive term in this office, having been reëlected in 1908 and again in 1910. His record in this office of great responsibility has been highly satisfactory to the public and he enjoys the confidence and approval of the people of the whole commonwealth, irrespective of party affiliations.
Mr. Tulley was married Nov. 3, 1878, to Miss Matilda E. Huston, who died Feb. 23, 1895. She became the mother of six children: William Huston is in Alaska; Mary Ellen is the wife of T. J. Straub, of San Francisco, Cal.; Margaret Martin is the wife of S. E. Urner, of Madison, Wis.; Martha Jane died in infancy; and Ruth Brown and Mark C. Tulley, twins, are at home.
Mr. Tulley is a Republican in politics, a Master Mason and a Knight Templar. He also belongs to the United Commercial Travelers' Association, and is very popular with the members of that organization all over the state. Seldom has a traveling salesman received such high political honors as has Mark Tulley, and the fact that such honors have been repeatedly conferred on him is convincing proof that he has ever been an honest and faithful public servant, and that he is of the kind that wears. In every part of Kansas his name stands for the highest ideals in good citizenship and for the broadest efficiency in public service. Coming to the state in his early manhood, by pursuing the path of rectitude and duty, together with honest methods, he has won his way into the affections of her people as few others have done, and his career affords a splendid example of what a young man may accomplish if he is possessed of qualities of head and heart which stand for right, and has coupled with them energy, industry and perseverance.
Pages 1288-1290 from volume III, part 2 of Kansas: a cyclopedia of state history, embracing events, institutions, industries, counties, cities, towns, prominent persons, etc. ... / with a supplementary volume devoted to selected personal history and reminiscence. Standard Pub. Co. Chicago : 1912. 3 v. in 4. : front., ill., ports.; 28 cm. Vols. I-II edited by Frank W. Blackmar. Transcribed December 2002 by Carolyn Ward. This volume is identified at the Kansas State Historical Society as microfilm LM195. It is a two-part volume 3.