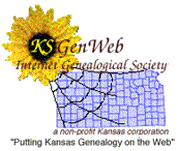 Barton County Kansas
Lookups
---

To request a lookup please follow these simple guidelines:
Put BARTON COUNTY LOOKUP in subject line. Most volunteers have offered to do lookups in more than one book and more than one county. This will insure that your request is not overlooked.
Put the name of the book on the first line of your message, followed by the name you are looking for.
Request only one name in one book per request.
Don't forget to thank your volunteer!
Failure to follow these simple guidelines could result in
your request being overlooked or ignored.
Book or Resource
Lookup Volunteer
The name of your book could be here!
Your name could be here!
1903 Plat Maps for the following townships:

Albion, Beaver, Cheyenne, Cleveland, Eureka, Fairview, Grant, Homestead, Independent, Logan, Union, Walnut, & Wheatland
Mike Emmerich

I am transcribing them slowly from copies of the plat maps to typed fom when I have the time. I can always, if someone requests it, look up individual names for townships I haven't transcribed yet. I have about four done so far and have only been woking at this since the end of summer. On the lookup volunteer thing make sure the people give:


1.)-- Name interested in
2.)-- Township of residence or land ownership if known.
3.)-- If not known, what part of the northern county they were from. (I.E. Relativity to towns like Olmitz, Hoisington, Claflin etc.)

Holy Family Catholic Cemetery
Odin, Kansas
older records compiled
by
Dorothy Emmerich

Mike Emmerich

?

?

?

?
If you have resources available for Barton County, won't you help? Most lookup volunteers average only a couple of lookups a day. Help us make the KsGenWeb pages the first... and best... stop on your quest for your Kansas roots.
---
---
Return to:
Please email any suggestions to Bill and Diana Sowers at sixsunflowers@yahoo.com. Include the words, "Barton County" in your email subject line. Thanks.
1746 SW Fairmont Road
Topeka, Kansas 66604
The lookup page was established by Bill & Diana Sowers on October 2, 2002.