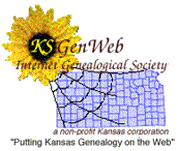 Early Catholic
Marriages
Recorded at Ellsworth
---
On 25 February 1934, Father Dan Mulvihill of St. Patrick's Catholic Church in Lincoln, Kan., copied marriages from 1878-1883 involving Lincoln County Catholics that were originally recorded in the records of St. Bernard Catholic Church in Ellsworth, Kansas. (In those days, Lincoln did not have its own priest and the Ellsworth priest traveled there to perform Mass, etc.) I have transcribed those early marriages below. It is possible that there are other "Lincoln" marriages at St. Bernard's. These records are hand-written in a church register at St. Patrick's rectory, Lincoln, Kan.
25 November 1878
Groom: James Healy
Bride: Julia Dudley
Groom's parents: John Healy, Johanna Healy
Bride's parents: Jacobus [James] Dudley
Witnesses: None given
Priest: B. Nultmann

25 May 1879
Groom: William O'Donnell, Galway
Bride: Anna McDonagh, Petshing [?], PA
Groom's parents: John O'Donnell
Bride's parents: Peter McDonagh
Witnesses: James Flaherty, Bridget Whalen
Priest: B. Nultmann

25 May 1879
Groom: Owen Haley
Bride: Mary Dudley
Groom's parents: James Haley
Bride's parents: James Dudley
Witnesses: James Whalen, Sara Haley
Priest: B. Nultmann

27 May 1879
Groom: Caspar Schmidt, Salt Creek, Ex Detroit, Mich.
Bride: Barbara Blron, Bohemia
Groom's parents: Caspar Schmidt
Bride's parents: Joseph Blron
Witnesses: Hermanus Crone, Johanna Blron

18 January 1880
Groom: James P. Flaherty, Lincoln
Bride: Julia King
Priest: Ign. [Ignatius] Lage

11 December 1882
Patrick Fox, Lincoln
Anna Flaherty
Wtinesses: John Flaherty, Magga Flaherty
Priest: John F. Kelly

8 April 1882
Groom: Owen Mulloy
Bride: Bridget Whalen
Witnessses: John Mulloy, Anna Flaherty
Priest: W.J.B. Xerena [?]

10 September 1883
Groom: Joseph Doyle
Bride: Sarah E. Lemaski [?]
Witnesses: John Whalen, Georgina Doyle
Priest: John J. Kelley

---
DO YOU HAVE
QUESTIONS, COMMENTS, CONTRIBUTIONS FOR US?
Bill and Diana Sowers
, Lincoln County Coordinators
Tracee Hamilton, Lincoln County Coordinator
---
Search all of Blue Skyways
---
Copyright 1997, 1998 by Bill and Diana Sowers