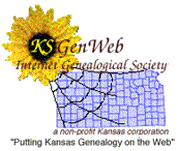 Lincoln County
Kansas
Obituaries
Surnames starting with

"P"
---
PAINTER --- Barbara SCHMIDT PAINTER
Lincoln Sentinel-Republican -- Dec. 28, 1944
--- Mrs. Barbara PAINTER, one of the best known residents of Beverly, passed away at her home in that community early Saturday morning, death coming to her quietly while she slept.

She had not been ill although she had been suffering from a cold and her sudden passing came as a severe shock to family and friends. She had reached the age of 79 years.


Funeral services for Mrs. PAINTER were held Tuesday afternoon from the home in Beverly, conducted Rev. Verne DENHAM. Burial was made in the Beverly cemetery. Surviving nearest relatives are her two children, John F. PAINTER and Mrs. Leonard LOY of Lincoln.
---
PAINTER --- Stephen G. PAINTER
Lincoln Sentinel -- May 2, 1918
--- Mr. S.G. PAINTER died at his home in Beverly on April 27, and in his death Beverly loses a faithful friend, Lincoln county one of her best types of pioneers and the State one of her builders. Coming as he did from one of the fine old families of the Keystone State whose splendid men and noble women were builders of that empire, he did much to emplant [sic] high ideals and the better tradition in the fertile soil of a state in the making.

A man of quiet life to whose nature self-assertion was utterly foreign, it remains for his friends to tell of his virtues, and his virtues were many. Kindliness, honesty, uprightness, hopefulness, cheerfulness, sobriety, devoted to his home, his family and his church, he was all that may be summed up in the term "A splendid Christian gentleman of the old school.

His business associates had the greatest confidence in him. His friends who knew him well enough to know his quiet humor know how much better the world is for his having lived in it. To his family his loss is irreparable, but they have a splendid heritage of a memory without a regret, a memory unspoiled by any flaw. A greater heritage than this can no man leave to his own.
---
PARKER --- Stella PARKER
Saline Valley Register, July 11, 1877
---On Friday, July 6th, 1877, at the residence of Capt. W.S. WAIT, Miss Stella PARKER, aged 16 years, one month and three days.
Miss Parker was a niece of Mrs. W.S. Wait, and had come here but a few weeks since, hoping that her failing health might be restored, but nothing seemd to give her relief, and she has thus peacefully and uncomplainingly passed away. She was an intelligent, amiable and pleasant young lady. She was buried last Saturday in the silent little city on the hil, where the wild flowers bloom and the meadow larks sing their sweetest songs. Her sister, Miss Clara Parker, arrived from Santa Cruz, Calif., a couple of hours before her death, but it was too late; she did not know the dear sister she had talked about and wished for so many times. It is to be hoped they may meet on that beautiful shore where partings are unknown and sorrows never come. The funeral services were conducted by Rev. H.C. Bradbury, nearly all the citizens of the place being present.
---
PARSONS --- Charles PARSONS
Lincoln Sentinel-Republican, Nov. 25, 1926
---Charles PARSONS, son of Charles and Charlotte PARSONS, was born at Pontiac, Mich., Dec. 28, 1850, and died at his home six miles southeast of Barnard, Kan., on Nov. 22, 1926, aged 75 years, ten months and 24 days. He was married at Detroit, Mich., on Aug. 10, 1871, to Miss Sarah CRAWFORD. To this union were born 10 children, five sons, and five daughters, all of whom with the exception of Frank, the youngest son who was killed in action in the Argonne, France, and his wife survive him. One sister also survives and three grandchildren. He was associated with his father in the manufacture of carriages in Pontiac and later moved to Junction City, Kan., in 1881. In 1886 he moved to Lincoln county, to the farm which was his home until he died.
---
PEATE - Laura (Mrs. J.J.) PEATE
Lincoln Sentinel-Republican, July 2, 1925
--- Mrs. J.J. PEATE died at her home in Beverly, Friday, June 26, after a prolonged illness. Rev. KUHN of Salina, her former pastor, conducted the services where were held at 2:30 o'clock, Sunday afternoon at the township hall in Beverly.
Mrs. PEATE was one of the pioneers of this county, coming here with her husband over forty years ago and was a resident of Beverly for 28 years. They first settled near Shady Bend, later moved to Beverly where Mr. PEATE is now president of the Beverly State Bank. She was for many years an active member of the Women's Relief Corps. Besides her husband, Mrs. PEATE is survived by a brother, W.C. PAGE and his family.
Submitted by Tracee Hamilton (note: no relation).
---
PERKINS --- Ida May PERKINS
Lincoln Sentinel --- August 18, 1910
---On Monday of this week, the morning express brought from Plainville, Kansas, the remains of Mrs. Ida May PERKINS, to be laid "at rest" in the family burying ground at Lincoln. Ida May MOSS was born in Wayne County, Iowa, May 12, 1868, came to Kansas with her parents, Mr. and Mrs. Martin MOSS, in 1885. She was united in marriage to Frank E. PERKINS, April 12, 1887. Died at 5:40 p.m., Saturday, August 13, at her home in Plainville, Kansas. Her husband, five sons and two daughters survive her; also her father and mother and six brothers. All these were at her funeral except four brothers, also Mr. and Mrs. Ed PERKINS of Manhattan, her husband's parents. She was a good and nobel, good, kind and loving woman. Her memory will be precious, and will call all to a higher and more self sacrificing life.
(Added article from "Local Items" of this issue: Mr. and Mrs. Martin MOSS were called from Siloam Springs, Ark., to Plainville Saturday on account of the death of their daughter, Mrs. Frank PERKINS.)
Contributed by Bill and Diana Sowers. No relation to us.
---
PERSHING --- Catherine L. PERSHING
Lincoln County Beacon, July 30, 1885
(Note: This obituary spelled the surname as PERSING. The cemetery records show the name as PERSHING. If anyone can clear up the confusion, contact Tracee Hamilton at tracee.hamilton2@verizon.net.)
---Catherine L., wife of Alba Pershing, died at her home in Lincoln, Thursday, July 23. Decased was born Nov. 13, 1834, in Mercer county, Pa. At the age of 18 she united with the Presbyterian Church, since which time she has lived a consistent Christian life. Fourteen years ago she was married to the one who now mourns her death. Thirteen years of their married life was spent in Michigan, at the end of which time they removed to Kansas on account of Mrs. Persing's failing health. They reached Lincoln last spring, but too late to save her from decline and death. At the date of her decease, she was 50 years of age. Her death was peaceful and even joyous - made so by the bright hope which she had of a future immortality. The funeral was held in the Presbyterian Church, the day following her death, and her body rests in the neighboring cemetery. [Lincoln Cemetery].
---
PERSONETT --- Serena Evelina
The Barnard Bee, March 9, 1929
---The George WHITE home in west Barnard was the scene of a tragedy last Thursday afternoon shortly after four o'clock, which saddened and shocked this entire community. Mrs. I. S. PERSONETT was burned so badly that she died four hours later, and her daughter Mrs. George WHITE is in serious condition from burns caused when the home-made medicine, which the two women were making and which contained turpentine and rosin, exploded.

Serena Evelina VROOMAN was born in Iowa, February 23, 1857 and was 72 years old at the time of her death. When a small child she moved with her parents to Illinois. At age eleven her parents moved again, this time settling in Graham County Kansas; since that time, this has been her native state. She grew to womanhood on the Kansas plains and was married to I. S. PERSONETT, at Belleville, Kansas on May 6, 1874. To this union were born nine children; her sons John and Ben preceded their mother in death. When a girl, Mrs. PERSONETT united with the Christian Church has remained a staunch Christian.

In 1917 the PERSONETT's moved to Tonganoxie, Kansas and in 1923 they moved to Bernard to be near their daughter, Mrs. George WHITE.

She leaves to mourn her loss besides her heartbroken husband, the following children: Mrs. Daisy WHITE, Barnard, Kansas; Joseph W. PERSONETT, Kansas City, MO; Guiles W. PERSONETT, Litchfield, Ill.; Arthur J. PERSONETT, Manette, Washington; Mrs. Rhetta TOUSLEY, Philadelphia, Pa.; and Merton D. PERSONETT, Kansas City, MO. Her grandson Louis GILL, who has made his home with his grandparents for many years, is also left to mourn her death with a host of other relatives and friends. All of Mrs. Personett's children were here for their mother's funeral with the exception ofArthur, who because of ill health, could not be here.

Funeral services were held at the George WHITE home in Barnard at ten o'clock Monday morning. Rev. John H. REYNOLDS, Baptist Pastor of this place was in charge of the services assisted by Rev. George PERRILL. Interment was made in the Milo Cemetery.

Submitted by Stefanie Hatfield, sthatfield@oz.sunflower.org

---
PERSONETT --- Isreal Stacey
(Unknown newspaper)

Isreal Stacey PERSONETT, son of Thomas and Catherine PERSONETT, was born at Warsaw, Ind., October 19, 1853, and passed away at the home of his daughter, Mrs. Ellen COLEMAN, in Belleville, January 11, 1942, having attained the age of 88 years, 2 months, and 22 days.

He moved to Kansas at an early age when this country was new, and was one of the pioneers in the development of this state. In common with other early settlers he and his family endured the hardships of pioneer life; prairie fires, grasshoppers, drought and hot winds; and saw the country develop from sod houses to prosperous communities.

He was married on May 6, 1874, to Miss Serena Evelina VROOMAN. In 1879 they homesteaded in Graham County. In 1901 the family located in Hill City. In 1917 they moved to Tonganoxie. The family moved again in 1923 to Barnard. While living here, in 1929, he lost his wife and companion who died from burns as the result of an explosion. One daughter, Mrs. Daisy WHITE later died from injuries received at the same time.

Mr. PERSONETT was a member of the Christian church, having united with this church while living at Hill City. He engaged in various occupations as pioneer life demanded, but for the most part followed the trade of carpenter. He is reported as a man of unusually keen sense of humor until old age and failing health robbed him of the joy of living. Three children preceded him in death: John, Ben and Daisy. He is survived by six children: Mrs. Ellen COLEMAN of Belleville; Joseph PERSONETT of Kansas City, Kan.; Guiles PERSONETT of Litchfield, Ill.; Arthur PERSONETT of Bremerton, Wash.; Mrs. Rhetta TOUSLEY of Kansas City, MO.; and Merton PERSONETT of Denver. There are also 14 grandchildren, and 11 great-grandchildren.

Funeral services were held Tuesday morning at the Lahodny Funeral chapel, in charge of the Rev. C. W. ROLL of the Christian church. Interment was made in Barnard cemetery.

Submitted by Stefanie Hatfield, sthatfield@oz.sunflower.org
---
PESCADOR --- Jose PESCADOR
Lincoln Sentinel-Republican, Thursday, October 15, 1936
---Jose PESCADOR, eldest son of Mr. and Mrs. Simon PESCADOR, died at his home near the Union Pacific depot on Thursday evening, October 8. He was not quite 11 years old. He was born November 22, 1925 at Cortazar in the state of Guanajuato, Mexico and at the age of three years he came with his parents to Lincoln where they have lived since that time, 1928.

Jose attended the Central School and was in fifth grade. He complained of a headache last Wednesday afternoon and the teacher sent him home after the last recess. He died the following day. He was the eldest of a family of six and leaves to mourn their loss his father and mother, four brothers, Augustine, John, Simon, Jesus and one sister, Lucille.


Jose was baptized November 30, 1925, at Cortazar, Guanajuata, Mexixo. He made his first Communion June 25, 1933, and received the sacrament of Confirmation October 4, 1935 in St. Patrick's Church at Lincoln. The day of Confirmation the Bishop highly commended him on the intelligent answers to his questions on the Catechism.


The body was brought to the home Saturday afternoon and funeral services were held in the Catholic Cemetery south of Lincoln at 2 p.m. Sunday afternoon with Father MULVIHILL in charge.
Contributed by Bill and Diana Sowers. No relation to us.
---
PFAFF --- Oscar PFAFF
Lincoln Beacon, Oct. 4, 1900
---Oscar PFAFF, the 1-month-old infant of William PFAFF and wife of Battle Creek township, died October 2, of influenza.
---
PFAFF --- Blanche E. PFAFF
Lincoln Sentinel-Republican, Dec. 23, 1965
---Blanche E. Pfaff, daughter of Jacob F. and Lucy Ann Cloud Pfaff, was born August 18th, 1871, in Johnson County, Iowa, and passed away at St. John's Hospital, Salina, Kansas, December 7th at the age of 94 years, three months and 19 days. She moved to Kansas with her family when she was a young woman and had made her home in Lincoln county most of the time since. She taught school for many years, teaching in Iowa and North Dakota, as well as Kansas, but always calling Kansas her home. She was a member of the Methodist Church and taught a Sunday School class as long as her health permitted. She was also an active member of the W.C.T.U. She leaves to mourn her passing, two sisters, Mrs. Mary McCracken of Boulder, Colo., and Mrs. Reba Boyer, of Englewood, Colorado, and many nieces and nephews.
---
PHEGLEY --- George W. PHEGLEY
Lincoln Sentinel-Republican, Nov. 26, 1942
---George W. PHEGLEY, son of William H. and Mary E. PHEGLEY, was born in Warsaw, Mo., Jan. 24, 1872, and died Nov. 16, 1942, at the age of 70 years, nine months and 23 days.
At an early age he moved with his parents to Glen Elder, Kansas. After finishing the city schools of Glen Elder he attended the Illinois Photographic School and then followed his profession. He located in Glen Elder, and then moved to Alton, Kansas, in 1898.
He was united in marriage to Florence BROWN on Sept. 11, 1899. To this union one child was born, a daughter.
July 1911, Mr. Phegley established himself in business in Lincoln, Kansas, and he remained here active in his profession to the time of his death.
Beside his wife, he leaves to mourn his loss one daughter, Mrs. J.R. HUTTON of Lakin, Kansas; two sisters, Mrs. Bertha WEBSTER, Beloit, Kansas, and Mrs. Rose LOWER, Springfield, Ohio, and one half-brother, Gordon ALLEN of Nowata, Okla.
Funeral services were held from the Lincoln Presbyterian church Wednesday afternoon, Nov. 18, conducted by Dr. R.L. VANCE. Interment was made in Lincoln cemetery.
---
PIERCE --- Lillian Agnes PIERCE
Saline Valley Register, Dec. 6, 1878
---On Thursday, the 30th of November, 1876, Lillian Agnes, daughter of C.L. and Annie PIERCE, aged seven months and four days.
Yes, the little darling is dead. Dead to all things earthly, but alive and happy in that city with pearly gates and dazzling thrones where angels robed in spotless white chant their sweetest songs in the presence of Him who upon earth blessed little children and bade them come unto Him.
---
PIERCE --- Lizzie PIERCE
Lincoln County Beacon Thursday, May 6, 1880.
---Lizzie PIERCE, wife of John J. PIERCE, died on Thursday, April 29th, at her home near Pinon, Lincoln County, Kansas. Mrs. PIERCE was one of the oldest settlers in her neighborhood. (This is a summary of the original obit.)
submitted by Bill Sowers (Note... We are not related to this person. We found this obit while looking through the paper.)
---
PLATZ --- Sylvia Evangeline PLATZ
Lincoln Republican Thursday, January 2, 1919.
---Sylvia Evangeline PLATZ died Saturday morning, December 21, 1918, at the St. Luke's Hospital, Kansas City, Missouri, at the age of 18 years, [during surgery]. Eva was born near Alma, Kansas, September 4, 1900. She lived with her parents at 813 West Walnut, Salina, Kansas.
This summary of the original obituary was submitted by Bill and Diana Sowers. (Note... we are not related to this person)
---
POWELL --- Elizabeth Ann LIMPUS POWELL
Lincoln Sentinel January 1901
---POWELL- Elizabeth Anna LIMPUS was born in Columbia Township, Fayette County, Indiana, November 7, 1830. She was married to John POWELL, February 13, 1850, and in February of 1877 the family moved from Indiana to Lincoln County, Kansas and located on a farm in Colorado Township where they have since made their home. Mrs. POWELL died from heart failure at 8:15 on the night of December 31, 1900, aged 70 years 1 month and 24 days. She had been sick nearly six weeks and during her illness she was all patience and love; she uttered no words of complaint but seemed ready to depart when her time would come. The deceased was the mother of seven children, two girls and five boys, all of whom survive her. Six of her children kindly cared for her during most of her illness. One daughter could not be with her, she being in ill health at her home in Indiana. Her husband who had been devoted to her those 50 years of wedded life will miss her more than others can know. Together they planned and worked to make a pleasant home, and the world is evidently better because they have lived in it. Besides her family she leaves one sister, two brothers and a host of other relatives and friends who regret her departure from our midst but will remember her as a good woman, faithful wife and noble mother, for to know her was to love her. The sympathy of neighbors and friends is extended to the bereaved ones. The interment was made in the Beverly Cemetery. The funeral services were conducted by Rev. Fitzwater.
Submitted by: Richard Wiesner, rwiesner@sprintmail.com
---
POWELL - Lydia
Lincoln Sentinel-Republican, June 14, 1973
--- The funeral for Mrs. Lydia Melinda POWELL, 96, lifetime Beverly resident, was at 2 p.m. Friday, June 8, in the Hall mortuary chapel, the Rev. Harlan RITTGERS officiating. Burial was in the Beverly cemetery.
Mrs. POWELL died Monday at the Lincoln County hospital, Lincoln.
She was born Jan. 4, 1977, at Beverly. The Powells farmed near Beverly until Mr. Powell's retirement, when the family moved into the city. Mrs. Powell's husband, Merritte, died in 1961.
Surviving are 2 sons, Willard, Beverly, and Merritte, Brooklyn, N.Y.; 3 daughters, Mrs. Olive WEST, Lincoln; Mrs. Ola WIESNER, Wichita, and Mrs. Sylvia DRENNON, Reno, Nev.; a sister, Mrs. Olive HARSHBARGER, Martinez, Calif.; a brother, Seth CLARK, San Luis Obispo, Calif.; 15 grandchildren, 37 great-grandchildren, and 8 great-great-grandchildren.
Submitted by Tracee Hamilton (note: no relation).
---
POWELL --- MINNIE (SALYER) POWELL
The Star, Beverly, Kansas, Oct. 26 1893
---Miss Minnie SALYER was born July 6, 1867, near Laurel Ind. Was married to Solon POWELL, May 10, 1891. Died near Beverly, Kansas, Oct 23 1893. In life she was loved by all who knew her. As a school teacher she was a success. As a daughter and wife, she was a model. She died believing in Christ and praying, if it was his will to be taken to her Home on high, where we believe she has gone, after a long and painful illness. She leaves a husband, mother, kind step father, brother, and many relatives and dear friends to mourn their loss. The funeral service was conducted in the church at Beverly, Kan., Oct. 24th 1893, by Rev. Skiles. The church was not large enough to admit the many friends who were present. She taught the schools, Beverly, Twelve Mile, and Table Rock, which schools were respectfully dismissed, granting the pupils the privilege of a last look at their teacher.
Submitted by: Richard Wiesner, rwiesner@sprintmail.com
---
POWELL --- Phillip J. H. [John Phillip] POWELL
The Lincoln Sentinel, January 23, 1913
---Phillip J. H. POWELL was born December the 29th, 1826 at Templesville, Maryland. He moved with his father, James POWELL, to Indiana in the year of 1835. Was married to Elizabeth LIMPUS, February 13, 1851. To this union were born seven children, five sons and two daughters. He is survived by his five sons, Allcaid, Theren, Salon, Hassen, and Merritt, twenty-one grand children and five great grand children. His wife and two daughters preceded him to a better world. He moved his family to Kansas in the year of 1877, in March moved on the farm where he resided until his death. He died on the 15th day of January 1913 after an illness of nine weeks and three days at the age of 86 years and 17 days. He was a highly respected citizen by all who knew him, always having a kind and pleasant word to everyone. The funeral was held from the house Friday at 11 o'clock by Rev. J. H. Kuhn of Salina.
Submitted by: Richard Wiesner, rwiesner@sprintmail.com
---
PRAY --- Eliza Ellen Siders PRAY
Lincoln Sentinel-Republican, Nov. 5, 1931
----Eliza Ellen SIDERS was born May 27, 1856, and departed this life in her home at Ceresco, Neb., Oct. 22, 1931, at the age of 75 years, 4 months and 25 days.
On July 3, 1874, she was married to Robert HERMAN who preceded her in death in 1908. One son, Charles Martin, died at the age of 2 years and 6 months.
On July 9, 1920, she was united in marriage in Salina, Kan., to Mr. Lafayette PRAY. Mr. and Mrs. PRAY then moved to Ceresco, Neb., where she lived until her death.
Mrs. PRAY was an early pioneer and knew the hardships and joys of the early pioneer life.
She leaves to mourn her going, one sister, Mrs. Martha ALLEN of Freemont, Neb.; and one brother, Joseph SIDERS of Oskaloosa, Iowa; her companion, Mr. Lafayette PRAY, of Ceresco, Neb.; six children: William G. HERMAN and Edward HERMAN of Lincoln; Charley HERMAN of Brownell; Frederick HERMAN of Luray; Mildred GLEASON of Beloit; and Mable LESSOR of Wakeeney; 33 grandchildren; 18 great-grandchildren and other relatives and friends.
Funeral services were held at the Prairie Grove Methodist church. Interment was made in the Prairie Grove cemetery.
---
PROBERT --- Mary J. PROBERT
The Beacon of Lincoln County Thursday, August 16, 1883.
---Died August 9, Mary J., wife of Thomas PROBERT of Ada, aged 41.
submitted by Bill Sowers (Note... We are not related to this person. We found this obit while looking through the paper.)
---
PRUITT --- Sadie M. PRUITT
Lincoln Sentinel-Republican, June 18, 1964
---Mrs. Sadie M. PRUITT, 89, died Sunday at her home in Barnard after an illness of several months.
Born Aug. 1, 1874, in Concordia, she had lived in Barnard most of her life.
Survivors include four sons, Harold, Ward and Wilbur PRUITT, all of Barnard, and Walter PRUITT of Simpson; five daughters, Merna PRUITT and Mrs. Ben STOVER, both of Barnard, Mrs. William MYERS of Kansas City, Mo., Mrs. John WEISHAAR of West Columbia, Texas, Mrs. Jack BISHOP of Potter; 16 grandchildren and 22 great-grandchildren.
The funeral for Mrs. PRUITT was held this Wednesday morning at McDonald's Chapel in Beloit and burial was in the Saltville cemetery.
---
Back to Lincoln County Obituaries Main Page
---
DO YOU HAVE
QUESTIONS, COMMENTS, CONTRIBUTIONS FOR US?
Bill and Diana Sowers
, Lincoln County Coordinators
Tracee Hamilton, Lincoln County Coordinator