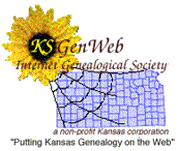 Lincoln County
Kansas
Obituaries
Surnames starting with

"R"
---
RANDALL --- Charles RANDALL
Saline Valley Register (Lincoln Center, KS) ---Wednesday December 25, 1878
---A sad accident occured on Friday last just about seven miles northeast of here which resulted in the death of a very estimable young man named Charles RANDALL. The deceased, with his brother, Thomas, started from home together in the wagon, taking the gun along for the purpose of shooting whatever game they might see. They had not gone far when a rabbit made its appearance. Charles reached forward taking ahold of the muzzle end of the gun attempting to draw it towards him, when the hammer caught in a blanket in the bottom of the wagon. The weapon was discharged, the whole load entering the head just below the right eye causing almost instant death.
Contributed by Bill and Diana Sowers. We are not related to this individual.
---
RANDALL --- George Martin RANDALL
Lincoln Sentinel-Republican, March 14, 1929
---George Martin RANDALL was born at Spencer, Indiana, Jan. 2, 1862, and passed away in Lincoln, March 9, 1929, being at the time of his death 67 years, two months and seven days old. Mr. RANDALL came to Kansas when six years old, he and his sister, Mrs. ALLEN, located at that time at Clay Center where he resided until he was 15 and then struck out for himself. On April 29, 1896, he was united in marriage with Miss Carrie [??] at Dennison, Iowa. They had no children. Almost continuously since their marriage they have been in hotel business, running hotels at different times at Omaha, Neb., Carson, Iowa, and at Peoria, Ill., Mrs. Randall's old home. From there they came to Lincoln about six years ago and have since been in charge of the Windsor hotel. Mr. RANDALL … is survived by his wife and two brothers, John and Joseph, both live in Indiana. Funeral services were held at the Hall Funeral Parlors. Interment was in the Lincoln cemetery.
---
RASMUSSEN --- Mrs. Martin RASMUSSEN
Lincoln Sentinel-Republican, October 15, 1936
---Mette BORGGAARD was born Decembe 10, 1867 in Hunberg, Denmark, Europe, and slept peacefully away October 10, 1936 at her home in Vesper, Kansas at the age of 68 years and 10 months. She came to America from her home in Eruope when a young girl in the year 1887 and was united in marriage to Martin RASMUSSEN on September 2, 1893 at Denmark, Kansas. She leaves to mourn her departure, her husband and six children, namely: Roy of Long Beach, Calif.; Mrs. Bergetta JEPSEN, of Ash Grove; Mrs. Mary ANDERSEN of Prairie Grove; Chris of Denmark [i. e. Denmark, Kansas]; Sam and Harry of Vesper. Also surviving are six grandchildren, a sister, Mrs. Elsie HANSEN of Enumclaw, Washington; a sister-in-law, Mrs. J. C. VIDRICKSON of New Cambria; a brother-in-law, Lewis RASMUSSEN of Salina, besides other relatives and a host of old neighbors and friends.

For six years after her marriage she lived in Niles, moving to a farm near Denmark in 1899. It was in this same community that the greater portion of her life was spent. In 1929 she with her husband retired from the farm and moved to their present home in Vesper.... She was a member of the Danish Lutheran Church at Denmark from which place funeral services were held, Monday afternoon, conducted by the Rev. Harold PETERSON. Burial was in the church cemetery.
submitted by Bill and Diana Sowers (Note... We are not related to this person.
---
RATHBUN --- Doyle RATHBUN
Lincoln Sentinel-Republican, May 9, 1940
---Doyle RATHBUN, son of Mr. and Mrs. Alfred RATHBUN, was born near Lincoln, Kansas, 24 years ago. He died Wednesday, May 1, at the University of Kansas Hospital in Kansas City, where he had been a patient the last two and a half weeks following a major operation.
In ill health the past six years, Doyle had undergone 15 major operations in an attempt to regain his lost health and never during those years did he lose faith nor hope that he would one day be well and able to take his place in the world.
Reared in Lincoln county, Doyle moved to Linden with his parents two years ago. He was a good and faithful Christian, firm in his belief of the resurrection.
Surviving are his parents, Mr. and Mrs. Alfred RATHBUN of Linden, one sister, Mrs. Dorothy SPENCER of Missouri, two brothers, Leslie RATHBUN of Neosho, Mo., Harvey RATHBUN of Maxwell, Neb., his grandparetns, Mr. and Mrs. J.N. HOWELL and Mr. and Mrs. W.H. RATHBUN, two nephews, two nieces and more distant relatives. Many friends are grieved by his death.
Funeral services were held Saturday at Linden, following which the body was brought to Lincoln. Serivces were held Sunday afternoon from the Prairie Grove church, conducted by the pastor of the Salina Nazarene church. The body [was carried] to its last resting place in the Prairie Grove cemetery.
---
RATHBUN --- Mrs. Sarah RATHBUN
Lincoln Sentinel-Republican, Dec. 24, 1953
---Sarah Rathbun was born in Clark county, Missouri, on August 26,1864, and was married to W. H. Rathbun on November 21, 1881. They pioneered to Western Kansas, and lived there nine years, moving to Lincoln County in 1900.
To this union 12 children were born, four dying in infancy, Mr. Rathbun passed away July 24, 1948. And Mrs. Nydia James passed away Nov. 19, 1941.
Mrs. Rathbun was united with the Baptist Church at the age of 16 and remained a faithful Christian the rest of her life.
She leaves to mourn her passing the following children: Leonard Rathbun and Mrs. George Saine, Lincoln; Albert Rathbun, Barnard, Lee Rathbun, Lake Charles, La.; Alfred Rathbun, Yates Center, Kan.; [Fern Peterson], Asherville; and Mary Whitside; Eldorado, Kansas. She also leaves 60 grandchildren, 105 great grandchildren, one great-great granddaughter, a host of nieces and nephews, and other relatives and friends.
Funeral services for Mrs. Rathbun were held on Sunday afternoon at the Congregational Christian church. Interment was in the Lincoln cemetery.
(Contributed by David Veh [d.veh@att.net])
---
RATHBUN --- William Henry RATHBUN
Lincoln Sentinel-Republican, July 29, 1948
---William Henry Rathbun, one of 10 children, was born to John and Keturah Rathbun on December 1, 1860, in Scotland county, Missouri, and passed from this vale of tears to the great Beyond July 23, 1948, at his home in Lincoln, at the age of 87 years, seven months and 22 days.
His childhood and early youth were spent in the Missouri community. His mother died when he was 18, his father when he was 15. He lived the remainder of years preceding his marriage at the home of his older brother, Alfred.
On Nov. 21, 1881, he was united in marriage to Sarah E. Hobbs of Clark county, Mo. To this union 12 children were born. The Rathbuns began their married life in Missouri but soon moved to the western part of Kansas near St. Francis. They next moved to Simpson, Kansas and from there to a farm in Lincoln county. During these years Mr. Rathbun's occupation was farming. In 1919 they moved to the city of Lincoln where they have resided until his death.
Besides his loving wife with whom he shared over 66 years of married life, he leaves to mourn his passing four sons, Leonard and Albert of Lincoln; Alfred of Yates Center, Kan., and Lee of Oakdale, La.; three daughters, Stella Saine of Hunter, Kan.; Fern Peterson of Jewell City, Kan., and Mary Whiteside of Melvern, Kan. Five children preceded him in death, all during infancy or early childhood, except, Nida James, who passes a way in November 1941. He leaves two sisters, Mrs. Lottie Cline of Granger, Mo.; Mrs. Julie Sells of Barnett, Mo., and one sister-in-law, Mrs. Flora Rathbun of Simpson, Kan.
There are also 40 grandchildren, many great grandchildren, nieces and nephews and a host of friends who mourn his death.
Funeral services were held at the Congregational Christian church at Lincoln. Burial was in the Lincoln cemetery.
(Contributed by David Veh [d.veh@att.net])
---
REARWIN --- Willie REARWIN
Lincoln County Beacon Thursday, January 20, 1881
---Died in Beaver Township, on Sabbath morning, the 9th of January, of diphtheria, Willis REARWIN, aged about 10 years.
---
REES --- Elias
Lincoln Beacon, Nov. 30, 1882
---Elias Rees, at his residence, one-half mile south of Lincoln Center. He was in the 72nd year of his life. The doctor thought the painful disease that caused his death was brought on by exposure and being in a building that fell over him after he had moved it for a workshop. Mr. Rees came to Lincoln county, Kansas, in 1871. He was proprietor of the Abram Mills. He had lived in Pennsylvania, Virginia and Illinois. In the former state he was very active in lumber mills and at one time had five hundred men in his employ. All his life had had been connected with mills. He was often an odd man, of many faults and failings which he never tried to cover or justify, but he had many virutes. He belonged in Pennsylvania to the church and was very strict in all his conduct. At one time he gave lumber to build a church. He was always a friend to the poor. While in Lincoln he has often provided flour for the hungry. He never turned a poor man away. He literally carried out the precept "From him that would borrow of thee turn not thou away." This made his accounts very large. He showed great hospitality to friends and strangers. He took great interest in little children. He was very quick to get angry but he could not keep so long but would be very friendly after being angry. He was very dilligent in business even to the last of his life. He was the father of ten children, six of whom are alive. His heart was bound up in his children and grandchildren. We all feel we have lost a friend. We shall miss him with his cheerful words and hearty greeting. The poor will miss him as the cold winter winds swoop down from the north. His funeral was generally attended by our citizens. The text chosen was Psalms XL, 1: "Blessed be he that considereth the poor." - H.C. Bradbury
---
REES --- Elias REES
Lincoln Sentinel-Republican, Aug. 13, 1942
(A different obituary for C.W. Stites is also available on this site.)
---During the past week Lincoln City lost two of its finest citizens, C.W. STITES and Elias REES, who for many years have been prominent businessmen of this community. Their deaths occurred within 48 hours of each other.
Mr. STITES died early Thursday morning [Aug. 6] at his home in Lincoln after an illness of several months. Mr. REES' death was early Saturday morning [Aug. 8] at his home and was quite unexpected.
For several weeks Mr. STITES had been a patient in the Ellsworth hospital, suffering from a heart ailment. When his condition improved sufficiently he was brought home but there was little that could be done to restore his health. Last Wednesday however, he was reported to be feeling better and slept well until 4 o'clock in the morning, Thursday. Those attending him helped him to turn over in his bed and he gave no sign of a relapse, a sudden heart attack claiming his life. April 3 of his year Mr. STITES was 76 years of age. He had been a resident of Lincoln county since March 1, 1875, coming here as a lad of nine and with his parents from Franklin county, Ill.
Mr. REES was born and reared in Lincoln and except for a few years spent in Siloam Springs, Ark., La Crosse, and Salina, lived his entire lifetime in this community. He had been in failing health for several years but was not known to be seriously ill. He reached the age of 66 years, five months and 25 days.
Both Mr. REES and Mr. STITES were closely associated with the development of this community. Mr. REES was for many years actively engaged in the milling business and since 1912 had been an official of the Lincoln State Bank, holding the office of president at the time of his death. Mr. STITES farmed in the Pleasant Valley community until 1907 when he entered the mercantile business in which he continued until his retirement in September 1939.
Funeral services for Mr. STITES were held Sunday afternoon from the Lincoln Methodist church, of which he was a member. Interment was made in Lincoln cemetery.
Services for Mr. REES were from the REES home Tuesday afternoon. Internment was made at Lincoln Cemetery.
---
REES --- Terrence Vane REES
Lincoln County Beacon Thursday, November 4, 1880
---Died upon Saturday eve last of membranous croup, Terrence Vane, eldest child of W.S. and Laura REES, aged four years.
submitted by Bill and Diana Sowers (Note... We are not related to this person. We found this obit while looking through the paper.)
---
RICH --- Eliza Isabelle (WALLS) RICH
Lincoln Sentinel-Republican, 24 February 1938
Eliza Isabelle WALLS, oldest daughter of Thomas and Emma Walls, was born at West Union, Fayette County, Iowa on January 15, 1863 and died at home in Lincoln, Kansas on Feb. 18, 1938, aged 70 years, 1 month, three days. In Feb., 1870 she came to Kansas with her parents to their farm south of Rocky Hill. Married Sept. 12, 1898 to John S. RICH. Survivors: Five sisters--Ionia WALTERS, Mrs. Uzillah DONLEY, Mrs. Pluma MCFARLAND, all of Lincoln; Mrs. Beulah MCFARLAND of Beverly and Mrs. Edith STALLINGS of New Albany, Indiana. [four other sisters and one brother preceded her in death].
Submitted by Scott Holl scottholl@earthlink.net
---
RICH --- John S. RICH
Lincoln Sentinel-Republican, 2 June 1938
John S. RICH [husband of Isabelle (WALLS) RICH]. Born near Peoria, Ill. on June 10th, 1866, died on May 25, 1938 at Lincoln Kansas, age 71 years, 11 months and 15 days. As a boy he moved to Evanston, Ill. where he lived for a time and then came to Lincoln County. Married Sept. 12th 1898 to Isabelle WALLS and lived on a farm near Lincoln, later going to Dubuque, Iowa where they lived for about 2 years, returning again to Lincoln County.They lived on the WALLS farm in the Rocky Hill community later moving to Lincoln. Mrs. RICH preceded [him] in death in Feb. of this year. There were no children. Mr. Rich was an only child.
Submitted by Scott Holl scottholl@earthlink.net
---
RICHARDS --- Ida Mae (LOVIN) RICHARDS
Lincoln Sentinel-Republican, Thursday. May 30. 1996
"Ida Mae RICHARDS"
--- Ida Mae RICHARDS, 81, Arvada, Colorado died Wednesday, May 22, 1996, in Denver, Colorado. She was born January 29, 1915, in Manhattan, the youngest of six children of Lewis Asbury and Pearl Elizabeth (HOLMAN) LOVIN. She attended Lincoln public schools. After completing her schooling, she assisted her mother in running their boarding house.
On June 7, 1938, she was united in marriage to Bryan H. DILL in Lincoln. This union was blessed with three children. After Bryan's death on February 5, 1983, she married Raymond RICHARDS. In 1993, because of failing health, she moved to Arvada, Colorado to live near her daughter.
She was preceded in death by her parents; her first husband, Bryan; a son Bryan Jr.; two sisters; and three brothers.
Survivors include a son Claudie DILL, Dayton, Ohio; a daughter Shirley ROGERS, Arvada, Colorado; six grandchildren; and six great-grand-children.
Graveside services and interment were held at Lincoln Cemetery at 10:00 a.m. on Tuesday, May 28, 1996 the Rev. Gerald RADTKE officiating.
Submitted by Shirley Rogers --- Lobster3@email.msn.com
---
RICHARDSON --- Zola Elizabeth (DILL) RICHARDSON
Salina Journal, Thursday, June 17, 1954, Page 15, Col. 4
"Mrs. Harry RICHARDSON"
---Mrs. Zola Elizabeth RICHARDSON, 36, wife of Harry Lee RICHARDSON, 1119 N. 3rd, died in childbirth at 1:20 a. m. Thursday in Asbury Hospital. The baby also died. Mrs. RICHARDSON, daughter of Mrs. Sadie DILL, had lived in Salina since she was five years old. She was born March 2, 1918, in Lincoln, Kansas. She was a member of the Salvation Army.

Surviving are the widower: the mother and three children, Harry Lee, Jr., Ruth Ann, and Patricia Jolene, of the home; a sister Mrs. Alice CLARK, Portland, Ore.; and a half-brother, Harry COOPS, Downs, Kansas.
The funeral arrangements have not been completed. Friends may call at the Guy R. Ryan Sons Mortuary after 5 p.m. Friday. Burial will be in the Lincoln cemetery.
Submitted by Shirley Rogers --- Lobster3@email.msn.com
---
RIGGLE --- Bertha (LOVIN) RIGGLE
Salina Evening Journal, Page 1, Column 4, Wednesday, December 4, 1918
--- Mrs.. Bertha RIGGLE, 27, died at her home, 222N. Olive Street at 12:15, o'clock midnight of pneumonia. Mrs.. RIGGLE was born at Lincoln August 14, 1891 and had lived here about fifteen months, coming to Salina, from Luray. She is survived by her husband, L. J. RIGGLES, her parents, Mr.. and Mrs. L.A. Lovin of Lincoln, two brothers, Evertt Wayne LOVIN of Lincoln and Orville LOVIN of Massachusetts. The remains will be sent to Lincoln where interment will be made in the Lincoln Cemetery.
Submitted by Shirley Rogers --- Lobster3@email.msn.com
---
RILLY --- Mary Ann RILLY
Lincoln County Beacon, June 17, 1886
---Mary Ann Rilly, daughter of Wm. and Rhoda Rilly, of Pleasant Valley, Kansas, on June 10, 1886, of consumption, as the effects of whooping cough. The parents had come to this county only a week ago from Washington county, this State. Mary was 15 years old, and fell asleep in Jesus - a little Christian.
---
ROENIGK --- Adolph ROENIGK
Lincoln Sentinel-Republican, March 17, 1938
---Adolph Roenigk, probably Lincoln's most distinguished character and certainly its most widely traveled, passed away Monday at 11:40 o'clock a.m. in a Denver hospital, following an illness of several weeks. Death was due to gangrene in his left foot with which he had suffered since Feb. 22. With him when the end came were his brother, Charles Roenigk of Clay Center, Kan., and his nephew, Theo C. Rasmussen of Morganville, Kan.
Coming to this community in the early days, Mr. Roenigk worked at his trade as harness maker, establishing a reputation for workmanship which extended far and near. He was especially known for his fine saddles and horse collar of Roenigk pattern and sold them over a wide territory. He continued in his trade and was actively engaged until the last few years but even then, occasionally made a horse collar or a bit of harness on special order. At one time he was engaged in the mercantile business but sold out, after a few months, to his partner.
Adolph Roenigk was one of the most colorful characters of the early days. Born in Ufhoven, Thuringia, Germany, in the year of 1847, he came to the United States at the age of 13 years with his sister Louisa, four years his senior. They came with the consent of their parents with a resident of the United States who was then visiting in Germany. The trip across the Atlantic, half sail and half steam, required 17 days.
Settling on a farm in Wisconsin, the young people worked for several years, going in 1864 to St. Louis. With the ending of the Civil War, Louisa married and with her husband, Mates Rasmussen, went by wagon route to Manhattan, Kan. In the falll of 1866 Adolph Roenigk made a trip up the Missouri river, coming to Manhattan to visit his sister. In the summer of 1868 he came to Kansas to make it his home.
In 1871, 11 years after his arrival in America, Adolph Roenigk became a citizen of his adopted country. His parents, three brothers and two sisters came from Germany that same year to make their home in Clay County, Kansas.
It was during these early years that Mr. Roenigk worked for the Union Pacific railroad, helping to lay the first ties across the prairies. While so engaged he shared with other workers the experience of having Indians attempt to prevent the laying of the track and was shot through the lungs during an encounter with the red men May 28, 1869. Buffalo were also numerous at the time and great herds of them would occasionally surround the railroad workers, causing them to retreat to dugouts for safety.
At one time he was employed by the government, working at Fort Harker, now Kanopolis.
Early in the 20th century, Mr. Roenigk felt the urge to travel and see the far places of the world. This urge resulted in a number of trips around the world to nearly every country. Seeking the unusual in his journeys, he collected many excellent curios and exhibits of natural science as well as the arts of various peoples. Most of these valuables he gave a few years ago to the Fort Hays Teachers College. Friends in this community treasure bits of previous stone and other items he has given them.
Born in 1847, died in 1938, a span of more than 90 years, Mr. Roenigk's life was lived quietly, with deep affection for his friends. His greatest contribution to future generations was his invaluable book, "A Pioneer History of Kansas," published in 1933 when the writer was more than 85 years of age. This book tells the story of Kansas as Mr. Roenigk saw it when he was a young man and now through his eyes, others will see the picture that has faded away. His memory will remain a benediction.
Funeral services and burial for this pioneer will be held Thursday morning at 10 o'clock in Clay Center and interment will be in the cemetery there.
---
ROUSH --- Harriet Rosella ROUSH
Lincoln Sentinel-Republican, March 14, 1929
---Harriet Rosella DAVIS, daughter of William and Harriet DAVIS, was born at Morris, Ill., on Sept. 3, 1871. At the age of eight years she came with her parents to Lincoln county, Kansas, where he father had bought a farm 12 miles south[west?] of Lincoln. She departed this life March 3, 1929, aged 57 years and six months.
She grew to womanhood on the farm and attended the Spring Valley school. In 1894 she was united in marriage with John ROUSH. Their home was blessed with five children, two sons and three daughters; one son died in childhood. The surviving children are: Harry C. ROUSH of Union Valley, Mrs. Frank WALKER, Mrs. Herman HILDEBRANDT and Miss Mabel ROUSH, all reside in the neighborhood of their old home. She is also survived by her mother, Mrs. Harriet DAVIS and by a brother, William DAVIS, both of this county, and three sisters, Mrs. Minerva BRUST of Hiawatha, Mrs. George E. JEFFRIES and Mrs. Henry FINKE both of Lincoln County, and one grandchild.
Nothing we may say can express the esteem in which she was held as forcibly as the large crowd that gathered at her funeral which was held at the Presbyterian church. The interment was in the Voss Cemetery.
---
RYAN --- Ann CROWE RYAN
Lincoln Sentinel, 8 June 1916
--- Ann Crowe was born at Lazaar [Lezayre], Isle of Man, Feb. 20, 1836--Came with her parents to America at the age of 15 years; settling first in Chicago, and latter she went with her father to Rockford, Ill., where they were joined a year latter by the rest of the family ­ from Rockford, the family moved to Fayette County, Iowa, where she was married on Oct. 10, 1856, to John C. RYAN ­ to this union was born 10 children; one daughter died at the age of five years in Iowa, and one son (Will) died in Kansas City ­ her husband and eight children survive her: -- Ed J., Lincoln; James B., Kansas City; Anna BOLLIN, Junction City; Charles F., Lincoln; Emma Lou KENT, Ogden; Minnie KELLEY, Ogden and Fred G; and Tillie May of Lincoln.

The Ryan family came to Lincoln, where they homesteaded on Beaver creek east of Lincoln in 1871 ­ moved to Riley county in 1882 and returned to Lincoln in 1902 where they have resided ever since and where Mrs. Ryan died--June 6, 1916. She was one of Lincoln's best beloved citizens and during her last illness her room was a bower of blossoms continually whose fragrance attested the love and devotion of her family and friends. The funeral services were held at the Catholic church, Thursday (today) at 10 a.m. and the remains interred in St. Patrick's cemetery, south of town--Father FITZGERALD, officiating

submitted by Tracee Hamilton (Note: This is my great-great-great aunt on the Crowe side. I can be contacted at tracee.hamilton2@verizon.net.)
---
RYAN -- Timothy
Lincoln Sentinel, April 27, 1905
---After great suffering and pain Timothy Ryan died at Lincoln, Kansas, aged 61 years. He leaves a wife and four children. The funeral services were held in the Presbyterian church and conducted by H.C. Bradbury, assisted by Rev. Jackman. Many of his old neighbors came to his funeral and testified of his kindness to them. He was born in Limerick, Ireland, came to this country when only 2 years of age, and to Kansas in 1871,, and settled on a farm south of Lincoln, and afterward moved to a farm near Pleasant Valley school house. He was a powerful man, and a hard worker for those he loved.
[Submitted by Tracee Hamilton. I am not related to this person.]
---
Back to Lincoln County Obituaries Main Page
---
DO YOU HAVE
QUESTIONS, COMMENTS, CONTRIBUTIONS FOR US?
Bill and Diana Sowers
, Lincoln County Coordinators
Tracee Hamilton, Lincoln County Coordinator