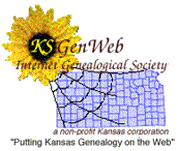 Lincoln County
Kansas
Obituaries
Surnames starting with

"Sa-Sh"
---
SASSAMAN --- Claire Ellen SASSAMAN
Lincoln Beacon --- July 7, 1887
---Died... near Rosette, Lincoln County, Kansas, Claire Ellen SASSAMAN, infant daughter of Mr. and Mrs. SASSAMAN, aged 2 years, 6 months, 18 days. Funeral services were conducted by Rev. B.F. McMILLAN at the home of the parents and burial was at Washington Cemtery on the 1st of July.
submitted by Bill and Diana Sowers (Note... We are not related to this person.
---
SCHMIDT --- John N. SCHMIDT
Lincoln Sentinel, Dec. 7, 1922
--- John N. SCHMIDT, of Beverly, died very suddenly while on his way to his son William to see a granddaughter who had arrived there the day before. He started with his horse and buggy and his other son started later with a car and he found his father dead in the road, the horse a short distance from the body. The cause of death is supposed to have been appoplexy. [sic] He was 78 years old.
---
SCHOFIELD --- Wilson SCHOFIELD
Lincoln Beacon, Nov. 30, 1882
---Recently, of heart disease, at his home in Coose county, Oregon, Wilson SCHOFIELD, in the 65th year of his life. He was born in Chatauqua county, New York, and was one of the earliest settlers of Lincoln county. He was the father of Mrs. Lyle WATERMAN of Vesper, and of Mrs. I.W. RUSSELL, formerly of this place, now of Storm Lake, Iowa.
---
SCHOSHKE --- Delia SCHOSHKE
Lincoln Sentinel-Republican, Thursday, September 10, 1936
---Delia HOUSE was born near Crescent City, Oklahoma, August 26, 1895. Shortly afterward her parents moved to Kansas, settling three and one half miles north and one mile west of Beverly, at which place she has lived most of the time since. On October 19, 1914, she was united in marriage to Matt SCHOSHKE. To them were born five children, Eugene, Pauline, Keith and Kenneth, one son Everett having died in infancy. Mrs. SCHOSHKE passed away at St. John's Hospital in Salina, Kansas, on September 4, 1936, at the age of forty-one years and nine days. She leaves to mourn her death her husband and four children, her mother, Mrs. Laura HOUSE of Berverly, one sister, Mrs. Lillie TEACH of Lincoln, and three brothers, Isaac of Bogue, Kansas, and John and Albert of Beverly, besides other relatives and many friends.
submitted by Bill and Diana Sowers (Note... We are not related to this person.
---
SCHROEDER --- EMMA (THEWS) SCHROEDER
(Newspaper & date of obituary unknown)
---Emma Louise THEWS was born January 27, 1856 in Jefferson Wisconsin and passed away January 10, 1943 at her home in Beverly, Kansas at which time she shared with her daughter Elizabeth POWELL who took care of her. She was united in marriage to Henry SCHROEDER December 10, 1874 in Jefferson Wisconsin. Burial for Mrs. SCHROEDER was in the Beverly Cemetery. (See obituary for Henry Schroeder)
Submitted by J.Manning (This was my grandmother)
(jmanning@midusa.net)
---
SCHROEDER --- Henry SCHROEDER
Lincoln Sentinel-Republican, 5 September 1940
---Henry SCHROEDER was born October 25, 1849 in Jefferson Co. Wisconsin. He died August 25, 1940 near Shady Bend, Lincoln Co., Kansas. On December 10, 1874 he was united in marriage to Emma THEWS. Eleven children were born of this union, three were born in Wisconsin, Elizabeth, William and John. In 1880 he and his family came to Kansas as hone-steaders locating on a farm north of Beverly where Edward, Charles, George, Louise, Anna, Henry, Robert and Emma were born.. Later he moved to Beverly Kansas operated a blacksmith shop. Two brothers survived him, Charles in the state of Michigan and F. W. of South Wayne Wis. Two sisters, Kate SCHROEDER of Chicago Ill and Mrs. L. L. LOWELL of Big Point, Miss. Services were held at the home in Beverly 10:00 AM Tues. morning followed by internment in the Beverly cemetery. Rev. Wm. FELLER of Tescott conducted the services.
Submitted by J. Manning (this was my grandfather) (jmanning@midusa.net)
---
SCHROEDER --- Rosena Voss SCHROEDER
Lincoln Sentinel, Oct. 21, 1915
---Anna Friederike Rosena VOSS was born in Golden Belt township, Lincoln, Sept. 11, 1883. At the age of 17 she was confirmed in the Emmanuel German Evangelical church near her home. She was an earnest Christian.
She was united in marriage to Gustave Schroeder, Feb. 1905. Four children were born to this union. Goldie Matilda now 9 years old, Mabel Rosena now 6 years, Inez Gertrude 4 years and Rosena Margeretta 5 weeks.
In 1911 they moved to Canton, Okla., where they resided until God called her to his better land. She was 32 years and 29 days. Her body was brought from Canton to her old home in Lincoln county, eight miles south of Vesper. Many fromnear and far come to her funeral. Her father and mother were there from Los Angeles, Calif., where also she has her sisters Amanda and Hilda and brother Edwin. Her brothers Herman and Rudolph VOSS and sister Lizzie MANNEL live in Lincoln.
The burial was in the Voss cemetery.
---
SHAFER - Mrs. Laura
Lincoln Sentinel-Republican, Jan. 18, 1940
--- Laura L. CUNNINGHAM, daughter of John L. and Mary E. CUNNINGHAM, was born April 3, 1862, in Knox county, Missouri.
February 28, 1889, she was married to Joseph E. SHAFER. To this union were born five sons, one of whom, Allison E. SHAFER, preceded her in death. Left to mourn their loss besides the husband and father are John Leslie SHAFER of Lincoln, Kansas, Thomas E. SHAFER, Silver City, Iowa, Chester W. SHAFTER of Prescott, Kansas, Cletus A. SHAFER of Lincoln, Kansas, and two sisters, Mrs. Val SHAFER, Edina, Missouri, and Mrs. Lois SHAFER, Kansas City, Mo. She also reared one stepdaughter, who preceded her in death, and one stepson, W.H. SHAFER, Silver City, Iowa.
She was converted and joined the Baptist church in 1892 but after coming to Lincoln with her husband she with her husband united with the Congregational Christian church in 1928, remaining a faithful member until her death.
She had been in poor health for some time and passed away at her home in Lincoln Wednesday, January 10, 1940, aged 78 years, nine months and seven days. Funeral services were held Thursday afternoon, January 11, conducted by her pastor, Rev. B.S. BARTON. Interment was in the Lincoln cemetery.
Submitted by Tracee Hamilton (Note: no relation).
---
SHAFFSTALL --- Abraham SHAFFSTALL
Lincoln County Beacon Thursday July 15, 1880.
---Died on Friday, 9th day of July, 1880, Abraham SHAFFSTALL, aged 71 years. Mr. SHAFFSTALL died from concussion of the brain caused by a fall a few days previous.
submitted by Bill and Diana Sowers (Note... We are not related to this person. We found this death notice while looking through the paper.)
---
SHAFFSTALL --- Susan Cuberley SHAFFSTALL
Lincoln Sentinel, July 5, 1906
---Susan CUBERLEY was born near Wheeling, W. Va., Feb. 22, 1825, and moved with her parents to Crawford county, Ohio, where she was married to Abraham SHAFFSTALL in 1844, and afterwards moved to Steuben county, Ind., from there to Kansas in 1879. To them eight children were born of whom seven survive her, three boys and four girls, one boy died when small. Her husband preceded her to a better home 26 years ago. Their Christian fellowship was with the United Brethren.
Mrs. SHAFFSTALL died at her daughter's home, Mrs. J.M. CRUSON on June 25, at the advanced age of 81 years, 4 months and 3 days. The funeral was held on Wednesday afternoon in the Christian church, conducted by Rev. J.A. STRANGE, and was then laid to rest in our quiet city of the dead.
---
SHANNON --- [Children] SHANNON
Lincoln County Beacon Thursday Dec. 2, 1880.
---John E. SHANNON of Vesper has recently lost three children from the effects of diphtheria and other members of his family are not expected to recover.
submitted by Bill and Diana Sowers (Note... We are not related to this person. We found this death notice while looking through the paper.)
---
SHAVER --- Edith Darbe Shaver
Lincoln Sentinel, Dec. 19, 1907
---Edith Darbe SHAVER was born in Deleware [sic] county, Indiana, June 27, 1872, and lived with her Grandma HAWK, where she was a great help and comfort. When her grandma died she came to Kansas, and lived at home with her parents near Pleasant Dale church, Lincoln county, Kansas. Here she became an earnest christian, we remember as a tall graceful cheerful girl so kind to all. In 1898 she married Oren H. SHAVER, God blessed them with two children, she was a very kind mother. Last spring they moved to their claim in Wallace county, Kansas. But since September she has been a great sufferer till last Wednesday December 11, when at the home of her parents at Shady Bend, Kansas, death brought relief and Christ the victory.
Thursday was a very stormy day, yet the Pleasant Dale church was crowded with friends and relatives. Brother Bradbury spoke from the text, "to them which sat in the region, and the shadow of death light is sprung up." Matt. 4.16. The burial was at the Hammer cemetery. [Submitted by Tracee Hamilton. (I am not related to this person.).]
---
SHAVER --- Edith
Lincoln Sentinel, Dec. 26, 1907
---This 10th day of December, 1907, at 11 p.m., Mrs. Edith SHAVER, one of Lincoln County bright young women was snatched by death from this wicked world to join the little boy she loved so much, who left her a few years ago, at the youthful age of 35 years, 5 months, 13 days. She was the beloved wife of Ore SHAFER of this county who survives her with two little boys and daughter of Mr. and Mrs. Lancaster DARBY of this county who also survives. She also leaves two sisters and five brothers to mourn their loss, Miss Ina DARBY, Mrs. John SMITH, of Luray, John DARBY, Oklahoma, Will, Julius, Burt and Levi, of this county. Also friends too numerous to mention. [The name is spelled both Shafer and Shaver in the obit. In the Death Register it is Shaver, on the tombstone it is Shafer.
Submitted by Tracee Hamilton (I am not related to this person.).]
---
SHELDON --- Sophia SHELDON
Lincoln Sentinel-Republican, Oct. 29, 1942
---Mrs. Fred [Sophia] SHELDON, who had been ill at her home west of Lincoln for several months, died early this Wednesday morning. Mrs. SHELDON suffered a stroke of paralysis and never recovered from her illness. She was more than 80 years old. Surviving are four children, Mrs. Carl DAHL of Manhattan; Alfred SHELDON of the home, Walter SHELDON of Lincoln, John SHELDON of Vesper. [Buried Lincoln cemetery]
---
SHERMAN --- Bertha DONLEY SHERMAN
Lincoln Sentinel-Republican -- Dec. 31, 1981
--- Mrs. Bertha SHERMAN, 98, Leawood, died Saturday, Dec. 26, 1981, at the Indian [couldn't read; scratch on film] Center, Overland Park. She was born Aug. 4, 1883 at Lincoln and here resided until 1967 when she moved to Leawood. She was a member of the Order of the Eastern Star No. 48, and of the Lincoln United Methodist Church.

She is survived by a daughter, Joyce RECTOR [?? couldn't read, scratch on film], Leawood, two grandchildren and three great-grandchildren. Graveside services were held Tuesday, Dec. 29, at 2:30 p.m. at Lincoln Cemetery, the Rev. Vernon R. SNIDER officiating. Hall Mortuary was in charge of arrangements. The family suggests memorials to the church.
---
SHERMAN --- John L. SHERMAN
Lincoln Sentinel-Republican -- Feb. 2, 1928
---John L. SHERMAN was born at Lee's Summit, Mo., Feb. 5, 1879. With the family he came to Lincoln, Kansas, when he was 3 years of age and from that time until his death his home was in this community. He was married to Bertha DONLEY July 4, 1905. To them was born one daughter Joyce Ellen. Death came to him at his home in Lincoln at 7 p.m. on Jan. 25, 1928, at the age of 48 years 11 months and 20 days.

His life was one of quiet usefulness and he held a high place in the esteem of all who knew him. In his earlier years he experienced the hardships of pioneer conditions and almost from his boyhood he shared in responsibilities for his own needs and for those of the family. His father died when he was about 20 years of age and his responsibility became greater in behalf of his mother and sister. He became a carpenter and builder, his first experience being gained in the construction of grain elevators. He came to enjoy an enviable position in his calling, having the respect and confidence of all. He was a member of the Modern Woodmen of America and of the Izaak Walton League.

After months of intense suffering it became apparent both to him and his family that there could be but one outcome. He knew that the end was near and he faced it unafraid. He expressed himself as fully ready to go. His last thought and arrangements were for his loved ones and his final conscience hours. He leaves the wife and daughter, one brother, W.T. SHERMAN of Lincoln, and one sister, Mrs. Myrtle HUFF of Salina. His father and mother lie at rest in the local cemetery. His score of friends extend sympathy in this hour to his loved ones while they pay respect to his memory. His was a good and useful life well lived. The fight is finished, the earthly course is run.


Funeral services were held Friday afternoon, Jan. 27, at the Methodist Church. The church was filled almost to capacity which was a silent tribute to his friends and showed the esteem in which he was held by those who knew him. Interment was made in the Lincoln Cemetery.
---
SHERMAN --- Orange SHERMAN
Lincoln Sentinel -- Feb. 7, 1901
---O. SHERMAN was born in Washington County, Ohio, April 11, 1838, and died at Lincoln, Kansas, Feb. 2, 1901, age 62 years, 9 months and 21 days. Mr. SHERMAN was married to Dorinda HENDRICKSON in Clark County, Missouri, Nov. 4, 1866, and, with his family, came to Kansas in 1879. To them there were were born five children, three of whom survive their father, William T., John L. and Ella Myrtle.

Mr. SHERMAN, during the time which he has lived in Lincoln, has earned a reputation for industry and integrity which anyone ought to desire. He worked almost constantly and under physical conditions which would have discouraged many. His quiet manliness who, with his wife and family, mourn his departure.


He was a second cousin of William Tecumseh and John SHERMAN of national fame and in many respects the family traits of activity and application were manifest in him. While it was not given him to rise to prominence he left what every person ought to seek, the remembrance of an untarnished name.
---
SHERMAN --- William T. SHERMAN
Lincoln Sentinel-Republican -- May 29, 1930, p. 1
--- William T. SHERMAN was born in Lee's Summit, Mo., Oct. 3, 1875. While he was yet a small child the family came to Lincoln and here almost his entire life was spent. By trade a carpenter, scores of buildings in Lincoln and adjoining counties show his handiwork. For several years his health has been such as to incapacitate him for work quite a part of the time. He was patient in suffering.

About 15 years ago he united with the Methodist Episcopal Church in Lincoln. He was also an honored member of the Odd Fellows. Death came to him at the hospital in Lincoln on May 23, 1930, at the age of 54 years 7 months and 20 days. Respectful of all, he leaves a host of friends to mourn his going and to sympathize with his relatives. The immediate family, which is bereft by his death, is his sister Mrs. Myrtle HUFF, Salina, with her four children, and Mrs. Bertha SHERMAN, his sister-in-law, with her daughter, Joyce Ellen. There are many relatives only a little more distant who share in this loss. His was an honorable life usefully lived. Funeral services were held Sunday afternoon at the Methodist Church with the pastor Rev. Roy D. PLOTT in charge. Interment in Lincoln cemetery.
---
SHREVES --- Ella SHREVES
Lincoln County Beacon Thursday Aug 26, 1880.
---(From Pinon area locals section of paper) Ella SHREVES, eldest daughter of U.S. and Elizabeth SHREVES, died last night about 8 o'clock. Their second daughter is not expected to lived either.
submitted by Bill and Diana Sowers (Note... no relation to this person.)
---
Back to Lincoln County Obituaries Main Page
---
DO YOU HAVE
QUESTIONS, COMMENTS, CONTRIBUTIONS FOR US?
Bill and Diana Sowers
, Lincoln County Coordinators
Tracee Hamilton, Lincoln County Coordinator