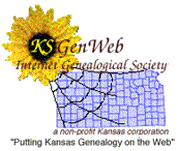 Lincoln County
Kansas
Obituaries
Surnames starting with

"Si-Sp"
---
SILL --- George O. SILL
Lincoln County Beacon, Aug. 6, 1885
---An accident fatal in its results occurred at Sill's coal bank on Thursday last. A little son of John Sill was kicked on the head by a horse. It is said the wound was not considered dangerous, and after being dressed by Dr. Cogswell was thought to be doing well. But the wound must have been deeper than was supposed and injured the brian, for the little fellow died on Monday evening.
---
SILL --- Violet Viletta SILL
Lincoln Sentinel, 4 January 1906
---Violet Viletta, daughter of Mr. and Mrs. L.B. BEACH, was born at Tecumseh, Neb., Sept. 8, 1882. The following year her parents moved to Kansas, since which time the child grew up under the sunny skies of this fair state.
At twelve years of age she united with the Church of Christ of this city, and continued a member of the same until her death. On June 3, 1902, she was united in marriage to James SILL. The fruits of this union being two children, one of whom survives the mother, the other joining her in that sleep which knows no awakening until the Master shall bid them rise.
She died at her home in Junction City, Kansas, Wednesday, Dec. 27, the bodies of mother and child were brought to this city for burial Friday evening. The funeral services were held in the church of which she was a member, Saturday morning at 10 o'clcok, the interment taking place in the Lincoln cemetery.
The bereaved husband and relatives have the sympathy of the community in their great sorrow and are commended to Almight God for such comfort as He alone can give.
- Neal Overman, Pastor, Church of Christ
---
SIMPSON --- Margaret G. (ADAMS) SIMPSON
The Barnard Bee, Barnard, Kansas, 10 Sep 1931, page 1
---The many friends of Mrs. David SIMPSON were saddened to learn of her death which occurred at her home last Saturday. Mrs. SIMPSON has been in ill health for the past few weeks and death was not unexpected. Coincident with Mrs. SIMPSON's death, was the death of here husband which occurred exactly a year earlier, he having died September 6, while Mrs. SIMPSON's death came September 5.
Mrs. SIMPSON came with her husband to Kansas in 1885 and has since resided on the SIMPSON homestead south of Barnard. During the many years she has lived in this community she has made scores of friends who are greatly grieved at her passing.
Margaret ADAMS was born in Lochee, Scotland, March 12, 1842, and departed this life September 5, 1931. She was united in marriage to David SIMPSON, July 25, 1865, and to this union ten children were born, six having preceded her in death. Five of them sleep in Scotland, the other in the Milo cemetery. The four living children are David H. SIMPSON, Peter F. SIMPSON and Mrs. W. H. [Margaret] GOOD all of Barnard, and Mrs. Ben F. [Helen] SMITH of Kansas City.
In early life Mrs. SIMPSON united with the Presbyterian Church remaining faithful until she was called home.
Besides her children mentioned above, she leaves 14 grandchildren, 5 great grandchildren, a sister, Mrs. David [Euphemia] WALLACE of Barnard, and a host of relatives and friends.
Funeral services were held at the home south of town Monday afternoon. Rev. REYNOLDS, pastor of the Barnard Baptist Church conducted the services and was assisted by Rev. HALL, Methodist minister. Burial was in the Milo cemetery.
[Submitted by Jim Hayes, jhayes@qconline.com]
---
SMITH --- Mary Florence SMITH
Lincoln Beacon --- June 23, 1887
---Died... Saturday night, June 18, 1887, at the home of her parents near Lincoln, Mary Florence, daughter of J. T. SMITH and wife, aged six years, two months, lacking two days.
Summary of a death notice. Submitted by Bill and Diana Sowers (Note... we are not related to this person)
---
SMITH --- Mrs. J. Albert SMITH
Lincoln Sentinel-Republican, Oct. 5, 1939
---Mrs. J. Albert Smith, one of the best known women in Lincoln, passed away at her home here Monday after an illness of several weeks.
Born in Brown county, 76 years ago, Mrs. Smith had lived in Lincoln for many years. She was active in religious work of the community and was known for her kindness and generosity, her willingness to help in any worthy cause.
Surviving are her husband of the home, a son, Dr. Roy K. Smith, a medical missionary in Chosen, Japan; one daughter, Mrs. Stanley Mohr of Grandfield, Okla.; five grandsons and one granddaughter. One daughter, Mrs. Grace McGaughy, preceded her mother in death.
Funeral services will be held Thursday afternoon at 4:30 from the Lincoln Presbyterian church. Interment will be made in the cemetery at White Cloud.
---
SNEED --- Ed SNEED
Lincoln Beacon --- July 7, 1887
---Ed SNEED who was hanged at Independence, Missouri, on the 24th inst., was convicted of the murder of Bob LOOMIS, a former druggist of Lincoln Center, and well known in Saline County in the early years.... [originally published in the Salina Journal]
Sumitted by Bill and Diana Sowers. We are not related to either of these persons).
---
SNYDER --- Margaret Carolina Hiitter SNYDER
Lincoln Sentinel-Republican, Oct. 30, 1947
---Margaret Caroline Hiitter Snyder was born in Chicago, Ill., June 24, 1874, and departed this life at her home north of Lincoln at 10 p.m. Saturday, Oct. 25, 1947, at the age of 73 years, four months and one day. She had been in failing health for the last year and was bedfast since March with a heart ailment. During her illness she received the tender and loving care of her husband and children.
At the age of five years, she moved with her parents to Albany, Neb., and lived there for 12 years, then coming to Kansas.
On Dec. 3, 1896, she was united in marriage to Frank Snyder of Sylvan Grove. They lived in Russell county for a short time, then moved to Brookville where they resided for 39 years. In 1943 they came to their present home north of Lincoln.
Ten children were born to this union: Mrs Mary Meirose, Mrs. Daisy Surface, Abilene; Mrs. Clara Rundquist, Cedar Rapids, Iowa; Mrs. Ellen Horn, Bennington; Harry Snyder, Sylvan Grove; William Snyder, Watertown, S.D.; John, George and Clifford of the home; and a son who died in infancy.
Besides her husband and nine children, she leaves to mourn her passing four grandchildren: Elaine Meirose and Collen Rider of Abilene; Delmar Gene Rundquist of Cedar Rapids, Iowa, and Norma Jean Horn of Bennington; four sisters, Mrs. Minnie Voss, Vesper; Mrs. Freida Kleinschmidt, Lincoln; Mrs. Carrie Saenger, Sylvan Grove; and Mrs. Rosa Plinsky, Beverly; three brothers, John and William Hiitter of Sylvan Grove and Fred Hiitter of Beverly; a host of relatives and friends.
Funeral services were held this Wednesday afternoon from the Congregational Christian church. Interment was made in the Lincoln cemetery.
---
SODEN -- John SODEN
The Barnard Bee, Barnard, KS, Thursday, Sept.17, 1908, front page
John SODEN, an old and highly respected citizen of this vicinity some years ago, suffered a paralytic stroke Monday morning while visiting his son Jim at Abilene which proved fatal, death coming as a relief this morning, Thursday. Mr. SODEN was in Barnard last Saturday visiting among his old neighbors and friends, He seemed to be very spry and vigorous for one of his age. Deceased came to this part of the country about 19 years ago, buying the place recently sold by H.T. TATUM to George LOY. He left nine years ago, going to Great Bend, KS, where he has since resided. His daughter, Mrs. Marion CROWL went to Abilene as soon as she heard of his affliction. The funeral will be held at this place Saturday of this week.
[submitted by Mike Woody, Albany, OR]
---
SORENSEN --- Mae E. SORENSEN
Lincoln Sentinel-Republican, Thursday, August 25, 1955
--- Mae E. SORENSEN, was born February 17, 1901 to Nellie Jane [DEEDS] and Emphis J. WEBB in Lincoln County, Kansas. She departed this life August 14, 1955, at the Lincoln County Hospital where she had been a patient for serveral days. She attained the age of 54 years, five months and 28 days. Having spent her entire life in this county she was baptized in the Baptist Church at Beverly, Kansas at the age of 14 years.

On March 12, 1919, she was united in marriage to Ernest J. GREENE and to this union were born four children: Leonard G. GREENE and Mrs. Betty LAWSON, both of Salina; Mrs. Genevieve LANDGREN of Lindsborn and Dayle L. GREENE, Weston, Missouri. January 21, 1927 she was married to A. L. SORENSEN of Denmark, Kansas. They lived in this community until Mr. SORENSEN's death in 1953. Three children were born to this union, Edith M. SHELDON, Lincoln, Kansas; A.L. SORENSEN, Jr., of Denmark, Kansas; and Mrs. Rosetta GIRTON, Mountain View, Calif.


Finding life too lonely in the country after the death of Mr. SORENSEN, Mae moved to Lincoln where she owned and operated the Annex Hotel until her health failed and she was forced to sell all her belongings and move back to her farm to await the call of her Heavenly Father.... Funeral services were held Wednesday afternoon, August 17 at the Lincoln Methodist Church with Rev. HENDRICKSON in charge assisted by Rev. Hugh BERRY.

submitted by Bill and Diana Sowers. Mae Sorensen was Bill's grandfather's (Claude Sowers) first cousin.
---
SPARKS --- Alzean Effie TAYLOR
Lincoln Sentinel-Republican, 11 November 1948
---Alzean Effie TAYLOR, daughter of Lot and Sarah (EDWARDS) TAYLOR [step mom] was born July 3, 1867, in Millerstown, Pennsylvania, and passed away at her daughter's home in Westfall at the age of 81 years, three months, and 28 days.
At a very early age she came to Ellsworth County, Kansas, with her parents and settled on a farm north of Wilson, Kansas. On January 8, 1885, at Ellsworth, Kansas, she was united in marriage to Abraham David SPARKS who preceded her in death on May 12 of this year. To this union eight children were born: Walter, Martha, Mary, Anna, Ralph, Myrtle, Taylor and Francis. Since 1901 Mr. and Mrs. SPARKS have resided in Beverly.
She was a good friend and neighbor to all who knew her. She was a wonderful mother to her family and will be sadly missed for her many deeds and her thoughtfulness to others.
She leaves to mourn her loss: Walter and Francis of Salina, Kansas; Ralph of Arcadia, California; Mrs. Anna BERGMAN of Levant, Kansas; and Mrs. Martha SMITH, Mrs. Mary SMITH, Mrs. Myrtle ANDERSON and Taylor SPARKS of Beverly, Kansas; seventeen grandchildren, twenty four great grandchildren; one brother, John and sister Flora, of Beverly, Kansas; Claude of Chanute, Kansas, and Rheba of Cheyenne, Wyoming.
Funeral services were held in the Township hall at Beverly, Kansas, on Wednesday, November 3, 1948 at 2:00 P.M. under the ministry of the Rev. W. Ralph LONG, pastor of the Tescott-Beverly Methodist churches. The hymns, " In the Garden" and "Saved by Grace" were beautifully sung by Mrs. Leo STOVER, Mrs. Joe GREENE and Mrs. Emerson CLINE. They were accompanied at the piano by Mrs. Sarah Alice ANSLOVER, Pallbearers were Keith WEST, Jack RHUDY, Emil MARTY, Paul JENKINS, Ed HARSHBARGER and Evan MCCLURE. Many beautiful floral displays were there presented by many sympathetic friends. B.G. Hall of Lincoln was the undertaker in charge and the body was interred in the Beverly Cemetery by the side of that of her husband.
(Submitted by Robyn Osborn robyn2@harborside.com )
---
SPEAR --- Ida May HOBBS
Lincoln Sentinel, 27 August 1953
---Ida Mae Hobbs, daughter of Francis M. and Augusta A. Hobbs, was born July 17, 1884, on her fathers homestead in Batle Creek township, Lincoln County, Kansas, and departed this life on August 16, 1953, at the age of 69 years and 30 days. She attended school at Trail Creek.
She was united in marriage to Roy Spear Sept. 3, 1902. To this union were born seven children: Francis Spear and Mrs. Emil Jensen of Lincoln, Kansas; Mrs. Harold Hanneman of Hendley, Nebr.; Mrs. Arthur Howell of Lincoln, Kansas; Roy Spear, Jr. of Boise, Idaho; Mrs. Wayne Whited of Mesa, Ariz.; and Mrs. Wilbur Brown of Lincoln, Kansas.
She was converted and joined the Prairie Grove church in 1908. She left her testimony that she was ready to see Jesus. She was a loving wife and mother always ready and willing to help others.
Those left to mourn her departure are her husband and children; 30 grandchildren, and 8 great grandchildren; 2 sisters, Mrs. Bert Spear and Nancy Jensen of Lincoln, Kansas; 2 brothers W. E. and C. I. Hobbs of Vesper. Her parents and one brother, Lenard, preceded her in death. Besides these she leaves a host of relatives and friends. Our loss is Heaven's gain.
---
SPEAR -- Mary Emma Dean DeBERRY
Leoti Standard (Leoti, Kansas), [About January 15, 1930]
OBITUARY

Mary Emma Dean DeBERRY was born at Alpha, Scott County, Indian, July 17, 1854, where she grew to womanhood and was united in marriage September 22, 1870, to Ephraim Asbury SPEAR in Mt. Gilead, M. E. church.


To them were born ten children: Ola FOUTS of Minneapolis, Kansas; Chas. SPEAR Canon City, Colorado; Bert SPEAR, Lincoln, Kansas; H. H. SPEAR, Leoti; Amos SPEAR, Whittier, California, Wm. W. SPEAR and Roy SPEAR, Lincoln, Kansas; Mabel STILES, Leoti; and Guy SPEAR Liberal, Kansas. Ernest E. SPEAR of Lexington, Nebraska, preceded the mother in death about twelve years.


Mr and Mrs. E. A. SPEAR were born and grew to maturity in the same neighborhood in southern Indiana where they were married and began housekeeping. They moved to Kansas in 1879, settling in Clay County, Kansas. Later they moved to Lincoln county in 1886, and to Wichita county in 1904 which since has been their home.


Mrs. SPEAR was converted in early childhood and was a faithful follower of her Master until His call home, Wednesday evening, about 5 o'clock January 15, 1910, at the age of 78 years, 5 months and 28 days.


Funeral services were held for Mrs. SPEAR Friday afternoon, from the M. E. church, with Rev. J. H. COPLEY in charge. Her sons were her pallbearers. Interment was made in Leoti Cemetery, Leoti, Kansas.

submitted by Robert "Buck" JONES, 5609 SW 23rd St., Topeka, Kansas,66614 rrjones@maci-mag.com
---
SPENCE --- William R. SPENCE
Saline Valley Register --- August 30, 1876, Page 3, column 2
"A Sad Accident: One of our Citizens Drowned in the Saline"

Last Tuesday afternoon our citizens were startled by the report that William R. SPENCE had been drowned in the river, near Mr. Reesí Mill, a short distance sour of town. A large number of men immediately hurried to the spot, and a rope being stretched across the stream, Mr. C. L. PIERCE and Mr. N.B. REES were soon in the water, making search for the body. After dragging about with their feet for a few minutes, they came across it, lodged in the top of a driftwood tree, about one hundred yards below the dam. A rope was thrown the gentleman above named, who with great difficulty made it fast to the lifeless form, when it was pulled to the shore.
Mr. SPENCE was in the employ of Mr. REES, and in company with Mr. Laf REES, had been doing some work on the opposite side of the river. It being dinner time, they quit work and started for the house, on this side of the stream. The river had been rising rapidly all the morning, and a very strong current was running. Mr. REES, being a good swimmer, had no hesitation in crossing, but made the remark to Mr. SPENCE that unless he was a good swimmer, also, he had better not attempt to make it. Mr. S. replied that he had often swam it, and thought he could safely do so again. So saying, he pulled off his shoes and threw them over to this side, and started into the water. By the time Mr. REES had crossed, and on looking back saw his unfortunate comrade struggling hard with the obstinate current. He started back to assist him, but was forced by the mad waters to use every exertion in his power to save himself, and could render the drowning man no relief. He immediately gave the alarm and assistance hurried to them, but ere it came the murky waters of the treacherous stream had washed him down and closed over his inanimate form. The river, where he was drowned was not over eighty feet in width, but was running very swift and was ten or twelve feet deep. It is thought Mr. SPENCE was either not a good swimmer, or that he became frightened or cramped.
He was a brother of Mrs. W.H. HARRISON of this place, and a cousin of Mrs. Geo. GREEN. He was a native of New York, where his father now resides. He was a young man about twenty-six years of age, and unmarried. He was a quiet, peaceable and industrious citizen, and well spoken of by all who knew him. After serving five years in the regular army, he mustered out last summer in Arizona, returning soon after to this county, where, at the time of his death, he was improving a farm and making a home. He was buried on Wednesday in the church yard on the hill, a large concourse of people attending the services, which were conducted by Rev. H.C. BRADBURY

This obituary was supplied by Luci J. Baker -- (email: ljbaker@whyweb.com)
---
SPRINGER --- Nettie SPRINGER
Saline Valley Register (Lincoln Center, KS) ---Wednesday June 14, 1878
---Died, on Sunday morning, the 11th, Nettie, only child of J. Z. and Lizzie SPRINGER, aged 1 year, 10 months, 4 days. The rarest flowers are the first to be plucked.
submitted by Bill and Diana Sowers (Note... no relation to this person.)
---
Back to Lincoln County Obituaries Main Page
---
DO YOU HAVE
QUESTIONS, COMMENTS, CONTRIBUTIONS FOR US?
Bill and Diana Sowers
, Lincoln County Coordinators
Tracee Hamilton, Lincoln County Coordinator