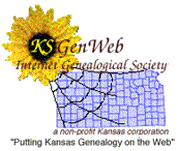 Lincoln County
Kansas
Obituaries
Surnames starting with

"T"
---
TAYLOR --- [child] TAYLOR
Lincoln County Beacon Thursday July 1, 1880.
---(From Colorado locals section of paper). Death of eleven month old son of R.A. TAYLOR on June 22nd.
submitted by Bill and Diana Sowers (Note... no relation to us.)
---
TAYLOR - Alonzo Firmie TAYLOR
Lincoln Sentinel-Republican, Oct. 29, 1942
---Alonzo Firmie TAYLOR, son of Lott and Sarah TAYLOR, was born April 19, 1885, near Wilson, Ellsworth county, Kansas, and departed this life at the St. John's Hospital, Salina, Oct. 21, 1942, age 57 years, five months and two days. While yet a boy he moved with his parents to a farm near Beverly where he grew to manhood.
June 10, 1908, he was united in marriage to Dora Lousie BACHMAN at Lakin, Kansas. To this union were born five children. One child preceded him in death.
Those to mourn his passing are his wife, three daughters, Grace of the home, Mrs. Viola JOHNSON of Salina, Mrs. Leola DOLL of Lincoln; and one son Firmie Jr. of Wichita; three grandchildren, two brothers, Claude L. of Chanute, John of Beverly; and three sisters, Mrs. A.D. SPARKS, Mrs. Oscar CASSELL of Beverly, and Mrs. Rheba FLINT of Cheyenne, Wyo.
Interment was made in the Beverly cemetery.
---
TAYLOR --- John L. TAYLOR
Paper unknown, date of death Aug. 9, 1956
---BEVERLY--The funeral for John L. TAYLOR will be Saturday at 2 p.m. in the Beverly Community Church, the Rev. Roy HENDRICKSON officiating. Burial will be in Beverly Cemetery.
Mr. TAYLOR was born in Pennsylvania April 29, 1877, and came to Kansas as a young man.
A retired farmer, he is survived by one son and six daughters, Glen, Glasco; Mrs. Blanche MCCORMICK, Mrs. Bernice POWELL and Mrs. Vera MCBRIDE, Beverly, and Mrs. Helen ROSEBROOK, Mrs. Florence STEVENS and Mrs. Nova INBODEN, Culver; one brother and two sisters; 19 grandchildren and 22 great granchildren.
The body was taken to Hall Funeral Home, Lincoln. It will be at the Taylor home in Beverly prior to the funeral. Mr. TAYLOR died at St. John's Hospital Thursday.
Submitted by: Robyn Osborn robyn2@harborside.com
---
TAYLOR --- Lott Gardner TAYLOR
Lincoln Sentinel-Republican, 3 October 1929
---Lott Gardner TAYLOR, was born in Clarion County, Pennsylvania, Aug. 3rd, 1845. He was united in marriage to Sarah Ann EDWARDS of Gohenville, Penn., Nov 19th, 1868. He became a member of the Free Methodist Church at the age of 19 years. He later joined the Wesleyan Methodist church of Wilson, Kansas and later the Beverly Methodist church when he came to Beverly to make his home. His wife and eight children preceded him in death. He leaves to mourn for him a brother, Will TAYLOR, of Enid, Oklahoma, a sister, Sarah WHITMAN of Tulsa, Oklahoma, three sons, John and Fermie of Beverly, Kansas and Claud of Chanute, Kansas. Three daughters, Flora CASSELL and Effie SPARKS of Beverly, Kansas and Rheba FLINT of Savageton, Wyoming and a host of other relatives and friends.
He had made his home with his daughter, Mrs. Flora CASSELL for the past fifteen years.
He was a faithful servant in the work of his master and was called home from the house of God Sunday, Sept 22, 1929. (NOTE: Lott actually died while attending Sunday church services.)
Submitted by: Robyn Osborn robyn2@harborside.com
---
THAETE --- Dorothea
Lincoln Sentinel-Republican, June 18, 1964
---The funeral for Mrs. Dorothea THAETE, 82, who died Monday at th eEllsworth Memorial hospital, will be at 10 o'clock Thursday morning at the Bethlehem Lutheran church in Sylvan Grove. Burial will be in the Lutheran cemetery at Sylvan Grove.
Mrs. THAETE was born July 19, 1881, in Lebanon, Ks. She had lived in Sylvan Grove the past 13 years.
Surviving are two sons, Edwin THAETE of Downs, Willard THAETE of Filer, Idaho; six daughters, Lydia MUELLER of Filer, Idaho; Hilda LAMPPE of Twin Falls, Idaho, Viola THAEMERT of Sylvan Grove, Irene BARDEN of Bellflower, Calif., and Evelyn KOSHELNICK of Everett, Wash.
---
THEWS --- Frederick W. THEWS
Lincoln Republican Thursday, January 16, 1919.
---On the morning of the 9th of January one of the greatest shocks that has come to the Shady Bend community was the announcement of the death of Frederick W. THEWS. He was born in Doniphan County, Kansas, October 25, 1892. In 1893 he moved with his parents to Lincoln County. The family located near Beverly. On November 5, 1913, he was united in marriage to Miss Carrie McFARLAND. Immediately after the marriage the young couple moved to the farm. For five years this was an ideal home. But Mr. THEWS was taken with influenza on December 29th. On Saturday the 11th of January he was buried in the Beverly Cemetery. He leaves to mourn his death a devoted wife, a father and mother and five sisters.
submitted by Bill and Diana Sowers (Note... We are not related to this person. We found this obit while looking through the paper.)
---
THIEMANN --- Lorenz THIEMANN
Lincoln Sentinel-Republican, Thursday, October 8, 1936
---Lorenz William August, son of Otto THIEMANN and wife, Lena nee BOLTE, was born October 15, 1918, and on October 27th, he was received into God's covenant of grace through Holy Baptism. Having been thoroughly instructed in the chief parts of Christian doctrine, he renewed his baptismal vow in the rite of confirmation on March 20, 1932. This vow he faithfully kept unto his end.

Several months ago he suddenly took ill but a few weeks his condition improved nicely. However, it was only for a short duration and his condition again grew worse from day to day. Confidently trusting in His Savior he quietly fell asleep in Jesus September 28, 1936, at the age of 17 years, 11 months and 13 days. His passing is mourned by his sorrowing parents, one brother, Alfred, two sisters, Edna and Erma and many other relatives and friends.


Funeral services were held Thursday afternoon, October 1, with Rev. H. KROENING in charge, assisted by J. E. BARTELS and a girls quartet. Services were conducted in St. Paul's Lutheran Church, interment followed in St. John's Cemetery.
submitted by Bill and Diana Sowers (Note... We are not related to this person.
---
THOMPSON --- Mabel THOMPSON
Barnard Times --- Thursday, August 16, 1888
---Died at her home near Coursen's Grove, Aug. 11 of typhoid-pneumonia, Mabel THOMPSON, aged 7 years and 3 months. The sympathy of the entire community is with the bereaved family.
---
THOMPSON --- William E. THOMPSON
Saline Valley Register -- Wednesday, September 13, 1876 --- Page 3, column 2
"Killed by the Indians"

A letter received here, on the 5th, by T.A. Walls, from Peter Smith of Custar City, states that William E. THOMPSON, who left here in March last for the Black Hills, was killed by the Indians near Custar, on the 23rd of August. He, with three others were out four miles from Custar, making hay, when they were murdered. Mr. THOMPSON had several balls in his body and was scalped also. He was one of the first settlers of this county, and was highly respected by all parties. He sold his livery property here to Mr. ROBINSON, last spring and in company with several other citizens of our county went to the new gold fields, where he has since been. He had been on the plains for a number of years, and was the last men we would have thought of being surprised and murdered by the savages. He was an intelligent, honest, industrious man, and his loss is deeply deplored by all our citizens, among whom he had many friends and few enemies.
This obituary was supplied by Luci J. Baker -- (email: ljbaker@whyweb.com)
---
TILMAN --- Sarah M. TILLMAN
---June 10, 1886, at her home in Elkhorn township, near Lincoln Center, Mrs. M. Tilman, aged 41 years. Deceased leaves a husband and four children. The funeral took place from the school house near the German Lutheran church, upon June 11, conducted by Rev. George Tenney.
---
TITSWORTH --- Ted TITSWORTH
Lincoln Sentinel, June 5, 1902
---Ted, the little son of Sim Titsworth, died Monday evening of diphtheria. Three other children of this family are seriously ill with this disease, and it has been necessary to quarantine the house. This is a sad affliction, it being the second death in the family in less than a year.
---
TITUS --- J.B. Lincoln Republican, March 10, 1887
---Died-At his home near Beverly, on the fifth day of March 1887, J.B. TITUS, at the age of 63. He was born in Schohara county, New York; at the age of 16 he removed with his parents to Jacksonville, Ill. At the age of 24 he removed to Lee county, Iowa. He was married to Minerva WRIGHT, in Lee county, Iowa. In 1853 he removed to Osage county, Kansas. In 1862 he returned to Iowa and returned to Kansas again in 1878 and, in 1881, settled in Lincoln county on the farm where he died. His wife and five children are left to mourn his loss. He was a faithful member of the Baptist church for many years. He was buried with honors of the I.O.O.F. of which order he was a member. He had been an honored citizen of the community in which he resided and many sorrowing friends accompanied his remains to its last resting place.
---
TOOLE --- H. J. TOOLE
The Lincoln Sentinel Republican --- April 4, 1940
---That death loves a shining mark was again demonstrated Friday morning when H.J. TOOLE, county weed supervisor, died unexpectedly at St. John s hospital in Salina where he was apparently recovering from a ruptured appendix and peritonitis. He was born April 1882.
---
TOOLE - Sadie
Lincoln Sentinel-Republican, Sept. 13, 1962
--- Mrs. Sadie M. Toole, 87, a resident of Lincoln county since 1887, passed away Friday at the Lincoln County Hospital. She had been in poor health several years.
Born August 9, 1875, in Bellefonte, Pennsylvania, Mrs. Toole came to Kansas with her parents when she was two. She lived in the Vesper community until 1940 when her husband, Henry TOOLE, died.
She was a member of St. Patrick's Roman Catholic Church.
Mrs. TOOLE is survived by three sisters, Mrs. Lena KILCOYNE and Mrs. Leta BOHLING, both of Lincoln, and Mrs. Mabel COOPER of Hollister, Calif.; and four brothers, Grant, John, Alvin and W.A. LEWICK, all of Lincoln.
The funeral was held at 9:30 o'clock Monday morning at St. Patrick's Church with the Rev. Lawrence Pierce officiating. Interment was in St. Patrick's cemetery.
Submitted by Tracee Hamilton (tracee.hamilton2@verizon.net).
---
TRAULSEN --- Catharine
Lincoln Sentinel-Republican, March 17, 1960
--The funeral for Mrs. F.A. Traulsen, 80, will be held Saturday afternoon at 2 o'clock in the Hall Memorial Chapel, the Rev. Roy L. Hendrickson officiating. Interment will be made in Lincoln cemetery.
Mrs. Traulsen passed away early Tuesday morning at the Lincoln County hospital where she had been a patient several days. She had been in failing health the past four months.
Born in Freslee, Germany, September 29, 1879, she was married to F.A. Traulsen in Glensburg, Germany, November 25, 1899. They came to the United States in 1905 and settled on a farm in Lincoln county. They had made their home in Lincoln county continuously since that time. Mr. and Mrs. Traulsen were privileged to celebrate their sixtieth wedding anniversary last November.
Mrs. Traulsen is survived by her husband, F.A. Traulsen, of the home west of Denmark; two daughters, Mrs. Christine Phillips of St. Maries, Idaho, and Mrs. Frieda Petersen of Sacramento, California; two sons, Adolph Traulsen of Lincoln and Ervin Traulsen of the home; one brother, Jacob Paulsen of Arkansas City, seven grandchildren and 18 great grandchildren.

[Submitted by Tracee Hamilton. I am not related to this person.]
---
TROUT --- Minnie TROUT
The Beacon of Lincoln County Thursday, June 14, 1883.
---Died June 6, in Battle Creek, this county, Minnie TROUT in her sixth year. The funeral services took place the following day at the family residence.
submitted by Bill and Diana Sowers (Note... no relation to us.)
---
TURNER --- Edward TURNER
Lincoln County Beacon Thursday August 26, 1880.
---Eugene TURNER received a telegram from Florida Tuesday last informing him of the sudden death of his brother, Edward, in that state. He immediately left for Florida, his brother Charles accompanying him to the railroad. (Note... a follow-up article on the death of Edward TURNER appeared in the September 2nd issue of the paper. The deceased, was murdered by a customer at his store in Leesburg, Florida.)
submitted by Bill Sowers (Note... We are not related to this person. We found this obit while looking through the paper.)
---
TURNER --- Martha BROOKS TURNER
Lincoln Sentinel, April 18, 1901
--- Martha Florence BROOKS TURNER was born in Bartholomew Co., Indiana, March 31, 1865, and died in Lincoln, Kansas, April 12, 1901, aged 36 years and 12 days. She was the mother of eight children, four of whom survive her.

Mrs. Turner in the highest sense lived for others. With her family of children dependent upon her for their whole support she cheerfully gave herself to their care. God only knows the privation, the anxiety, the trials.

submitted by Tracee Hamilton (Note: This is my great-great-aunt. I can be contacted at tracee.hamilton2@verizon.net.)
---
TWIBELL --- Thomas
Lincoln Beacon, April 8, 1880
---On Saturday, March 27, at his home in Cedron township, Thomas TWIBELL, aged 46, of typhoid pneumonia. Mr. TWIBELL came to this county from Pennsylvania about four years ago, and during his residence here, has made hosts of friends. [Buried Spillman]
---
Back to Lincoln County Obituaries Main Page
---
DO YOU HAVE
QUESTIONS, COMMENTS, CONTRIBUTIONS FOR US?
Bill and Diana Sowers
, Lincoln County Coordinators
Tracee Hamilton, Lincoln County Coordinator