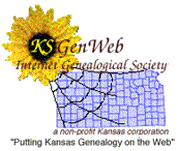 Lincoln County
Kansas
Obituaries
Surnames starting with

"U"
---
URBAN --- Walter W. URBAN
Lincoln Sentinel-Republican -- May 31, 1984
--- Walter W. URBAN, 80, died Sunday, May 20, 1984, at St. John Hospital, Salina. He was born Aug. 11, 1903, at Sylvan Grove and was a lifelong resident of Lincoln County. Mr. Urban was a graduate of Washburn University and Law School. He practiced law in Lincoln more than 50 years, opening his practice here in 1929. He served several terms as Lincoln County Attorney. He was a member of Phi Pi Phi Legal Fraternity. In 1970 he was awarded an honorary Juris Doctor from Washburn University.

He was chairman of the Toronto Dam Commission and was a member of the Tuttle Creek Dam Commission. During World War II he was a staff attorney for the O.P.A. Mr. Urban was a member of the Sylvan Grove Masonic Lodge, Salina Isis Shrine , Elks Lodge and the Kansas Bar Association.


His wife Julia died in 1980. He is survived by a daughter, Lee Ann ROHRER, Lexington, Ky., and two grandchildren. Funeral services were Thursday, May 24, at the Hall Mortuary, Rev. Robert J. LUEDENS officiating. Interment was in Lincoln Cemetery. Memorials may be made to Lincoln Carnegie Library.
---
Back to Lincoln County Obituaries Main Page
---
Return to:[Lincoln County Kansas Genealogy][Lincoln County Kansas Queries]
---
DO YOU HAVE
QUESTIONS, COMMENTS, CONTRIBUTIONS FOR US?
Bill and Diana Sowers
, Lincoln County Coordinators
Tracee Hamilton, Lincoln County Coordinator