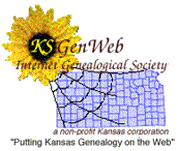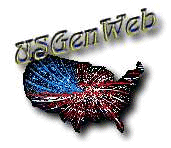 Diary of Anna Mary Johnson

We left Blue Rapids Kansas May 11, 1896. About 75 or 100 friends and relatives stood in the yard and on the porch and gave us good bye and watched us till we were out of sight. Some of which we may never see again.
The wind was blowing quite hard and so it may blow up a shower yet. We had hardly got out of sight when a young man rode up on horse back to tell us good bye and also gave us a nice boquet of flowers, for which we were very thankful or I at least like flowers.
Mr. and Mrs. Wm. Scott and their son Andy, daughter Minnie, her husband Frank and two children Goldie and Garnet were going to Colorado, their son Billy was there and wanted them to come out there. I was working at Waterville and they insisted I go with them. I had never been out of the State and thought it would be a nice trip so I quit my job and went with them.
We hardly had a good start till the wind took the wagon cover a flying but as it happened it stopped against the wire fence and to finish it up it began to sprinkle again. Well, this is something new for me as I never was inside of a covered wagon before.
Our first camping place was a beautiful spot on Coon Creek, one mile west of Waterville, Kansas. Mr. Scott had a stove made to order. It was made of sheet iron with an oven and three joints of pipe, no legs, and two cooking lids. We stopped early and pitched our tent and had our supper over by dark. We then took a walk over to the bridge and Andy played on his banjo but it began to sprinkle again so we went back to the wagons and prepared for a good nights rest. We were ready to retire when a man came and Andy had a bed fellow in the tent.
May 12, 1896
Well tonight we intend to camp at Parson Creek. But here is another shower coming and we are only 14 1/2 miles from where we camped last night, so we are obliged to stop the rest of the day. There is no place to pitch our tent so we will have to pitch it inside the pasture fence. We passed thru Barnes and bade Transeus good bye. Met C. D. Carson and family (by chance). Stopped for dinner 4 miles west of Barnes. Pretty warm today. Saw three jack rabbits all at once. After dinner we hitched up and went a few miles farther but stopped on account of the shower 1 1/2 miles from Greenleaf.
May 13, 1896
Still raining so we cannot travel today. Our neighbor Mr. Brooke and son also their hired man and Mr. Talbot came. So we us and co. furnished them with some of our best music free gratis. We all slept on some quilts in the tent tonite (but Frank).
May 14, 1896
Well I guess about 10 or 11 we can travel again. But bad luck is here again we came to a washout so we will go 2 mi out of the way. We traveled 16 mi and pitched our tent just in time to escape another shower. We now are camped in a town by the name of Strawberry, about 10 inhabitants. There is one store, and one school house, I dwelling house and 1 blacksmith shop and a few hitching posts.
May 15, 1896
Still raining so we can't travel. We went to the store keepers house in the evening. They had a fiddle and organ and we a banjo so we made some music.
May 16
We started out again but it sprinkled once in a while, still we traveled 20 mi. We came to another bridge washed out and had to go back and got on to some awful bad roads. But we all got out and walked but the driver. While we were walking we chased a ground squirrel under a culvert, shot at a rabbit and Dallas (the dog) killed a young meadow lark and now we have our tent pitched one mile So. of Wayne a half mile North of one of one of Mamas old school mates. Well left Strawberry this morning, came thru Branford and Agenda. We have our tent pitched on a real nice place, at a corner there is an oat field across the road and we can see 6 or 7 rabbits playing there.
May 17
Sun. We went to Dr. W Scotts at 1 1/2 mi west of Norway Republic Co. got there about 2:30 P.M. and dinner was ready when we got there, Good for the cooks. We stayed here for a few days, waiting for Alex (Dr. Scott's son) to get ready to go with us.
May 28
Have neglected writing for a few days. Andy and Frank shot a skunk this morning. All but the driver started out on foot this morning. We camped last night in a place where a troop of Indians had camped the night before. The box I had my quilt pieces in lost out of the wagon and Alex mounted Old Sanko and went back 1 1/2 mi and found it. Drove into Smith Center at 11 o'clock and stopped for to get the horses shod. So we got dinner too. Left there at 1:30 past Athol and went as far as Kensington.
May 29
Past thru Agra and stopped for dinner in Gretna. Oh my how anxious I am to get to Phillipsburg and get my mail from home. Have passed dozens of sod houses but have neglected to mention it before. Also passed some prairie dog towns. P.M. Went thru Phillipsburg and got the expected letter telling the news of the cyclone. Dogs caught some rabbits. Camped for the night about 5 mi N.W. of Phillipsburg on the bank of a creek.
May 30
Decoration Day. We got out of the way and struck some awful bad roads. Went thru Stuttgart and stopped for dinner 1/2 mi east of Prairie View. Bought a yard of calico for my quilt at 6 cents a yard. Went from there to Almina and pitched our tent in a hurry as it looks like rain. (at this point some pages were probably blown away) Some more clouds came up and we had the storm over again only worse. We were lucky.
May 31
This morning the tent poles and the cross piece were warped pretty bad. The boys had breakfast ready when we came down from the depot. We ate dinner there and then pulled up stakes and left to a better hunting ground. We now have had our supper. We are camped by a school house South of Almena. Another wagon is camped close by. Two men and a woman. They are headed for Denver too. Alex and I went to a neighbors after milk.
June 1
Pulled up and left our companions and went thru another town to Norton Center. Camped at that place, cooked a kettle of beans and had company. Made some shoes for Governor the dog and went to bed.
June 2
Got up and got breakfast and was washing or dishes when our companions of the night before passed us, but we soon overtook them. We went thru Norcatur and eat our dinner this side a mile or two. We now have our teams unhitched and we are at Sister G. W. Shutes residence in Decatur Co. A sod home of two small rooms.
June 3
We left Mrs. Shutes about ten o'clock went to Kanona and ask the best way to Dresdan. But we got on the wrong road and the first thing we know we were at Oberlin about ten miles north and we ought to of been that far South. Well we stopped there for dinner then went on. Pretty soon it was time to stop so Mr. Scott stopped to see about corn and hay for the horses but they had none but told him about two miles further we could get plenty. We had got about a mile and 3 quarters and we come to a creek, no bridge there and the crossing was marshy so we turned back and went West two miles and by that time it was dusk. We came to an old sod house nobody lived in so we pulled in and Mr. Scott and Alex went mile & 1/2 to get water for cooking and corn for the horses for the well there had no bucket. While they were gone we got supper. The men slept in the house on the floor and the women folks slept in the wagons as usual. The fleas nearly ate us up. The men got back with the water and corn and then went down to a creek to water the horses and one of Frank's horses got a cut on the knee with a wire.
June 4
Left there on foot the next morning the boys shot at prairie chickens, the dogs chased rabbits and the rest of us watched them. Stopped for dinner at a P.O. violenta, a sod building. We walked up the big hills we could see for miles and miles. One or two houses in sight and they are sod. A mile further on and we come to a sod school house, inside there are four desks and the teachers table and a water bucket, dipper and wash pan. The first sod school house I ever saw. Night came on us and we were obliged to stop on an open prairie by the R.R. The wind has been blowing pretty bad but it came up worse in the evening just as we had supper ready. Mrs. Scott, Minnie and children went up to a house close by. But I was very hungry so I stayed at the wagons and ate my supper. We did not have the tent up this time the wagons were facing the wind we obliged to watch things. After supper we took some bed clothes up to the house and made beds on the floor. Frank, Andy and Alex slept in the wagons. We all feel some that lame after sleeping on the hard floor.
June 5
We arose at sun light and went over to the wagons, got breakfast and left but the wind blowed so hard we stopped in a revine and cooked beans and eat dinner, we are hitched up now, ready to start again. We passed thru Gem before dinner and was in sight of Colby. Stopped in Colby a while and camped in Lavent by a school house. I went down to the store to Grind some coffee and they had no mill. The men slept in the school house.
June 6
Sun. Morning but as we had stopped over a day and a quarter at Shutes we were obliged to travel. We over took two covered wagons and we all stopped for dinner 1/2 mile West of Brewster. there are no trees or fields in sight nor can a house be seen. The nearest house, except to town is a couple of miles. Andy was over to the R,R, tracks picking goose-berries as he calls it, when along came a hand car loaded with 4 girls and two young men out for a ride. As there was no trees or bushes not even buffalo grass to hide him he had to stay there. We saw another sod house (school) today. We next passed thru Edson, drove into a Camalite preachers yard and stayed all night.
June 7
Came to Goodland and got our mail and stopped a mile or two west of there for dinner. The man did not want us to pump water out of the wind mill for our horses as his water was very low. Two men went by us and we saw them drink three bottles of beer. Their horses jumped over the wagon tongue. Camped 6 miles from the Colo. line.
June 9
Started out this morning and went over into Colo. about 8 o'clock. The men ran a race out of the state. Mr. Scott and Frank beat them. Stopped for dinner in Burlington. There are five wagons now in all when we stopped at noon. Drove 9 miles to Bethune and stopped to water horses and there was a woman out there told us 5 cents a head for watering horses, so that was the first time we ever had to buy water. Well we stayed there all night, drove into the farm yard, the rest went over the R.R.
June 10
Started out early traveled about 11 miles,thru Claremont and then stopped for dinner. We next went thru Vons and watered there, then drove to Seibert and stayed all night. We never saw a house between towns from Burlington to Bethune and From there to Claremont from there to Vons and from there to Seibert 32 miles in all. We went down to the druggist house and played the organ. The boys slept in a box car, One wagon pulled out and left us today.
June 11
W over took our other wagon and he is a little ways ahead of us now. We went thru Flagler this forenoon and we have camped for dinner a mile this side of there. Mr. Scott shot a prairie dog. We saw Pikes Peak. The boys went on an antelope hunt. We saw two antelopes and a prairie fox. Camped at Arriba.
June 12
Layed over 1/2 day while the men went hunting. They got a rabbit but left all the antelope. Left there P.M. and drove 6 miles to Bovina and watered then drove 6 miles to Genoa and camped.
June 13
Drove to Liman in the forenoon and eat dinner there and got the mail. Then drove thru River Bend and on 2 1/2 miles and camped by a R.R. bridge. Just as we were ready to eat supper there were two other covered wagons drove up. They were going to Wyoming.
June 14
Drove thru CedarPoint and Godfrey and stopped for dinner in the boiling sun about 15 miles from where we started. We can see a whole range of mountains today. Goldie and I went down on the Big Sandy River last night and picked out some rocks. Passed a house today and saw a tree. Saw a prairie dog town the largest one I ever saw. Had a little shower today. Saw a herd of sheep about 3,000. Stayed over night in a town by the name of Deer Trail on the bank of a river. We left the other two wagons this afternoon. Some dudes from the city came over to see our camp. A colored man, that goes with a show was over to see our camp at Agate at noon, sang us some lively songs.
June 15
The train was at the tank when we crossed the tack this morning. Stopped at Dyers for dinner. The first time we eat a cold meal on the road. Two young men were in a scuffle in front of a saloon and they had no suspenders on and one pulled the other fellows shirt clear out of his pants. They went inside and hid. ha ha We stayed all night in Strasberg Mts. in site and 31 miles from Denver. Expect to camp within 5 miles of Denver tonight.
June 16
Andy and Alex got up before day break and went on an antelope chase. They aimed to kill one or two but they only had a chase. All ready to start now. Stopped at Bennett and filled our water kegs. Eat dinner about 5 miles from there no water within three miles. Open prairie by the R.R. a couple of houses in sight. Drove within 7 miles of Denver at a station by the name of Magnolia and stayed all night.
June 17
Drove into Denver the capital of Colo. The horses were frightened at the street cars. Drove about 6 or 7 miles thru town and stopped for our dinner in West Denver. Drove across the Platte River and Cherry Creek. Drove under the viaduct came thru town without missing the right street. Stayed all night in the foot hills at Morrison. When supper was ready the wind came down the canyon and peppered our victuals so we moved the food in the wagon and eat in the wagon and after supper hitched up and drove across the road and went to bed.
June 18
All of us went to the P.O. and it was not open so we went up on what I thot was a Mt. but it is a foot hill. We went to the P.O. again and got no letters as usual. Came back and I went down the creek with a wash pan, soap and towel and washed my head. Ate dinner and I washed out a few aprons and we hitched up and left there. Went up in the canyons about three miles and camped. About three o'clock Billy rode up to the wagon. We were tickled to see him.
June19
We started out from there. Minnie and I were on horse back. We camped near Lovers Leap. A large mass of rock on top of a foot hill. From the base to the top of it was about 800 ft. Just a small rock. Still that was up on a high hill. We are now about 5 miles up in the mts. from where we camped They are covered with pine trees and bushes. Stopped and eat dinner and Scotts turned around and came back 3 1/2 miles and Franks team and Billy went on. We pitched our tent and stayed all night.
June 21
Sunday I went down to see the iron springs and a log school house.
June 22
The man that the men are working for is George Heurison a Scotch man. one evening we went down to the house to hear him play a bag pipe, the first one I ever saw.
June 25
Mammas Birthday. Pulled up stakes and left for Conifer. Got there about seven o'clock or half past.
June 26
Went a gum hunting with the girls. Dogs killed a nest of rabbits.
June 27
Went a strawberrying.
June 28
Sunday. The Scotts decided to go back to Blue Rapids about Sept. and they left me at Mr. and Mrs. Kemps, where I worked for my board and room. I then went to work at Casners Nov. 19, 1896, stayed a month and then went back to Kemps and made me a dress. Billy took me to Denver where I boarded the train and went back to Kansas. On the way back on the train I bought a book "The First Mortgage". Paid 75 cents for it. Got home on the 29th. of Dec. Esther was married New Years Day. I went to Carsons to work in Feb. Worked around all summer helped Sarah Curtis clean house and went to Riecks to work in Oct. their daughter Mary was born Nov. 8. Mrs. Riecks let me help make the baby clothes, some long petticoats and shirts of red wool flannel. And I stayed there until the 21 of Nov. then went home to get ready for my wedding. Mr. Wm. Scott and myself were married on my birthday Dec. 21, 1897. He went back to Blue Rapids the next day, and he and his father came after me and my things the next Sunday. On Tues. we went back to Blue Rapids to live. Later we went to work for J.P. Miller. Stayed two months then went to live on the Lewis place. Later we moved to Liza's place and she wanted to move the house so we had to move. We moved into the mill house. I went out to Mammas at Clay Center to make clothes for our expected baby. I was there a week and Rube and Billy came after me. Then on the 28 of Nov. Bess Pearsall came to work for us and our boy was born on the 29, 1898. Named him Jerome Johnson Scott. We moved our things to Billy's folks preparing for Billy and Rube to go to Colo. Then we went to Clay Center in the covered wagon that they were going to Colo. in. They got started Tues. May 9, 1899. Lue, me and the children went as far a Morganville with them, then returned on the train.
Contributed by Bonnie Whitesell
---