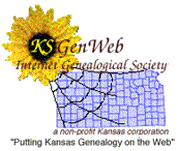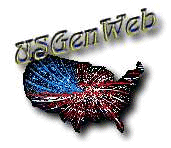 Marshall County Families
---
Following are some biographies, newspaper articles, and other items about various Marshall County families, as submitted by Marshall County researchers. If you would like to submit an article on your family, write to me at dcaallen@pacifier.com
Articles appearing on this site may be copied for personal use only. Copying for any other purpose (commercial or otherwise) is prohibited without the express written consent of the submitter.
---
Surnames appearing on this page include: Barrett, Johnson, Jones, Marcy, Oswalt, Piper Scott, Stanford, Stout, Thompson, Totten, Turner, Walter, & Williams. Other surnames may also be mentioned.
___________________________________________________________________________
A Pioneer Mother
My story is about a pioneer mother, father and three small daughters, who came to Marshall County, Kansas in 1865. They made the trip from Missouri to Kansas in a lumber wagon drawn by a team of oxen and a team of horses. They had difficulty with muddy roads, got stuck in mud several times and sometimes had to unload part of their possessions, as the oxen refused to pull, when the mud was too deep. Among other things in the wagon were meat, corn meal, cotton, wool, a spinning wheel and loom, and behind the wagon, two milk cows were lead. The journey lasted over three weeks.
They located at Irving, Kansas, living in a sod house which had a dirt floor and a dirt roof. They arrived in the spring of the year but lived in the sod house only a few months, as it was very uncomfortable. Snakes had taken possession before they arrived and a dozen or more were killed in and around the house that summer. The three girls slept in one bed and had arguments as to who would sleep on the side nearest the wall, because they were always afraid a snake would come out and crawl on the bed.
In early fall they moved into a small house on what is now the Sam Zellers farm, east of Waterville. The next year they moved into a log cabin not far from the King bridge, east of Waterville. The Waterville of which we are so proud of was not here then. The townsite was just a prairie field.
It took them nearly three years to get settled in a home of their own because in 1868 or '69 they bought a homestead right near an eight acre farm six miles north of Waterville.
The pioneer father began cutting logs from the timber on the Blue River, northeast of Waterville and hauled them to this new home site, preparing to build a new house. All this time the pioneer mother was very busy in the little log cabin home, east of town. She carded wool and cotton with spinning wheel and loom, spun the yarn and wove the cloth to make clothing for the family. She also made the sheets and pillow cases for the beds. Part of the cloth was dyed in different shades and was woven so as to make a stripped or checked piece of cloth. The material was used for dresses for herself and the little girls. Later she bought calico at the store and made sleeved aprons for the girls to put on over their dresses. When they wore these aprons they were very dressed up. Of course all these garments were made by hand.
During the warm weather the family went barefoot and when the weather got colder, shoes were added and wraps were shawls and hoods.
The woolen goods were used for the father's trousers. He wanted a coat and vest, but did not have a pattern, so together, they cut one out and the mother made the garments for him. She also knitted stockings and mittens for the family, often working late at night by the light of the grease lamp. This lamp was made, braiding woolen strips of cloth the mother had woven into a string and putting it into a pan of lard or butter. One end of this string was lighted and burned slowly and gave a good light for several hours.
Laundry soap was also made at home. The wood ashes were saved from the fireplace and were put into a leach (dissolve out soluble parts from ashes). Water was poured over the ashes and dripped through making a lye strong enough to eat up the refuse from butchering which made a soft soap as clear as honey. This soap was used for all purposes, especially the laundry, or washing, as it was called.
Wash day was a busy one. The clothes were taken to the bank of the river or creek where a large kettle was kept. The father had made a bench and after the clothes were taken out of the hot suds in the kettle, they were laid on the bench and paddled until they were clean. By taking the clothes to the river or creek, a great deal of work was saved since there was no other water available, as wells or cisterns had not been made yet.
The father made traps which were set to catch quail and prairie chickens. At that time wild turkeys were also plentiful. The father watched where they went to roost and in the morning at break of day, would take his rifle and nearly always bring home a turkey.
The rifle was very different from the rifles of today. The pioneer father moulded the lead bullets. Powder was poured into the rifle barrel, a piece of cloth, well covered with tallow was put into the rifle barrel and tamped down hard in the barrel, a cap was then put on the rifle was ready.
This pioneer family always kept two or three cows and the mother churned the butter and they always shared their milk and butter with neighbors who did not have any.
When the building of the new home began, they did employ a carpenter. The father did not work alone. He cut the logs, hewed them straight on both sides, notched the ends so they fit together well, chinked the cracks with chips so there would be surface for the plaster to stick better. He also made a fireplace and chimney of stones and since this home had two doors and one window it was very comfortable.
The cooking was done in the fireplace. Bread was baked in an oven, that stood on iron legs in the coals in the fireplace. This oven had an iron lid, and coals were put on top of the lid in order that it might bake evenly. At first the bread was made from corn meal, but after some years wheat was planted. This wheat was cut with a cradle and then shed with a flail. The flail was of course homemade by fastening a heavy piece of timber to a pole with a strap. This pole was swung around the head and the timber brought down upon the heads of grain, beating them out of the straw and chaff. The grain was taken to the mill and ground into flour. After having eaten corn bread so long, wheat flour biscuits were a real treat.
One evening company was coming for supper and as there was not table room or dishes enough for all, the girls had to wait. The youngest cried for fear the company, Mr. Keaton, would eat all the biscuits and she would not get any. The desert consisted of wild plums and grapes cooked in sorghum. Pumpkins were raised in the garden and this good pioneer mother dried it in rings and cooked it for sauce during the winter.
There was no schoolhouse at this time but a neighbor by the name of Nider gave a room of their home for a schoolhouse. This school was open for a term of two months. A Sunday School was organized and held at the home of this pioneer family. This father made some benches from the logs left from the new cabin. Neighbors came every Sunday for Sunday School. Later a Methodist preacher was sent out. Preaching services were held every five weeks, and in spite of the fact that this home had only one room, two doors and one window there was plenty of room for the neighbors to worship their God. Within a very few years a new schoolhouse was built which then served as a gathering place.
The little girls grew to womanhood, married and established homes of their own. They all raised large families. The youngest began her married life in a one room dugout and there her first baby girl was born.
Through all the hardships of drouth, grasshoppers, scarcity of money and conveniences, a lack of equipment to work with and other discouraging things, these brave Pioneers kept their faith in God and were always ready to help in the up-building of his Kingdom. They were always thankful for the blessings they received and always had a helping hand for their neighbors. Only two of this pioneer family are now living. One has reached the age of 75 and the other is 80. They do not seem to think we are having a depression, because they have lived through much worse times than we are now.
This paper was written for the Mother and Daughter Banquet in 1934 by Mrs. Lillie Hubbard, the daughter of Sarah Hamilton. It is the account of the early life of her grandfather's family. Mr. and Mrs. Nathaniel Williams. The girls in the story are Mary Ann Ricker, Mrs. Nancy Wise and Mrs. Sarah Hamilton.
Contributed by Cheryl Edwards
---
The following biographies were taken from a booklet entitled "A History of Irving, Kansas." Our thanks to Bob McKinley for donating this information.

Family Histories

Piper

Fred J. Piper retired after forty-six years with the Postal Department as a rural mail carrier. He was possibly the oldest rural carrier in point of service in Kansas at the time of his retirement. He started in 1910 traveling more than a half million miles during his tenure of service, delivering the mail to his patrons in about every kind of conveyance and on foot. Back in the good old days when snow blocked the horse's travel with a cart, Fred would shoulder his mail bag and walk across the fields to deliver the mail. All this did not go uncompensated, for many of his patrons would see him about, put on the coffee pot and have a hot lunch waiting for him.

He kept three horses that alternately pulled a two-wheel cart. When the weather was bad he rode horseback. He purchased his first gasoline vehicle, a Viele, in 1914. He cut it down and used it as an open vehicle. In 1917, he bought his first Model-T Ford and wore out ten of them in the years that followed. All this time he kept his faithful horses for use in emergencies, which did occur occasionally. He never had an accident on his route in all those years.

In the early days he was a horse-breaker and broke many mules, on his route, by teaming them with a reliable horse. He experienced several runaways but none were disastrous. In 1910 his route covered twenty-six miles, and by 1933 had stretched to forty-four miles.

Several patrons at the time of his retirement were fourth and fifth generations of patrons on his route at the beginning of his career with the postal department.

Fred was first married to Goldie Kautz who passed on.

His second marriage was to Ernestine Netz Brown. After retirement, Fred and Ernestine traveled. Then they purchased a home in Ventura, California where they resided at the time of her death on June 26, 1969.
________________________________________________________

Turner

The Turner family dates back to 1776 in Ellery-Chautauqua County, New York State.

John P. Turner, son of William Turner came to Kansas with his wife and five children. The Turner's came to from New York State by train to Atchison, Kansas, where they were met by Daniel Hull with a team and wagon. The Turners settled in a three room house south of Irving. This house is still intact and is still used as a granary.

One of the children, George H. Turner married Laura K. Frost on March 17, 1880. George and Laura had five daughters.
____________________________________________________________

Oswalt

Dr. Joseph Oswalt and Martha Hiner were married February 2, 1860 in Wabash, Indiana. In 1870 with their daughters, Emma, Rosetta and Arnetta traveled to Kansas in a covered wagon to make their home. They camped several days at Alcove Springs, arriving in Washington County in October, and settled on a homestead. Four years later they moved to Blue Rapids, Kansas where their only son, Francis Marion, was born in 1878. In 1882, they moved to Irving to make their permanent home and bought a farm south of town later.

As well as being a country doctor he was blessed with many talents. He enjoyed farming, was a mason, carpenter and cabinetmaker. He made many beautiful pieces of furniture from native walnut for their home including the medicine cabinet he made for his office and used all his life. A familiar sight in Irving was Dr. Oswalt walking, carrying his black medicine satchel, calling on his patients. He kept a team of horses and a buggy always ready for trips to the country. He lived a long and useful life and passed away in 1916. Daughter Emma was married to Charles Watters; Rosetta to George Leeson. Both were farmers and settled on farms northeast of Irving. Arnetta was married to Harvey Huffmier and they lived in Irving all their lives.

In 1902, Mr. Frank Oswalt married Minnie Cox. They were the parents of one daughter, Florence. Minnie Cox passed away in 1905. Mr. Oswalt and Carrie Walls were united in marriage in 1907. To this union were born eight children: Martha, Vera, Goldie, Pearl, Eva, Francis, Darlene and Doren.

In the late 1890's Frank Oswalt established his own business, the Oswalt Foundry and Machine Shop in the east side of Irving on Main Street. He continued until 1959 when forced to retire because of Tuttle Creek dam. He moved to Waterville and died there in 1964.

________________________________________________

Jones

(This biography has been edited due to length, and due to references made to those who may still be living).)

The end of the Civil War marked the beginning of another period of western migration. Many Kentuckians moved to Kansas during the post-bellum years. One of the first to make this migration was James Monroe Jones who came from Owingsville, (Bath County), Kentucky to Marshall County in 1866. He traveled by covered wagon west to Marshall County. A few years later (1870) William Fenwyck and his wife Malissa (Boyd) follwed a similar route. It being told by their daughter, Nettie, that they crossed the big Miss on floating ice. . . . As the Corndodger Creek humidity aggravated Bill's asthma, they moved west . . . (Merrimac #15 of Bigelow township.) Here they built a frame house, tilled the soil and raised their children: Eva B., Mattie, Nettie, and George.

James M. Jones and his wife, Louisiana, a sister of Monroe, also came from Bath County, Kentucky to Marshall County, Kansas. (exact wording from biography). They set up housekeeping southwest of Barrett. Jim's wonderlust took them to California in the '70's, but Lou's love for Kansas prevailed and they returned to the Barrett area. . . Four children of this union survived to adulthood, Dora, Jennie, Charles and Samuel.

Nettie Fenwick kept house for her father after Malissa's death (a heart attack) in 1893 until Bill died of pneumonia in 1912. . . Charles obtained his college degree in (1892-1904) Education from Modern Normal College of Marysville, Kansas, but finding indoor work unattractive he returned to his first love, the soil. Charles and Nettie were married in 1910 and in the next twenty years consolidated the properties of the Fenwyck and Jones families, with the exception of sixty acres which Sam retained.

_____________________________________________________

Thomson


(This biography has been edited due to length)

John Thompson, of Edinburgh, Scotland, met his wife, Margaret Gray, of Stonehouse, Scotland, in Quebec, Canada, and they were married in 1853. They sailed to America from Winchester, England, in 1855. A printer by trade, John worked for a publishing company in Brooklyn, New York.

In 1870 they came to Kansas, John had come ahead and Margaret followed by train, bringing eight young children. The family spent the first winter with friends in a sod house naer Clifton, then moved to Irving and spent the next winter in a log house. John then built a frame house across the street and down the block where the Frank Thomson family later lived.

Their children were William and Francis, who died when very young; John, Elizabeth (Mrs. Tom) Moxley, Frank, Hugh, Margaret (Mrs. Charles) Filley, Jean (Mrs. Samuel) Moyer, Grace and Alice (Mrs. Frank) Lhotak.

_________________________________________________

Henry Totten

The following was taken from the Marshall Country Kansas News dated 2 November 1939.

H.T. Totten who claims longest residence in the county will be 85 on Sunday.
By Byron F. Guise

Henry Trace Totten who will be 85 years old next Sunday claims the record to the longest residence in Marshall county.

At the home of his son, George who resides north of Frankfort, Monday morning he briskly walked into the house upon returning from Frankfort with his grandson Byron.

"I hear you are having a birthday soon." I suggested after introductions to which he sryly replied. "Well, that's alright ain't it?" Then he grinned.

With that settled I put in another inquiry quickly. "Is it true that you claim to have lived longer in the county than anyone else?"

Becoming more serious, as he began taking off his coat, he answered, "As far as I know I've lived in the county the longest." Then began tracing the years to prove his claim. "I was born November 5, 1854 in Port Byron, Ill." he said, "and soon after I went with my parents to Minneapolis, Minnesota, where my father, Joseph Totten, hauled logs for a sawmill that is now the largest flour mill in the world."

In the fall of 1857 we went to Maryville, Mo. and then crossed the Missouri river into Nebraska and came south into Kansas where father preempted an '80' one mile south of Old Guittard Station. It is now known as the Totten farm but is larger.

We came to that farm in the fall of 1857, and I lived there until I was 21 when I went to North Platte and helped build 300 houses there. I was away six months. I came back to Beattie in the fall, in November, and got married. I was married to Mary Jane Jones January 4, 1876.

At that time he owned 40 acers of land a mile northwest of Beattie which he purchesed for $5 an acre and sold for $10 and moved off his house. Then he went to live 10 miles northeast of Beattie where he bought 120 acers for $5 and acre, never paid down a dime, and built a house on the land. The land later sold at a high price.

"I was on that farm from about 1880 until 1935 and since then I have made my home with my children so you see how long I have lived in the county."

When he first came to the county he was three years old, and he can remember there was only a small acreage of prairie land broken when he was a child. He said he remembers when his father broke eight acers of land for corn.

"We plowed it with an ox team, I rode the ox and my brother John, held the plow. We plowed a half a row at a time. It wasn't very fast." he laughed.

"In 1860 father and his family shelled 50 bushels of corn by hand and hauled it to Denver with an ox team. He left in June and never got back until corn shucking time. He hauled the corn out for the army, and worked in the hay after he got there."

The pioneer said he recalled riding twice by wagon to Atchison with his father to secure supplies for the farm home. He also remembers how he bound wheat for his father after it was cradled.

"When I came to the country there was no Beattie, no Marysville and no Frankfort," he said, "They were only beginning. My father helpted build the Barrett Hotel in Marysville and he build some of the first business housed in Frankfort.

Otoe Indians were roaming wild about the countryside when he first set foot on Marshall county soil.

"When we first came to the farm south of Guttard father used to take a rifle with him when he went to the far end of the field to be safe. Many nights we gathered at homes for protection." he said.

The Indian raid from North Platte to Blue Rapids at the time the redskins left a path of destruction among the settlers over many miles and were driven back by Capt. Cook of Leavenworth is recalled by this pioneer. He said he saw the Indians as they were marched into Nebraska.

That brought up another of his experiences close to some Indians hands he was unaware of it at the time.

"I was coming back fron North Platte and slept in a haystack near Ft. Kearney one night," he said, "The next morning I went a few miles to Kearney and saw men working along the railroad track. They were armed with revolvers and rifles. They asked me where I stayed and I told them. They told me that 500 Indians were on the warpath on an island not far away.

"I knew Buffalo Bill well, "he asserted. "I shook hands with him once, and saw him several times. His home was not far from North Platte. I stood on the same spot at the mouth of Plum Creek where he shot his first Indian."

Mr. Totten believes he once made a record walk for a drink. He was up in South Dakota on a brief surveying trip and was one of the men assigned to procure some water from Birdwood river, which was a distance of 50 miles, on one side of which runs good drinking and the other alkali. He was 36 hours without food on that trip.

The grasshopper invasion of 1874 is still fresh on his mind. "We had a big walnut tree on father's farm near Guittard at the time, those hoppers got so heavy on that tree their weight split the limbs. When some of the limbs broke we went to the tree and you could have scooped the hoppers up by the scoopfull. They darkened the sun the day they came. Father got all of us busy cutting corn. We piled it up to save it, and the hoppers ate off the tops of the piles before they left."

Mr. Totten was twice married, both of his wives preceeding him in death. His second marriage was to Sarah Alspach June 16, 1905. Children by his first marriage are sons, Joseph, Oakland, Calif; George, Frankfort; Elmer, Salt Lake City; Charles, Esterville, Ia; Albert, Simla, Colorado; his twin brother Arthur, Los Angeles; his daughters, Mrs. Grace Carney, Axtell; Mrs. Orpha Hern, Marysville; Mr. Fern Burton, Summerfield and her twin sister, Mrs. Fama O'Connell, Ride, California. His daughter, Mrs. Josephine Barrett and son, John by his second marriage reside at Gig Harbor, Washington. Three daughters and two sons have preceeded him in death.

Contributed by John J. Totten
---
The following is an article on the history of Blue Rapids. It appeared in
The Marysville Advocate, Section C, Thursday, March 22, 1984

CLEAR BLUE WATERS DREW SETTLERS TO JUNCTION
by Oretha Ruetti

The confluence of the Blue Rivers - the Big and the Little - gave birth to a settlement in 1857. This child of the rivers was nurtured and cared for by the few families that hovered in and around the area that would become North Blue Rapids.
The lodestar that drew the settlers there was the clear blue water of the river and its promise of water power in upper and lower rapids. They named it well when they called the site Blue Rapids.
The history of this community has always been sketchy, contradictory and neglected. Information about the "first. families" has been found in material written by people who were there: "Early History of the Blue Rivers, " written by Mrs. J. S. Goble in 1902 at the request of the Kansas State Historical Society; "Early History of Blue Rapids," written by Emma Thompson Lee in 1883; "The Story of a Kansas Pioneer Mother," memoirs of Sarah Miller Duncan (1917); Wm. Thompson family history researched by Dorothy Paine, Troutdale, Ore.; Andrew Scott family history researched by Adrian Scott, Garland, Texas; and letters from Dorothy Jones, Grand River, Iowa.

GOBLE WROTE that the first to come to the Big Blue-Little Blue junction were Sturns and Ralph Ostrander, the J.S. Goble family and T. H. Palmer. the Ostranders went on to Coon Creek and Palmer built a cabin where the Blue Valley Plaster Mill would be located and called the site Marble Falls. A. J. Palmer came the next year and built a cabin nearby.
Lee wrote that her parents, William and Mary Thompson, drove their claim stake into the river bank on March 6, 1858. The Thompson's daughter, Julia, and her husband, Andy Jackson Taylor, took land on the north bank. Thompson stretched his claim across the Little Blue and built a cabin on both sides of the river. Three hours after Thompson arrived, Frederick Hamilton was driving his claim stake up river.
The next year Andrew and Sarah Scott and Sarah's brother, Henry Miller, and his wife Sarah, pitched their tents along the Blue and set about building cabins. The Ohioans came to Kansas by way of Wisconsin and found their Utopia where a clear stream sparkled and splashed with fish and beaver, a timbered valley harbored deer and furred animals, buffalo and antelope roamed on the bluffs. The bounty of the Blue would always put meat on their tables.

ADRIAN SCOTT'S research pictures "Uncle Andy" Scott as the man who brightened the bleak times with his fiddle and bow. Uncle Andy and his fiddle were always in demand at house-raisings, cornhuskings and quiltings that usually wound up as a dance.

Julia and Jackson Taylor's son was the first child born in the settlement. The Rev. Wm. Robbins, Methodist circuit rider, preached the first sermon there in 1859. Christmas 1859 was the day of the first marriage when Mary Ann Scott wed John Fulton from Game Fork. The first burials (children) were made at a "nice place under a tree."
Both Lee and Goble wrote about the two-story hewn log building erected where an iron foundry would stand three decades later. Here J. C. Clardy ran a supply store and Henry Poor kept a blacksmith shop. Elijah Owen had a well with a turning lathe and made chairs for the settler's cabins.
Clardy convinced the Gobles to move to Marysville because there was no place in that town where a man could get a "decent meal of vittles." Goble wrote that Clardy put up a 14-foot square log building that "leaked as bad as the outside" and they stayed in Marysville to run the eating place and a wagon shop. Their daughter, Sarah Amanda, married Scott's son, James Scott, in 1881.

WROTE LEE: "In 1861 A. G. Barrett and John D. Wells from the Vermillion River built a mill here and quite a village grew up - store, blacksmith shop and a number of dwellings. But some difficulty arose over title to the land and before their mill was operating they abandoned the village after spending several thousand dollars. . . and the buildings soon disappeared."
Lee's story has been verified in records at the Marshall County register of deeds office that show John D. Wells owned several small tracts of land on the far north edge of Blue Rapids.
The first families did not come seeking riches - only a piece of land to call their own. It was a closely knit community that made a brave effort to be independent. Thompson established a Blue Rapids Post Office in his cabin in 1860, and his daughter, Lucy Palmer, began a subscription school in the Palmer's home in 1861.
They were never successful in their attempts to utilize the water power of the Blue River. Thompson built a sawmill in 1863 and operated it a few months before high water washed out his dam. Peter and Missouri Hollenbeck came to build a grist mill and Andy Scott sold land for the mill site. Their plans went awry and they sold the land to Henry Miller and moved to Holton. But they were at the settlement long enough to make memories for their children. Many miles and years later a Hollenbeck daughter told her grandchildren stories about the children's canoe races down the Blue River and picnics on the sand bars.

THE SETTLERS had more than their share of sorrow and tragedy. In the summer of 1864 Frederick Hamilton, his son, Billy, and Henry Miller joined a party headed for Denver. When the Hamiltons returned Miller was not with them. He had gone on to Oregon and months later Sarah learned through a newspaper clipping that her husband was with a party that had been massacred by Modoc Indians. Later Sarah married M. L. Duncan, one of Marshall County's first commissioners.
The settlement had been there a long tenacious 12 years when things began happening in 1869-1870. The railroad was coming their way and the Genesee Colony form New York had come with money to buy land from Enoch Hund, Andrew Scott, Henry Poor and Albert Porter for the townsite of Blue Rapids, a born-again town.
Settlers moved into Blue Rapids proper. Wm. Thompson moved to town, built a new home and became the Blue Rapids postmaster. Andrew Scott just kept on being "Uncle Andy," hunting, fishing, playing his fiddle, selling some more of his land to the Manhattan Bllue Valley Railroad when its tracks came up to the valley, prospering enough to make substantial loans to his 10 living children, and joining the churchof the Latter Day Saints.

SARAH SCOTT, mother of 13 children, died Aug. 6, 1897, on her 73rd birthday. In December Uncle Andy died while visiting friends in Iowa. He was buried alongside Sarah and many of his old friends and neighbors in the Prospect Hill Cemetery overlooking the juncture of the rivers where they had put down roots in 1859.
Some roots went deeper than others: Six generations of Scotts have lived in Blue Rapids. Five of those generations were born there, and three generations are living there today. The long lineage is Andrew Scott (1823), Eliza Scott Ervin (1860), Charles Ervin (1882), Bonnie Ervin Whitesell (1937), Melva Whitesell Sanner (1956) and Jaqueline Sanner (1978).
**Note: There is now a 7th generation Scott descendant living in Blue Rapids: Logan Sanner (1998).

Contributed by Mary Ahrens
---
The Abolitionist
A Biography of Albert Gallatin Barrett
By George Schiller
He was a fourth generation Quaker and descendent of an English immigrant, Arthur Barrett. Tired of struggling for a meager living in the hard-scrabble mountainous terrain of eastern Ohio, Albert and 40 of his Quaker neighbors were seeking new land in western states, to be offered in Louisiana Territory. The group formed the Ohio Town Company in Cadiz, Ohio, to explore the Kansas-Nebraska area for a site to settle. Albert was chosen to explore the territory for a suitable place. He found and staked out, in the name of the Ohio Town Company, foty sections of land in the Vermillion Valley in Northeast Kansas Territory. He returned to Cadiz to report to the company that he had found what he believed was the ideal place. The year was 1853.
The matter of slavery in the territory had not been decided and many members of the company refused to settle where slavery might be permitted. After much heated discussion, the Ohio Town Company was dissolved.
In 1854, Albert solicited several family members to join with him and a few loyal Quakers, to settle in territory on the land he had claimed. The Kansas-Nebraska Act was passed in 1854, but the slavery question was not yet settled.
Albet, a miller and a mill-wright, transported a saw mill to the Vermillion Valley to havest the vast area of choice trees. Later he added a grist mill, a blacksmith shop, and a commissary to the settlement that became known as Barrett's Mill.
As a strong abolitionist, he encountered violent opposition. He abandoned his Quaker stance and defended his beliefs in freedom for all mankind, with strong terms and actions.
Primitive living conditions existed on the frontier. Doctors and medicine in short supply. Cholera, malaria and typhoid epidemics were widespead. Violent weather conditions prevailed and settlers dealt with fires, tornadoes, and floods. Murerous borderr ruffians, intent on bringing Kansas into the Union as a slave state by the use of guns, knives, terror, and deception, developed a reign of terror, unparalleled in modern history.
With his experience and builder's expertise, he established a growing village. He became politically involved with salvaging bleeding Kansas and building a free state government. After much bloodshed, Kansas is admitted to the Union as a free state in 1861.
Albert built a school in 1858, and rebuilt it in 1870, and it became the first school distict in Marshall County. He established a rest-stop for travelers on the Oregon Trail, a post office, a trading post, and a freight line. He sold his mills and was elected to county offices. Later he became involved in real estate, building projects and bringing a railroad to Barrett's Mill.
Barrett's Mill gew and expanded and for a time the village prospered. Later years saw a decline as weather and changing conditions took their toll and the economy shifted with time.
With the development of the Tuttle Creek Reservoir, many of the small towns along the tributaries of the big Blue River were declared in the flood plain of the lake and were evacuated and abandoned. This edict included Barrett's Mill.
Albert came from a family of eleven children, five of Albert's brothers and two sisters came to Kansas and at one point in time there was an estimated 125 Barretts living in Marshall County. Albert and Mary Barrett were the parents of five living children.
Mary Barrett passed away in 1899 at the age of 78, and Albert in 1900 at the age of 85 years. They are both buried in the cemetery at Barrett.
Contributed by George W. Schiller, a great grandson of the Barretts.
---
Scott Family Notes

(Compiled by Adrian Scott)

Blue Rapids Times. Thursday Jan 8, 1891 Page 3, 2nd column over from the left.
On Friday morning last the house owned by Andy Scott occupied by Charlie Scott, in North Blue Rapids, was discovered on fire and made a lively time for the boys for a short time. The fire was found to be under the roof. Charlie promptly cut a hole through the roof, and by the aid of a string of buckets and plenty of water the fire was extinguished. The fire company were not called out.
________________________________________________________________________
Blue Rapids Times Thursday January 15, 1891 Page 3

John Scott, of Blue Rapids, has been appointed constable of Blue Rapids City Township by the county commissioners in place of L. B. Doten, who was elected to the office last fall, who failed to qualify for reasons unknown to us. Mr Scott has been constable of Blue Rapids City Township for several years and would have been renominated by the Republicans if he had renounced his
adherence to the Alliance, which he refused to do.
_________________________________________________________________________
Blue Rapids Times Thursday April 23, 1891 Page 3

Born to Mr. and Mrs. Frank Fulton, on Saturday, April 18th, a son. This makes four boys for Frank, and he feels as "rich as a Jew".
_________________________________________________________________________
Blue Rapids Times Thursday November 5, 1891 Page 3, 2nd column, top of page

Andy Scott is making arrangements for a trip to Oklahoma.
_________________________________________________________________________
Blue Rapids Times Thursday October 13, 1892

Joe Scott, while riding a high life colt on Main Street, on Monday morning, was thrown near Eight. The fall seemed to knock the life out of him, as he lay motionless, but he soon recovered and was apparently alright again. Joe doesn't care for trifles, anyway.
________________________________________________________________________
Blue Rapids Times December 7, 1893

John Scott celebrated Thanksgiving with a watermelon weighing 52 pounds. It came from Washington County.
_________________________________________________________________________
Blue Rapids Times Thursday December 2, 1897 Page 5, center of page, column 3

Uncle Andy Scott left this week for a three months visit in Iowa, Indiana and southern Missouri. Tom Ervin will occupy his house during his absence. Andy took his fiddle with him.
---
MARCY/STANFORD Marriage Record
Marriage license & ceremony were both 12 Nov 1894:

Homer A. Marcy, age 21, of Marshall Co., Kansas
Hattie A. Stanford, age 21, of Marshall Co., Kansas
married 12 Nov 1894, Blue Rapids, Marshall Co., Kansas
signed by Henry Clark, pastor Baptist Church
attest: G. Goodwin, Probate Judge

from Register of Marriages, transcribed by Barb at the Historical Society:

Groom: Homer A. Marcy
Marshall Co.
Carpenter
21 years old
born in U.S.
father: T. J. Marcy
mother: Mary E. Dix

Bride: Hattie Stanford
Marshall Co.
21 years old
born in U.S.
father: W.B. Stanford
mother: Louisa Heydorf

Note: For what it is worth, it doesn't appear that either Homer or Hattie were really 21. Interestingly, "don't publish" is written in the upper right corner of the document. Homer was 2 days shy of his 21st birthday. In later years, Hattie (whose given name appears to have been Harriett Dorothy) claimed 30 Nov 1880 or 1881 birthdates, which would have made her 12 or 13 at the time of the marriage. She claimed to have been born in Blue Rapids, but there is no record. I suspect that her birth year was somewhere between the 1872 she claimed on the marriage license & the 1880 she gave her 2nd husband, who was born in 1885. Homer & Hattie were divorced in 1912 in San Diego, CA.
___________________________________
MARCY/STANFORD FAMILY
Hattie A./Harriett Dorothy STANFORD b. 30 Nov 1872-80 prob. Blue Rapids, Marshall Co., KS d. 24 Dec 1941
National City, San Diego Co., CA. Homer Andrew MARCY b. 14 Nov 1873 Charlemount, MA d. 31 Dec 1939 San Diego, San Diego Co., CA Hattie & Homer were divorced 22 March 1912 in San Diego, San Diego Co., CA.

Homer MARCY married Gertrude C. UNKNOWN c. 1914; Hattie married Albin Joseph HAWKINS c. 1912. There
were no children born of either marriage.

Children of Homer & Hattie MARCY:

1. Unknown female MARCY, b. 6 Sept 1895, Blue Rapids, Marshall Co., KS d. before 1909 (prob. much earlier)

2. Edward Alvin MARCY, b. 7 Sept 1896, Blue Rapids, Marshall Co., KS d. 23 Nov 1977, Wynola, San Diego
Co., CA

Edward Alvin MARCY married Mabel Eugene STOREY 1 Jan 1917 in San Diego, San Diego Co., CA. They divorced
25 May 1934. Children of Edward & Mabel MARCY:

1. Albin Joseph MARCY b. 16 April 1917 San Diego, San Diego Co., CA d. 7 Oct 1994 Escondido, San Diego Co.,
CA

2. Homer Eugene MARCY b. 9 Apr 1918 Santa Ysabel, San Diego Co., CA d. 11 July 1972 San Diego Co., CA

3. Living female MARCY b.c. 1924 San Diego Co., CA
Edward Alvin MARCY married Bertha Suzy DUBOIS 12 July 1937, in San Diego, San Diego Co., CA. They had no
children.

Ancestry of Hattie A./Harriett Dorothy STANFORD:

Hattie's father was William Burks STANFORD b. 21 Jan 1847 NY or England d. 15 Oct 1932, San Diego, San
Diego Co., CA. His parents were William STANFORD & Harriett BURKS, both born in England.

Hattie's mother was Barbara Louise HEYDORF b. 21 Sept 1853 NY d. 6 Feb 1933 San Diego, San Diego Co., CA.
Her parents were Anthony HEYDORF & Mary BIGLOW, both born in NY.

William Burks STANFORD and Barbara Louise HEYDORF were married c. 1868. They had 10 children, 8 of whom were
living in 1900:

1. William Henry STANFORD b. 24 Nov 1871-2 prob. NY d. 5 Nov 1864 prob. KS

2. Harriett Dorothy/Hattie A. STANFORD b. 30 Nov 1872-80 prob. Blue Rapids, Marshall Co., KS d. 24 Dec
1941 National City, San Diego Co., CA

3. Walter Scott STANFORD b. 10 Apr 1879 prob. Blue Rapids, Marshall Co., KS d. 14 Jan 1938 National
City, San Diego Co., CA

4. Anna W. STANFORD b. 13 Jun 1881 KS d. 26 Nov 1972 Lodi, San Joaquin Co., CA

5. Fred J. STANFORD b. 6 Dec 1882 KS d. 10 May 1955 San Diego, San Diego Co., CA

6. Mamie STANFORD b. Jan 1888 prob. Solomon Twp, Cloud Co., KS d. 1970s? Los Angeles, CA?

7. Grace Margaret STANFORD b. 5 Sept 1889-90 prob. Concordia, Cloud Co., KS d. 9 Oct 1977, Santee, San
Diego Co., CA

8. Oscar STANFORD b. 21 Jan 1892 prob. Blue Rapids, Marshall Co., KS d. 19 May 1966, Sacramento Co., CA
Contributed by Robin Bills
---
Family of Frank Delbert Founds & Louise Marie Kingan
Frank Delbert Founds and Louise Marie Kingan were married in Vermillion, Marshall County, Kansas on September 16, 1903. The following children were born:
Clifford William Founds B. 08 Sep 1906 in Vermillion, KS
Marjorie Frances Founds B. 26 Jan 1912 in Vermillion, Ks
Harold Glen Founds B. 26 June 1919 in Vermillion, KS
Contributed by Donna Anderson
---
Family of Thomas R. Talbot and Dillie Frans
Marriage: marriage on file Vital Records at Marshall County Kansas
5-512 residence of RB Talbot by Rev Clark, Baptist Minister
Thomas R Talbot 26 & Dillie B Frans 23
Thomas R Talbot was son of Richard & Lucy A Talbot (ref. 1900 Census Elm Creek Twp, Marshall County, KS)
Thomas was born in KS. His father IL. & his mother KY
BIOGRAPHY: 1910 Fed Census May 9 Kansas Marshall Co Center Twp
SD5 ED 64 SH 15 pg 68
102-103
Talbot, Thomas R., head of household, 33 years, Farmer, general farm, born in KS, his parents born in Kentucky
Dillie Frans wife, age 30. had 3 children of 3 children living
Roy son age 5, born in KS
El--? hard to read 3, born in KS
Orlen?? son age 1, born in KS
___________________
Family of W. R. Frans and Lissa Carney
marriage on file Vital Records at Marshall County Kansas
4-562 of Elm Creek, by EC Baker, Baptist Minister
WR Frans 24 Lissa Carney 21
I believe WR Frans is William Riley Frans
son of Tazwell Jr. & Susanah (Rogers) Frans
William Riley & Lisa Carney had 3 known children :
1st one known born March 3rd 1901, Center Township, Marshall County, Kansas
2nd one known born October 12th, 1902, Center Township, Marshall County, Kansas
3rd one, Lloyd Frans, born Feb. 11, 1904, Residence: 67661 Phillipsburg, Phillips, KS., Died Jun 1979. Lloyd was raised by his grandparents (Lisa Carney's parents) Lloyd had 3 daughters: Linda (Frans) Roth of Phillipsburg, Kaye (Frans) Becker, born on Jan. 26, 1938, at Washington, KS., died Sunday, Jan. 13, 2002, & Gayle (Frans) Munyon of Phillipsburg.
Submitted by Dennis & Janet Frans
---
Janet Malloy is looking for information on her grandfather, Clinton Boon Berry, born in Beattie on 5 June 1892. She will be adding to the information found here as she finds it.
Submitted by Janet Malloy
---
St. Malachy's Catholic Church,
Beattie, Kansas
In the pioneer days the Catholics who lived in and near Beattieattended services at St. Bridget and Irish Creek in this county. In the year 1879, Father William Fitzgerald, pastor at Irish Creek, organized the Beattie Congregation. At that time the following Catholics lived in or near Beattie: Mrs. A. Wuster, P. Smith , Nicholas Orr, P. O`Niel, D. R. Cotterell, J. O`Neil, P. Pitsch, P. Finnigan, J. Gardner, Thomas Koenig, Thomas McMahon, James McDonald, James Fitzgerald, P. McMahon, John Kraemer, G. Koch, Mr. Renger, R. Cosgrove and O. Heandley.
In 1879 a ten-acre tract of land was bought for a cemetery, north of Beattie. The next year Father William Fitzgerald, with the aid of the above-mentioned person and their families, began the erection of St. Malachy's Church. The lots on which the church was erected were donated by Mr. and Mrs. James Fitzgerald, the brother of Father William Fitzgerald, the building cost about three thousand dollars. Before the church was completed, Father Fitzgerald died on November 29, 1881. Father Bernard Hudson completed the church and took charge of the congregation for a short time after the death of Father Fitzgerald.
Father Daily succeeded Father Hudson in 1882 and had charge of the congregation until 1883, when Beattie was attached to Marysville and Father M. A. Meile took hold of affairs. In September, 1885, Father Meile, on account of ill health, resigned, and Father John Hartman succeeded him. From August 14, 1886, until 1895, Rev. M. J. Schmickler attended Beattie twice a month from Marysville. In September, 1895, Beattie was attached to Axtell, as a mission in charge of Father F. S. Hawelka until January, 1898, when Beattie was attended by Father P. R. O'Sullivan of St. Bridget, for several months.
From May, 1898, until 1903, Father M. Burk, of Axtell, had charge of the congregation. In August, 1903, Father Francis Taton began the erection of the parish house and upon its first resident Pastor, Father M. J. Galvin, October 12, 1907. August 4, 1910, Father Galvin was succeeded by Father J. J. Ryan, who was compelled to leave on account of ill health and was followed by Father H. A. McDevitt, March 13, 1914. He labored as Pastor of Beattie until March 8, 1916, when the present Pastor, Father Theol P. Schwam, took charge.
(No date was listed in this article)
Contributed by Carroll Gardner & James Gardner
---
Descendants of Ithiel Johnson
Generation No. 1
1. ITHIEL2 JOHNSON (LEWIS1) was born March 27, 1830 in Greene co. Pennsylvania, and died January 25, 1910 in Axtell Kansas. He married (1) MARY E. HOLINGWORTH June 12, 1856 in Morrow, Ohio, daughter of ABNER HOLLINGSWORTH and NANCY COLEMAN. She was born 1835 in Chester Co. Pennsylvania, and died in Iowa. He married (2) HARRIETT ELLEN HOLLINGSWORTH September 04, 1873 in Newton Iowa. She was born February 08, 1849 in Harrisburg PA., and died August 13, 1829 in Axtell Kansas.
Notes for ITHIEL JOHNSON:
1. Moved from Ohio to Dresden, Iowa in 1863 and then to Kansas 1878
2. Served as Mayor from 1891 to 1893 and as city councilman
3. Served as Elder in the Presbyterian church for over 40 years
More About ITHIEL JOHNSON:
Burial: Rose Hill Cemetery
More About HARRIETT ELLEN HOLLINGSWORTH:
Burial: Rose Hill Cemetery
Children of ITHIEL JOHNSON and MARY HOLINGWORTH are:
2. i. ABNER HOLLINGSWORTH3 JOHNSON, b. October 10, 1857, Mount Gillead, Ohio; d. March 02, 1928, Axtell Kansas.

3. ii. GEORGE MITCHELL JOHNSON, b. May 01, 1861, Morrow Co. Mt. Gilead, Ohio; d. January 13, 1933, St. Joseph, Buchanan, MO.

4. iii. SILAS FRANKLIN JOHNSON, b. December 22, 1866, Deep River, Poweshick IA; d. March 19, 1936, Los Angeles CA.
Children of ITHIEL JOHNSON and HARRIETT HOLLINGSWORTH are:
iv. MABLE3 JOHNSON, b. 1877, Deep River, Iowa.

v. CHARLES W. JOHNSON.

vi. ETHEL MAY JOHNSON.

vii. LOUISE H. JOHNSON.
Generation No. 2
2. ABNER HOLLINGSWORTH3 JOHNSON (ITHIEL2, LEWIS1) was born October 10, 1857 in Mount Gillead, Ohio, and died March 02, 1928 in Axtell Kansas. He married FLORAENCE BELL WHITE December 22, 1882 in Axtell Kansas. She was born May 10, 1853 in Illinois, and died March 14, 1890 in Axtell Kansas.
More About ABNER HOLLINGSWORTH JOHNSON:
Burial: Rose Hill Cemetery
Census: 1880, Murry, Marshall, KS.
Children of ABNER JOHNSON and FLORAENCE WHITE are:
5. i. GEORGE EDGAR4 JOHNSON, b. March 10, 1890, Kansas; d. July 1967, Emeryville CA.

ii. INA JOHNSON, m. FLOYD PAYNE.
3. GEORGE MITCHELL3 JOHNSON (ITHIEL2, LEWIS1) was born May 01, 1861 in Morrow Co. Mt. Gilead, Ohio, and died January 13, 1933 in St. Joseph, Buchanan, MO. He married MINNIE RHEAM STERRETT May 26, 1890. She was born November 16, 1867 in Carlisle, PA., and died October 08, 1959 in St. Joseph, Buchanan, MO.
Child of GEORGE JOHNSON and MINNIE STERRETT is:
6. i. MARGARET4 JOHNSON, b. June 13, 1892, St. Joseph, Buchanan, MO; d. August 13, 1971, Mesa, AZ..
4. SILAS FRANKLIN3 JOHNSON (ITHIEL2, LEWIS1) was born December 22, 1866 in Deep River, Poweshick, IA., and died March 19, 1936 in Los Angeles CA. He married (1) MARY LOUISE HAYS August 28, 1894 in La Angeles CA. She was born April 07, 1869, and died March 22, 1903 in Los Angeles CA. He married (2) LAURA MOSHER July 30, 1904 in Batanga, Africa.
Child of SILAS JOHNSON and MARY HAYS is:
7. i. LOIS4 JOHNSON, b. 1898.
Generation No. 3
5. GEORGE EDGAR4 JOHNSON (ABNER HOLLINGSWORTH3, ITHIEL2, LEWIS1) was born March 10, 1890 in Kansas, and died July 1967 in Emeryville, CA. He married VOLDA VIOLA WALTER June 07, 1912 in Axtell, Kansas, daughter of JOHN WALTER and MARY CLENCY. She was born January 06, 1892 in Kansas, and died May 17, 1975 in Emeryville CA.
More About GEORGE EDGAR JOHNSON:
High School Grad: 1908, Axtell High School
Notes for VOLDA VIOLA WALTER:
1.Attended School in Seneca, Marysville, and Axtell
2. School teacher Carroll School date (?)
3. Attended school @ Carroll 1898
4. Received Scholarship from Highland College
5. Volda lived with Mr. & Mrs. David Smith 3 yrs. while attending Axtell HS
More About VOLDA VIOLA WALTER:
High School Grad: 1911, Axtel High School
Children of GEORGE JOHNSON and VOLDA WALTER are:
8. i. KEITH ABNER5 JOHNSON

ii. KENNETH ALFRED JOHNSON

iii. RACHALL JOHNSON
6. MARGARET4 JOHNSON (GEORGE MITCHELL3, ITHIEL2, LEWIS1) was born June 13, 1892 in St. Joseph, Buchanan, MO, and died August 13, 1971 in Mesa, AZ. She married LOUIS MYRON PINKSTON December 29, 1913 in Buchanan Co. MO. He was born April 06, 1890 in Skidmore, MO, and died June 06, 1980 in Mesa, AZ
Child of MARGARET JOHNSON and LOUIS PINKSTON is:
i. MARGARET NOEL5 PINKSTON, b. December 25, 1916, St. Joseph, Buchanan, MO; d. January 20, 1989, Az.; m. WILLIAM LEE CORMANY, February 17, 1940, St. Joseph, Buchanan, MO; b. December 15, 1912, St. Joseph, Buchanan, MO; d. March 31, 1993, Kennewick, Benton, WA
7. LOIS4 JOHNSON (SILAS FRANKLIN3, ITHIEL2, LEWIS1) was born 1898. She married JOSEPH MC NEILL.
Child of LOIS JOHNSON and JOSEPH MC NEILL is:
i. MARY LOUISE5 MC NEILL
Contributed by Richard Johnson
---
John Alfred Walter Family Group Sheet
Husband: John Alfred Walter
Born: 1856 in: Ohio
Father: Walter
Wife: Mary Ellen Clency
Born: 1861 in: Kansas
Father: Richard Clency
Mother: Prescilla Adamson
CHILDREN
1 Name: Volda Walter (Johnson) (GRANDMA)
Born: January 06,1892 in: Kansas F
F Married: June 1912
Died: May 17,1975 in: Oakland Ca.
Spouse: George Johnson
2 Name: Daisey Maud Walter Phillippi
F Born: February 07, 1884 in: New Market, Iowa
Died: September 13, 1967 in: Frankford, Kansas
Spouse: Harvey Elsworth Phillippi
3 Name: Lista Walter Larkin
Born: June 0 1, 1887
F Married: June 08, 1910
Died: October 04, 1952 in: Ks. (?)
Spouse: Golden Ernest Temple
Contributed by Richard Johnson
---
Stout Family Articles
Contributed by Donna Pfitzner
From the Blue Rapids Times, January 4, 1912
The Matthews-Stout Wedding
The following account of the marriage of a Lawrence young lady, who has frequently visited in Blue Rapids, where she has many relatives, was handed us by her uncle, H. Burnett, and is taken from a Lawrence paper:
A beautiful home wedding was celebrated last evening at 6:30 o'clock, when Miss Rachel Salome Stout, daughter of Mr. And Mrs. L. M. Stout, to Mr. John Erskin Matthews of Oklahoma City were united in marriage
The entire house was decorated with a profusion of ferns, palms and southern smilax. The ceremony was performed in the bay window before a lattice work of white, with a background of palms, ferns and smilax.
Preceding the ceremony Mrs. Gertrude Russ Eddy sang "A Birthday." Then Mr. S. C. Metcalf sang "Deep in My Heart, Beloved," followed by "I Drink a Toast to You, Sweetheart" by Mrs. Eddy.
Mr. Eric Owens played the Mendelssohn wedding march for the entrance of the bridal party and during the ceremony played "Hearts and Flowers."
First came Miss Orpha Stout as ribbon bearer, wearing a dress of white marquisette over white satin, wearing a white "Madame Sherry" cap and carrying a shower boquet of white roses. Mrs. Will Macoubrie, as matron of honor, came next. Her dress was a beautiful one of pink crepe de Chene and her roses and cap were of the same shade. Following were Miss Maud Stout as maid of honor and Mr. N. N. Rodgers of Pittsburg, Pa., as best man. Miss Stout wore a dress of yellow crepe de Chene with yellow "Madame Sherry" cap and yellow roses.
The bride and groom entered together. The bride's gown was a lovely one of white crepe de Chene over white satin and her flowers were a beautiful shower boquet of Narcissus blossoms and white bride's roses. Rev. O. C. Brown, of the Baptist church, performed the ring ceremony.
During the evening dainty refreshments were served in the dining room. Here the decorations were in the Christmas colors, the red bells being used throughout the room and on the table poinsettas and red candles.
Mr. and Mrs. Matthews left yesterday evening for Oklahoma City, where they will make their home, Mr. Matthews being a prominent broker of that city. The bride's traveling suit was dark blue with hat and gloves to match.
The wedding was attended by about thirty relatives and close friends and Miss Bessie Stout of Blue Rapids, Kan., and Mr. N. N. Rodgers of Pittsburg, Kan.
~~~~~~~~~~~~~~~~~~
Albert Stout & Allied Families
Albert is also referred to as Elbert Stout throughout everything I've found on him. He signed his name E. Stout.
Albert Stout married Nancy Williamson October 23rd 1845 in Tyler County VA. It's now West Virginia. I have found no proof of who Albert's parents were yet. Nancy was the daughter of Peter Williamson & Delilah Sarah McVay. According to Nancy's tombstone she was born in March of 1823. I can only estimate Albert's birth date somewhere between 1820 & 1830.
Shortly after their marriage Albert & Nancy migrated to Buchanan County MO. They were apparently part of an extended group of Williamson family who traveled to MO toegether.
According to a biography in the "History of Marshall County KS" Elbert Stout's family & the Hamiltons traveled together from Buchanan County MO to Marshall County KS and were there in 1858. Only the Thompson family arrived before them.
Within a year after the Stouts arrived Nancy's brother Lemuel Williamson b. abt 1835 in VA also arrived at Blue Rapids. Lemuel Williamson married the widow of Absolam Miller. Mary Johns Miller. Mary had 3 children by Absolam Miller & together they had 8 more children. Lemuel is buried in Prospect Hill Cemetery at Blue Rapids near his sister Nancy.
After Lemuel Williamson's death Mary Johns Miller Williamson accompanied some of her adult children to Pacific County WA.
Sarah Johns Miller Duncan wrote a book called "My Life as a KS Pioneer Woman" published in 1917. In it Sarah writes that Mr. Elbert Stout helped her husband Henry Miller build their log cabin. In another chapter she tells how 12 year old Pete Stout stayed with her while Henry was gone & helped her put out a house fire. So we know the Stouts were good neighbors.
Albert & Nancy had 7 children that I have found proof for. Peter, Albert, and Margaret were born in VA and the rest in MO. 2nd generation:
1. Peter b. 7/14/1847 VA & died 5/27/1927 Wamego KS md. Sarah Scott in 1868. Peter & Sarah are buried in Mt. Prospect cemetery at Blue Rapids KS.
2. Albert b. abt 1849 in VA (according to family legend he went to NW KS to homestead and died young there).
3. Margaret Stout b. 1/20/1849 in VA md. Peter Burnett 1867 buried Blue Rapids KS
4. Mary b. abt 1850 in MO md. Hiram Burnett 1869 buried Blue Rapids KS They were childless.
5. Martha b. abt 1851 in MO aka Mattie md. Joseph Watters buried Blue Rapids KS Joseph & Martha had 4 children.
6. Nathaniel b. 1854 in MO md. Anna Booth 4/29/1877 They are buried in Pottawatomie County close to Wamego. Nathaniel & Anna had 4 children.
7. Lemuel b. about 1858 in MO md. Mary Quinn 6/16/1879 They are buried in section 12 of the Oak Hill cemetery in Lawrence KS.
In the Blue Rapids Times there was a newspaper report of Elbert Stout selling his gravel quarry in the 1870s.
Nancy died in 1883 and was buried in the Prospect Hill Cemetery with a beautiful headstone. Elbert remarried later that year. Elbert and 2 nd wife Sarah bought land in Pottawatomie County but in 1889 there was a court case over a dispute on the land. About 1889 to 1890 they moved to Blaine County NE. Elbert died there in 1891. He is buried in the GermanValley Cemetery close to Brewster NE.
Peter married Sarah Scott in 1868. Sarah lived on the next homestead and they were my great grandparents. Sarah's parents were Andrew Scott & Sarah Miller. Peter's death certificate lists him as carpenter and he was also listed as a farmer in census records. Sarah's obituary says she was an invalid for many years and a patient sufferer. They moved to Louisville township of Pottwatomie KS in the late 1800s and both died there. Both were taken back to Blue Rapids KS for burial.
3rd Generations
Peter & Sarah had the following children, all born in the Blue Rapids KS area:
Nathaniel born 1871 md Vallie Keene 4/24/1900, lived in Wamego & OK
Nelly b. 1872 was md to a policman and lived in St Louis MO
Andrew b. 1876 d. a bachelor in the 1940s in Council Grove KS buried at Wamego
Elbert/Albert b. 1879, md Elizabeth Ostwalt 11/21/1896 & moved to OR
Samuel (my grandfather) md. 1st Kate Haradon, had one son Peter in 1905, Kate died in childbirth, md 2nd Genevieve Alice Foster in 1921 and had Richard Ray Stout b. 1926 & Elbert Dale Stout b. 1931. Both are deceased & only Elbert Dale had children. Sam is buried in Wamego City Cemetery.
Daisy b. 1880 md Ed Lawarance in 1898. She had been deceased "many years" according to Peter Stout's obituary in 1927.
Jessie b. 1887 md a Skidmore and lived in the Wamego area
Ada Gertrude b. 1893 md. John Meinholdt and lived in Wamego. Buried in Wamego. No children
There is a tombstone in the Elm Creek Cemetery at Blue Rapids that says infant son of P. & S. Stout died 1878. I believe this must have been another child of Peter & Sarah.
Margaret Stout and Peter Burnett. They had one child Belle, who married Elmer Haven & lived in FLA.
Nathaniel Stout and Anna Booth had 4 children.
Merritt Stout
Grant Stout born in Blue Rapids KS md to Elpha Shroyer & lived in Wabaunsee County KS
Leonard Dean Stout
Nina Stout
Children of Lemuel Stout and Mary Quinn
Bessie b. 1884 in KS
Gail b. 1885 in KS
Rachel Salome b. 1887 in KS
Maude b. 3/1890 NE
Orpha b. 1893 NE
Gracie b. 1895 KS
Edward b. 1897 KS
John B. b. 1901 KS
My sources are
1. The History of Marshall County KS by Emma Forter
2. My Life as a KS Pioneer Woman by Sarah Johns Miller Duncan
3. Census Records
4. Cemetery Records
5. Court Records from Pottawatomie County KS
6. Letter from Alfred Schipporeit cemetery caretaker in Brewster NE
7. Birth Certificates
8. Death Certificates
9. Stories from the Blue Rapids Times
10. Stories from the Westmoreland Recorder
11. Stories from relatives
Photos of some Stout family members appear on the "new" Marshall County Photo page.
---
Last updated June 19, 2006
Marshall County Families, part 2


Home Page for Kansas