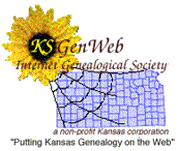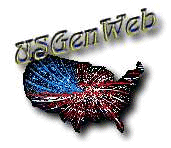 Marshall County Queries
Posted since May, 2002
To submit a query, email me at dcaallen@pacifier.com and I will generally post it within 24-48 hours.
---
Date: 4 June 2002
Researcher: Linda Jennings
Query Text: I'm looking for information on a Sarah Frances Taylor born 1864, her father was John Wesley Taylor and her mother was Sarah (last name unknown). She married a Henry Cyrus Brown. I believe that Henry when to Vet school there in Kansas, as later when they were living in Hydro, Oklahoma, this was his profession in the town. Any help would be great. Thank you
---
Date: 5 June 2002
Researcher: Dennis & Janet Frans
Query Text: Looking for any information concerning William Riley "WR" Frans, who married Lissa Carney in Marshall Co. William Riley & Lisa Carney had 3 known children :
1st one known born March 3rd 1901, Center Township, Marshall County, Kansas
2nd one known born October 12th, 1902, Center Township, Marshall County, Kansas
3rd one, Lloyd Frans, born Feb. 11, 1904, Residence: 67661 Phillipsburg, Phillips, KS., Died Jun 1979. Lloyd was raised by his grandparents (Lisa Carney's parents) Lloyd had 3 daughters: Linda (Frans) Roth of Phillipsburg, Kaye (Frans) Becker, born on Jan. 26, 1938, at Washington, KS., died Sunday, Jan. 13, 2002, & Gayle (Frans) Munyon of Phillipsburg.
---
Date: 5 June 2002
Researcher: Dennis & Janet Frans
Query Text: Re the website http://www.marshallco.net/summerfield/mina.html :
Could the William McAtee, of Mina, KS, whose son is Loyal McAtee mentioned on this website, be the son of Charles (born 1866) & (Minnie Frans) (born Feb 1871) McAtee
Minnie was a daughter of Taswell Jr. & Susanah (Rogers) Frans & sister to William Riley, Lawson W., Charles Roger, & Dillie B. Frans
Charles McAtee & Minnie Frans were married in Elm Creek, Marshall Co. KS on 27 Nov 1889
1900 Federal Census Marshall County, Ks Elm Creek Twp. SD5, ED60, page 78 B June 2, 1900. Also show sister Dillie B. & brother Lawson W. (farm laborer) living with them.
Charles R. & William R. Frans brothers on 1900 Federal Census SD5,-ED60 SH 1a-pg 77 living with John Hunt & wife Fannie wife & their 3 sons. (Could Fannie be another sister ? Fannie Frans?)
I would love to make contact with the Charles McAtee (Loyal McAtee) / William McAtee Family. If this information could be given or forwarded on to Loyal McAtee family, I would appreciate it.
Charles Roger Frans was married to Izabelle "Belle" Lister in September 1907 Vermillion, Marshall County, KS.
Charles Roger Frans is believed to be son of Taswell Jr. & Susanah (Rogers) Frans. Brother to Minnie A., Lawson W., William Riley "WR", & Dillie B. Frans.
Charles Roger was born 25 May 1878 in Agency Buchanan County Missouri. Died 11 Dec 1949 in Atchison Kansas Hospital. Buried at Oak Hill Cemetery, Atchison Kansas.
Belle Lister is daughter of Andrew & Nancy Ella (Guthrie) Jackson. Belle was born Feb. 12th, 1892 in Maple Hill, Kansas. Died 15 May 1921. She lived 29 years 2 months and 13 days. She died following child birth complications (Is what her son, Raymond/my father, told me.) Poor health for a year & hospitalized several weeks. Died in St. Joseph hospital MO. Her body returned to Vermillion Cemetery. Vermillion Times Newspaper 5/18/1921 Funeral services were at the Methodist Church. by Rev. Hesse. Member of Christian Church for 12 years than transferred to Methodist in Centralia, KS her last year.
Marshall County Birth Records (1885-1911):
p22 _(Ora)____F twin &_(Nora)____F twin, July 2, 1908 Vermillion Twp Father: C.Frans day laborer
p32 (Howard Lawson) M 3rd child, July 26 1909, Vermillion Twp, Parents: Frans,25,Lister,19
p45 Raymond Cecil M 4th child, Sept3, 1910, Frankfort, Father: Chas. Frans, painter (none of the children were named on the record).
---
Date: 13 June 2002
Researcher: Gale Homier
Query Text: I'm looking for any information on the KIENAST family in Marshall County beginning 1870. Joseph and Seraphina KIENAST. Children, Margaret, Joseph, Charles, Matilda, Josephine, Anna, and Bertram. Joseph Sr. may have died there around 1875. Believe older children stayed in that area. Any help greatly appreciated.
---
Date: 1 Sept. 2002
Researcher: Laura Koster
Query Text: I can't find anything about my husbands Koster family. Here is what we do know for sure. This is from the 1880 census from Marshall Co. Marysville, Kanas:
Nick Koster-married-35-born in Luxemberg, Germany
Gertrude Koster-wife-33- born in Prussia
CHILDREN:
Katie Koster-12 daughter- born in Illinois
Bennie (Benjamin) Koster- 8- son-born in Illinois
Bertha Koster-daughter- 5- born in Illinois
Frank Koster- son- 3- born in Illinois
Charley Koster- son- 1yr old- born in Kansas--
Bennie Koster was my husbands great grandpa born Sept. 5, 1871-July 19, 1937 and was married to Lydia Belle Cooley born March 21, 1878- March 19, 1938. They had a son Arthur Bernard Koster born Sept. 9, 1908- Aug. 9, 1975 and married Geraldine Francis. They had a son Arthur Lee Koster born in St. Joe, Missouri Jan.13, 1932 and another son Jerry Koster born in 1934. Some other names that we have are Leo Koster, Roy Francis Koster, Ray Wolfe, Leona Pearl Koster-Carter, Gertrude Koster-Meister and Jeannie Meister. Thank you so much if you know anything about the names mentioned we don't know hardly anything.
---
Date: 1 Sept. 2002
Researcher: Paul Davis
Query Text: I am seeking any information on George W. DAVIS, wife Ella Brashear. I think he died July, 1, 1917. He was the son of Daniel R Davis who lived in the County (d. 1913). I am particularly interested in making contact with someone working on George's line. Many Thanks
---
Date: 3 Sept. 2002
Researcher: Diane
Query Text: My great-grandmother, Fannie Fitch, had an autograph book that she had people sign during her travels between 1883 and 1890. Several are from Frankfort, Kansas. I've scanned these pages and placed them on my web site. Please take a look and see if perhaps you know any of these people. I would love to hear from anyone that finds the writings of an ancestor. My dream would be to add a photograph of each person next to their autograph page.
http://goldrush.com/~manley/

Just scroll down and click on "Autographs..."
---
Date: 6 Sept. 2002
Researcher: Bill & Mary Lattin
Query Text: I would like to get in touch with any Hildebradt who lived in Marshall County, Kansas. Three brothers came from Germany in the mid 1850's and settled in the county. One of these was August Hildebrandt who married Julianna Putzke in 1861 or 1862 who had recently come from Germany, near the Polish border. She had a brother Henry who had moved to the area a few years before her. August and Julianna lived south west of Home, KS about 1 or 2 miles. In 1868 August built a limestone house that still stands today. In 1869 he was accidently shot with his own gun and died three days later. They had the following children: Fredrick, Matilda, Pauline, Anna, and Rosena. Matilda died of a childhood disease and was buried near the stone house; her father was later buried near her. A river is to the south of the homestead and their graves are probably between the river and the stone house.
---
Date: 22 Nov. 2002
Researcher: Donna Koll
Query Text: Hi, I'm Donna Koll. Looking for information about my grandfather's second marriage. His name is Charles F. Koll. He went by the name of Charlie Koll. He married a second time ater the death of my grandmother. I am not sure when. My grandmother died in August of 1934. I only have a first name of second wife, Winifred. My email paride55@aol.com Thanks
---
Date: 23 Nov. 2002
Researcher: Anita Lickteig
Query Text: Am searching for Julius Matthew Ipsen, Jemima Jane Dickson Ipsen, possibly Owen Ipson all buried in Blue Rapids, Marshall County , Kansas. And any descendants still in the area.
---
Date: 29 Dec. 2002
Researcher: Blair Dedrick
Query Text: DEDRICK/TUSCH- I am looking for any information about an H.T. Dedrick and his wife, Edith Tusch. Dedrick was in the oil business around 1900. He had a son, Joseph K. Dedrick, b. about 1894, m. Sherli C. Blair.
---
Date: 5 Jan. 2003
Researcher: Emma
Query Text: Looking for information on My Grandfather John Monroe born March 7.1886. Brother Josepha born Feb. 1.1889. My information that I have is They were born in a ghost town called Gilbertville in Marshall County. Don't know their parents names. which I am trying to find out. The Brothers were adopted at a very young age due to Their parents death. I heard of a Carrie Culp which I think is part of the Family who adopted the boys. emma2suite@aol.com
---
Date: 11 Jan. 2003
Researcher: Emma
Query Text: I am looking for My Grandfather John Monroe and Great Uncle Joseph (Josepha) Walton not sure of spelling. The were born in Marshall County.Borned John March 7,1886 Joe Feb. 1,1889. From what I have been told Their Parents died while the boys were very young maybe during the Indian conflict. Trying to find out their parents names. Maybe their Mother was Indian. On back of a picture that We have of an Indian woman J E is on the back possible their mother. the boys were adopted by someone from Ky. again don't know names.
Thank you for any help. My e-mail is emma2suite@aol.com thank you again Emma
---
Date: 11 Feb. 2003
Researcher: louannlittle@joplin.com
Query Text: I am looking for any information on Elmer Barker. he was born in the late 1880s. I was told he was buried in Marshall County, but the historian could not find this evidence. He had several brothers. Clarence and William. Elmer's daughter was born in Beloit, Kansas in 1921 and then they moved to Illinois. At one time, the Barkers were living in the Beattie area. Any information on Elmer and his last whereabouts is very important to me. Any help is appreciated! Thank you.
---
Date: 24 Feb. 2003
Researcher: Dan Thompson
Query Text: I am looking for my grandfather William Thompson and/or his family. He might have come from Iowa or Indiana (where he was born) in about 1922/23. He was might have had some mental problems. I was told he might have lived in or around Blue Rapids, KS and that he might have started another family.
---
Date: 19 March 2003
Researcher: Marsha Nash Rakestraw
Query Text: Emma Alvira Bole Nash born 8-16-1847, Middlebury Ind; married James Winder Nash 1-18-1863, Middlebury; Died Waterville, Marshall, Kansas. Nine children, most born in Cottage Hill, Marshall, Kansas with the earliest born in 1869. Burial reference as Pleasant Hill, Waterville, Kansas......of course, I can find no such cemetery.
My dad had researched in 1985 and cited as a reference "A biographical album of (the pioneers & settlers of) Marshall County Kansas (in the area of Marysville and Blue Rapids, Kansas) Printed by Chapman Bro. Chicago 1889. I would love to obtain this album (especially if it had any references to my family!) and also, if possible, to find out any information about her and James Nash.
Thanks for any and all help
---
Date: 23 April 2003
Researcher: Tonya Neuweiler
Query Text: I'm looking for any information about Lousia Spoden (my great grandmother) and Joseph Pfeffer who were married August 23, 1884 in Marysville, Marshall county. I believe Louisa to have been born in Mettendorf, Germany Nov. 19, 1862. Joseph is believed to be born in Pennsylvania. Any help would be greatly appreciated.
---
Date: 24 July 2003
Researcher: Theresa
Query Text: I am searching for the parents of my great grandfather or any information on his family.
Earl MARTIN was born in 1878 in Kansas. His parents are unknown and the actual place of birth is unknown. I highly suspect Marshall County and here is why.
Earl MARTIN was born in 1878 and by late June 1879 he was in Indianapolis, IN at his aunts house and they were raising him. It is well known in the family that his mother was killed in May 1879 in Kansas and his father couldn't raise an infant on his own so he had the child sent to his sisters house. After years of trying to figure out what went on I found out about the Irving tornado in May of 1879 and suspect that there were some Martin's there and possibly one that lost his wife and had to send his child away.
Anyone with information please contact me it would be greatly appreciated.
Theresa
---
Date: 18 Sept. 2003
Researcher: Marge
Query Text: My mother Ruth B.Hickman-Payne is ninety-six, and alive. She is doing fine. She is afro-american. Her mother's name was Ella Hickman. She was a cook at the train station, and also worked for Mr. Berry (or Barry) as a cook and a nurse for his invalid daughter. .Mr. Berry was the County Atty. Ruth's father, Thomas Andrew Hickman worked as a barber and deputy sheriff in Frankfort. He was known as Tom. Tom had 2 sisters who lived in Frankfort. .Their names were Susie and Minnie Hickman. Another sister's name was Elisabeth (Lizzie). The Hickman family house burned down years ago. Tom Hickman died in Frankfort in the early 1940's.Where he's buried in Frankfort is the mystery. R.G. Logan, his cousin is buried in the last of the family's burial plots. R.G. died while Tom was still alive. Ruth recalls the burial place was located on a hillside in a cemetery with an iron gate.
Any information you can find about Tom, or any Hickman\Logan family, members of Afro-American decent would be greatly appreciated. Tom was born around 1862 and migrated to Frankfort from his birthplace in Ky. He read an ad in the newspaper that Frankfort was hiring deputy sheriffs. He was a student at Berea College in Berea, Ky. at the time.
Thanking you in advance.
---
Date: 18 Sept. 2003
Researcher: Dennise Whitmore
Query Text: Hello- Just starting with all of this.
I am looking for information on John O. Johnson from Oketo, KS, any info? Born 8/3/1879 Died 3/27/1915.
I am his great great granddaughter and would like to know his mother and fathers name and where they came from.
Thanks!!
Dennise Whitmore dennise1@earthlink.net
---
Date: 19 Sept. 2003
Researcher: Joe
Query Text: I am trying to find Sallie Ann Williamson who lived in Marshall County, she was still living in 1920 when she applied for a pension as the widow of Isom E. Williamson, I have not been able to locate her on the 1920 Marshall County Census she may have been living with a daughter, and probably died in Marshall County by 1930.
Thank You
Joe
---
Date: 17 Oct. 2003
Researcher: Jennifer Talbert
Query Text: I am looking for Thomas and Effie Beasley. They lived in Blue Rapids. The family is listed in the 1910 census in Blue Rapids. Their children were Gary, Thomas Earl, Charles R., George, Grace J., and Marguerite. Gary is listed in the 1930 census as living in Blue Rapids with his sister Margaret Byrd and her daughter Betty. I assume Margaret is Marguerite. Gary was born approx in 1884 in Iowa, Thomas Earl born Jan 4, 1888 in Iowa, Charles R. born approx in 1890 in Iowa, George born Apr 12, 1899 in Nebraska, Grace J. born approx in 1902 in Nebraska, and Marguerite born in 1905 or 1906 in Kansas. Thomas died before 1920, Effie died before 1930. Charles married Mary around 1925, they had two children by the 1930 census, Charles Jr. and the other was illegible. Thomas Earl married Elsie Alley in 1913. George married Ethel Sieh before 1918. I am mostly interested in George and Ethel, but would like any information at all about the family.
---
Date: 27 Oct. 2003
Researcher: Richard Embry
Query Text: I am looking for info on a George Bergen from Summerfiled, Ks. in the 1920's or 30's. Thank you, rje
---
Date: 13 Nov. 2003
Researcher: Sally Furuiye
Query Text: I am searching for information about Homer T. REED who is listed in the 1880 census as living in Blue Rapids City, Marshall County, Kansas with his wife Emma and children Addie R., Elizabeth and George. Any help greatly appreciated.
Thank you, Sally Furuiye
---
Date: 14 Nov 2003
Researcher: Crystal Shulte
Query Text: I am searching for LOOB and SHAUGHNESSY families. Thomas Loob and Michael Shaughnessy settled in St. Bridget, Guittard Township, Marshall County, cir. 1858. I already have basic info. such as census records, birth records of their children, etc., but am searching for more specific info. to "give them life," so to speak, and to help trace them further back. I am particularly interested in their obituaries, interesting anecdotes, etc. Thomas Loob's wife was Honora Smith, and his children were Sarah, Katharine, Patrick, and James. Michael Shaughnessy's wife was Ellen Ryan, and his children were Thomas, Edward, Michael, Ellen, Mary, Anna, Delia, and James. THANKS!
---
Date: Feb. 9, 2004
Researcher: Karen
Query Text: My great grandmother, Mathilda Johnson Peterson traveled to Kansas in a covered wagon with her sister Fredricka (known as Fannie) and her husband, John in the late 1860s or early 1870s. She returned to Iowa, married and lived there the rest of her life. I would like to know more about the Abrant family. The last known address that I have for them was Frankfort. I have some pictures that I would be happy to share.
---
Date: April 12, 2004
Researcher: Rebecca Polson
Query Text: Grandfather-John William McGrath born in1901 at Home City. Great-grandfather- William Patrick, Born Oct.1848 in Scotland, Great-Great-GrandFather Bernard McGrath, Born in Ireland.Great-Grandmother Matilda Kuhl, born in Ohio, March 28, 1854.
---
Date: June 22, 2004
Researcher: Melissa
Query Text: Any info on Daniel J O'Connell born 1836 died 1930 ( have death cert it says buried St Joseph ???, can't read Clear creek, Pottawatomie, KS. Understand he was in a "home" toward end of his life. He had lived in Axtel earlier. His son James born 1876 died 1930 also. Do not have death cert or know where he was buried. 1930 census shows Molly (James Widow) Head H And Daniel J father in law, Alice Mother in law living at Clear creek township, Pottawatomy, KS. 1910 census shows James W Head wife Mollie at Axtel,Marshall, KS. Looking for info on Daniel J O'Connell, Wife Alice(Evans). James O'Connell, wife Mollie. Any info would be appreciated.
Thank You
Melissa
---
Date: 19 September 2004
Researcher: John B. Clark
Query Test: I am looking for the families of John McDermott and Catherine Burke. John McDermott, a widower, was from Canada (his parents from Ireland) and he, his sister and two daughters were living in Vermillion, Marshall, Kansas in the 1880 census. Also living there at that time were Catherine Burke and her father. A Catherine Burke is listed as my grandmother's mother and a John McDermott from Canada is listed as my grandmother's father. The youngest daughter, Ann McDermott (possibly my grandmother) was two at the time and was born in Kansas. The other child, Mary McDermott, was five. John McDermott's sister, Ann McDermott, was 15 and born in Canada. I would appreciate any information anyone has on these individuals. They may or may not be the correct McDermott and Burke families. Thank you very much.
---
Date: 12 December 2004
Researcher: Louis Brown
Query Text: Looking for information on my GGrandfather Francis Joseph Barnes who died in Marshall County, KS. 30 Oct 1890. Father was John Barnes born in Ireland. Married Kathleen Sullivan Abt. 1874.
---
Date: 2 January 2005
Researcher: Bill Lavery
Query Text: Peter LILLIG married to Margaret KOCH about 1885 in Marshall County. Peter LILLIG died about 1932.
---
Date: 6 March 2005
Researcher: Carl Martin
Query Text: I am a descendant of Wilhelm Backhaus and Augusta Tegtmeier who emigrated from Hanover Germany and were married at Marysville in August 1885. Wilhelm was first married to a sister of Augusta Tegtmeier and they had a daughter Mrs. August (Mary) Luehring 1884-1966 who lived at Hanover, Kansas.
Wilhelm Backhaus and family went to church at Hermansburg and have a son Heinrich Backhaus buried in the cemetery there. They later went to Lanham and lived on the Nebraska side.
I am trying to find the ancestral village of Wilhelm Backhaus in Germany from somewhere (Hermansburg Lutheran church records?) and I also have found at least two families in the Hermansburg/Lanham area that are possibly related. Henry and Sophia (Backhaus) Wieters emigrated from Norddrebber, Hanover, Germany and are buried at Lanham Lutheran cemetery. Also; there was a George Backhaus and wife Caroline Gaede who lived in the Hanover or Lanham area. One of their daughters was Caroline Marie Backhaus who married August Rettig. One of my great-uncles was Henry Backhaus who married Nora Rettig. Nora Rettig was a niece of August Rettig.
Several years ago a Joann Scheele Schwartz put a family tree site on Rootsweb on the internet; but I am now unable to contact her because the email address is changed.
Can anyone tell me how to contact Joann Scheele Schwartz and is there anyone with access to the Hermansburg Lutheran Church records or anyone with ties to the Backhaus family? Any help will be greatly appreciated.
---
Date: 22 April 2005
Researcher: Larry R. White
Query Text: I'm looking for the descendants of John and Loretta AMBLER. They had 5 daughters Mary (b. 1860 NY), Anna (b. 1861, NY, married John McArthur), Ella (b. 1867, NY, married James MOORE), Josephine (b. 1868, IL), and Irene (b. 1870, IL married John McArthur -- after Anna died, I assume). They are on the Marshall Co, KS 1880 census for Blue Rapids. John left and came to California and I am descended from his second marriage. Loretta and the daughters stayed in KS. I have been unable to locate any record of Loretta's remarriage or death.
Thanks,
Larry R. White
---
Date: 26 April 2005
Researcher: Ann Delaney
Query Text: My Mother, Ann Margaret Meara, was born in Axtell in 1905. Her parents were Daniel Francis Meara and Anna Bannon. I am looking for information on Anna Bannon -- and I would love to help you with the Daniel F. Meara Family, if you are interested.
---
Date: 20 May 2005
Researcher: Patricia Apel
Query Text: I read a post up thread about the Hermansburg Lutheran Church. My Henke and Kruse relatives were also members of this church. I would love to find out where these records are kept, if they are still intact, etc. My Kruse family emmigrated from Hanstaldt, Germany, which is in Lower Saxony, Nidersaschen Germany and settled in Washington and Marshall Counties, Kansas.Can anyone help direct us to someone who knows where these records are?
---
Date: 4 July 2005
Researcher: Donna Pfitzner
Query Text: Addie Stout age 23 married F.R. Frey age 31 at Marysville KS on January 8th 1872. Both are listed as residents of Marshall County KS. Can anyone tell me who Addie's parents were? And where Addie and F.R. Frey lived? I'm trying to determine if she is connected to my Stout family who homesteaded near Blue Rapids arriving in 1858. Thanks Donna Stout Pfitzner
---
Date: 11 Nov. 2005
Researcher: John McCue
Query Text: My ggrandfather John August Olson and ggrandmother Anna Berents had 7 sons and one daughter and most were born in Waterville, Kansas. He died 8 March, 1867 and she died 13 February, 1911. They are both buried in the Harbough cemetery. My grandfather was Jerrith (Jarreth) Olson who married my grandmother Ola Huff. They had three children, Lester, Lawrence and Ermina Mae. We have information that Lester and Lawrence were born in Waterville. They later moved to Canton, Kansas. Grandpa Jerrith went to Brownsville, Oregon to be with his brother. He died there (we believe it was suicide-he had epilepsy). I received this information from Linda Allen. Could you let me know if you have information on the Olson's in your area (they had a home about 6 miles south of Waterville) and in Oregon. Thank you very much. John E. (Jack) McCue
---
Date: 2 Dec. 2005
Researcher: Gary L. Koch
Query Text: I am seeking information on MARLENE JOY ROCKWELL, daughter of George and Bernice, sister to Imogene. Mother died in 1940, sister died in 1941 both from car accidents. Father died in France 1944. Marlene was 6 at time of father's death and living with stepmother MARY MARQUIS ROCKWELL at the time of father's death.
Also seeking information on the Wife of Clarence Koch, JACQUELINE WOODS KOCH. Clarence died in 1957, victim of drowning. Any information will greatly appreciated.
---
Date: 25 Jan. 2006
Researcher: Carl Rosenkilde
Query Text: On the 1920 Census are listed the family of William Draney, including his son John (J.?) Draney, who moved to Jackson County, MO, and was the father of two daughters: Phylis J. and Nancy J. Draney. I am their first cousin and am looking to make contact. John Draney died in 1993 in Ajo, Arizona. My aunt, Edna Rosenkilde Draney, was their mother.
Thank you, C. Rosenkilde
Livermore, CA
---
Date: 23 June 23, 2006


Researcher: Bob McKinley
I am looking for help establishing the background and origin of James S. and Mary (SCHUTE) MCCOY. They had at least one child a daughter, Carrie who was born in Irving 9/15/1879. Carrie married Burton Wallace Forbes in 1899. Burton was the owner, Publisher and Editor of the Irving Leader from 1909 to 1938. Thanks.
---
Date: July 1, 2006
Researcher: Russ Czaplewski
CLARK. Seek information on Thomas Jefferson (1856-1945) and Mary E. (Mayhew) Clark of Marshall County. Thomas b. Cass Co., IA. Married Mary in 1880. Children: Annie E; Charles; George; Alma; Rheuben; Allie; Harry; Mary E. Family lived in Gage Co., NE in 1885. In Marshall Co. by 1895.
---
Date:July 25, 2006
Researcher: Russ McDonald
Looking for info on James Gum and his wife Margaret Larue McDonald Gum. They were married in Il. in 1830 and she died in Bigelow Ks in 1880. Any info would be appreciated on the both of them and family. Thank you.
---
Date: July 29, 2006
Researcher: Jerry Koppes
we are publishing a book of jacob koppes who came to iowa in 1855 he was the brother of michael koppes who went to marysville about the same time if any one wants more info call 5638725365 or write vada koppes 416 rose street bellevue ia 52031.
---
date: November 8, 2006
Researcher: Paul Morris
I am seeking information on the marriage of John Robert Morris of Murray, Marshall, Ks. to an Iva E. (unkn), between 1920 and 1924.John was raised by his uncle John Temple, and was living at home, single on 1920 census, first child (Eugene R.) was born in Ks. in 1924, based on 1930 census (Colorado). Second child ( Maxine) was born in Ks., in Oct 1925. Information on Iva's maiden name would be very helpful, and much appreciated.
---
Date: February 18, 2007
Researcher: Jean Bowers
Query Text: I am looking for a funeral home that might have received bodies to be buried in the rose hill cemetery. I am looking for an obit for the following two people buried there.
1.Normana. Harwick 9-25-1843--6-7-1907. He died in waukomis,ok and was sent by railway to axtell buried in rose hill cem.
2. Mary melvina marshall/harwick b:11-16-1850 d:3-5-1905 in waukomis,ok and i don't know how she got to axtell but think rail way also as she was married to norman.
Any help will be greatly appreciated. If anyone can tell me how to goabout getting an obit i would appreciate that also. Thanks jean bowers
---
Date: March 16, 2007
Researcher: Rita McNamara Gromowsky
Query Text: Thomas Cunningham and Mary Nagle Cunningham were my great grandparents. Born May 10, 1829 and June 5, 1833 respectively.
Their daughter Margaret Brennan was my grandmother. I am searching for any children they may have had. My mother, Theresa Brennan McNamara, had a brother, Thomas, who was killed at age 21 in KCMO. I am led to believe that there may have been a sister, possibly Anna, who died as a child. This would have been my mother's sister.
Any help in locating information, burial plots, dates, would be very much appreciated.
---
Date: April 15, 2007
Researcher: Sara Bass
Query Text: I am researching the Ingerly family. I am wanting specific information on a James Dale Ingerly, DOB around 1933. I know he was born in Kansas but not sure on the specific county. I found several Ingerly's that resided in Marshall Co. Kan. and was hoping someone out there could provide me with information.
---
Date: July 14, 2007
Researcher: Parmiza
Query Text: I am searching for any information on Haney Wilson or Richard Haney Wilson, not sure what name he went by b. 1838 in Kentucky d. 1889 in Irving, Ks. He was my gggrandfather. He married Ellen Clark in 1861 in Irving, Kansas. She was from Belfast Ireland. They had 11 or 12 children. Any information on Haney would be greatly appreciated. Thanks
---
Date: March 16, 2008
Researcher: Patsy Sutton
Query Text:Seeking information on the following person and his family.
Ezekial ASHBURN, Born 1864 in Anderson Co., KS. Married Harriett Kirkbride about 1893 in KS . Were residing in Blue Rapids, KS in 1900, 1910. Removed to Webster Co.IA before 1920. Back in Blue Rapids, KS by 1930. Probably died there. Also son Ernest Ashburn, there in 1930. Would like info on date of death and place of burial on any ASHBURN individuals.
Thank you in advance for any assistance, May contact me by email: patsysutton@pixius.net
---
Date: April 16, 2008
Researcher: Boyd Hughes
Query Text: Has the Vermillion Cemetery been transcribed and put on line? My mother was Luella Woodward and I am interested in names and dates of relatives buried there for my genealogical research. I clicked the link on the Marshall County page and got flipped off to Yahoo!, in which I am not interested. I thank you for any assistance. Boyd Hughes..
---
Researcher: James A. Nethery
Date:October 3, 2009
Query Text: McCOY: Looking for any info on James and Mary A. Kute McCoy and their children, William, Lizzie, John & Julia, Anna & James W. PHELAN, Thomas A., Carrie & Burton FORBES, Addie & George BOYD, James S & Ella and Frank & Nellie. The 1st 4 children born in WI and the last 5 in KS. They were from the Irving, KS area.
---
Date: August 4, 2010
Researcher: Paddy Lorenz
Query Text: Seeking information about death of Francis S. AUSTIN, his 1st wife Amelia/Emily and 2nd wife Eleanor/Elceanor. I believe Francis and Amelia came to Kansas from New York between 1860 and 1865. In 1865 they were in Atchison County, Francis working as a mason. Amelia probably died between 1865 and 1870. Francis md2 Eleanor; in 1870, they were in Vermillion Township, Marshall Co, he as veterinary surgeon; 1875, Wells Township, Marshall Co, stone cutter.
---
Date: December 29, 2010
Researcher: Dianne Madden Fulwider
Query Text: I am looking for info on the MADDEN family of Marshall county.
William P Madden 1901-1961 m. to Catherine Power 1905-1995
Willard Madden 1901-1928
William P Madden 1866-1928 married to Mary Jane Cassidy 1874-1965 (second marriage to James McGrath)
William P Madden 1825-1895 m. to Catherine Rogers 1848-1917
---
Date: April 3, 2011
Researcher: Debbie Miller
Query Text:
Am looking for information on Albert N Wiltz (Born 6-23-1912 and passed 2-11-96)and I believe his wife Allie D Wiltz(Born 12-1-1916 and passed 12-20-98). Would love to have their obits. Thanks email me at dsmiller57@yahoo.com. Thanks Debbie Miller
---
Return to the Main Page
Copyright 2002-2011 by Alice Allen
<border="0"

Home Page for Kansas