Midland College, located at Atchison, Kan., was the first college founded in Kansas under the auspices of the general synod of the Evangelical Lutheran church. For years the ministers of the church had felt the need of a college in Kansas, to educate the youth of the church and prepare young men for the ministry. In 1885 a petition was presented to the synod asking for the establishment of such an institution. The synod decided to locate the college in the town which would make the most liberal donations. Atchison pledged $50,000 for suitable buildings and gave a tract of 25 acres of land in Highland park for a site, and was therefore chosen. The main building, Atchison hall, was erected in 1889, at a cost of $28,000, on the grounds overlooking the Missouri river. It is 64 by 106 feet, four stories high, and in it are situated the president's office, chapel, reading room, library, museum, chemical and physical laboratories, ten recitation rooms and rooms for about 50 male students. The college was dedicated the same year. In 1891, a dormitory for women, known as Oak Hall, was erected, with accommodations for about 40 students. The other building on the campus is a gymnasium, 61 by 31 feet, equipped with suitable apparatus. The college possesses a six-inch refracting telescope housed in a permanent building, which is valued at $1,800. The library and reading rooms contain about 8,000 volumes. Andrew Carnegie has offered the college $15,000 for a new library building as soon as a like amount is set aside as a permanent endowment, and in 1911 it was expected that the sum would be secured and the library erected within a short time. In 1895, the endowment fund of the institution had reached $30,000, $24,000 of which was bequeathed by Rev. George D. Gotwald, of Kansas City, Mo.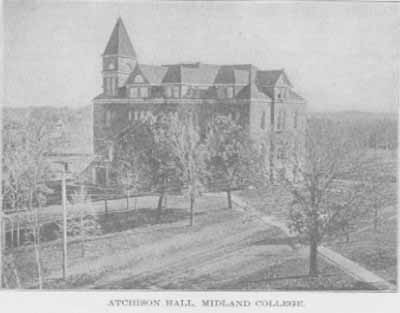 ATCHISON HALL, MIDLAND COLLEGE.
There is a four-years' college course, a preparatory course, normal, business and music departments. The college and preparatory department offer three regular courses—classical, scientific and literary. In 1904 the Midland cadet corps was organized and instruction in military tactics and the use of arms is given three times a week. The average number of students enrolled in the college is over 300. In 1910 Rev. Millard F. Troxell was president of the college, which had an able faculty of 18 members. Midland is regarded as one of the leading denominational schools, and is rapidly gaining a reputation for its high standard of scholarship.
Pages 277-279 from volume II of Kansas: a cyclopedia of state history, embracing events, institutions, industries, counties, cities, towns, prominent persons, etc. ... / with a supplementary volume devoted to selected personal history and reminiscence. Standard Pub. Co. Chicago : 1912. 3 v. in 4. : front., ill., ports.; 28 cm. Vols. I-II edited by Frank W. Blackmar. Transcribed July 2002 by Carolyn Ward.