| | | |
| --- | --- | --- |
| 1918 KANSAS AND KANSANS | Chapter 34 | Part 1 |
CHAPTER XXXIV
JOHN W. GEARY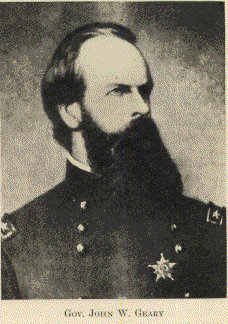 [Copy by Willard of Portrait in Library of Kansas State Historical Society]
The third Governor of Kansas Territory was John White Geary. He was born in Westmoreland County, Pennsylvania, December 30, 1819; died in the city of Harrisburg in the same State, February 8, 1873, in his fifty-fourth year. He was of Scotch-Irish extraction, and a man of great force of character, undoubted courage, and possessed of executive ability of high order.
The death of his father made it necessary for him to quit college and labor for the support of his widowed mother and family. For a time he engaged in teaching, and was afterwards a clerk in a store in Pittsburgh. He studied law and civil engineering. The latter profession he practiced in Kentucky and Pennsylvania. He entered the military service in the Mexican War, and was appointed Lieutenant-Colonel of the Second Pennsylvania Regiment Volunteers. He fought under command of General Scott, and was made a Colonel for bravery. Upon the capture of the City of Mexico he was appointed its commandant. In 1848 he was appointed postmaster of San Francisco, with power to establish postoffices and postroads on the Pacific coast. He was the Alcalde of the city, and in 1850 he was elected the first Mayor of San Francisco. He bore a prominent part in the work of establishing the government of California. In 1852 he returned to Pennsylvania and retired to his farm.
The disorders which marked the closing weeks of Governor Shannon's administration of Kansas affairs aroused deep indignation in the North. This feeling was not confined to the opposition to the Democratic party. Many Democrats cried out against the evils of the course of the national Administration in relation to Kansas. In fact, it began to be feared that if these matters were not mended they would mend themselves in the defeat of the Democratic party in the Presidential election in the following autumn. It became necessary to suppress the disorders in Kansas as a political measure. Colonel Geary was appointed Governor of Kansas Territory July 31, 1856. He was selected for the position because of his firmness and recognized executive ability. He was not an applicant for the office. He spent a month in arranging his private affairs, and in consultation with the President. He departed for his field of labor about September 1st. He came armed with greater discretionary powers than had been given to either of his predecessors.
The condition of Kansas was at this time truly deplorable. For a year last past the executive power and authority had been so weakly wielded that they were virtually a means for the oppression of a majority of the actual residents of Kansas, and often this oppression was better termed persecution. This was by design, and with the approval of the cabal of conspirators having in hand the Federal Administration. When Governor Shannon let the executive authority slip from his nerveless grasp and fled in terror of his life, it fell into the hands of the mob. Indeed, it was even worse. Had it been into the hands of the mob alone that the executive power of Kansas had fallen, the blindness of those exercising it would have rendered it a comparatively harmless weapon. But it had been seized by the cunning leaders of a gross and brutal mob in a foreign State. In addition to its incendiary inclinations and ferocious tendencies, this mob was skillfully played upon and manipulated against the representatives of freedom and free institutions in Kansas. The conditions producing this mob made it one of extermination, moved by a hatred stimulated to a thirst for blood by those now in possession of the executive power of the Territory, flung away by an agitated old man fleeing for his life.
The formative period was now past in Kansas Territory. Matters had drawn themselves to hard and inflexible issues. The energies of parties fixed by recent events exhausted themselves in fortifying positions already seized. With the Free-State party this course was a matter of necessity, and its position was one of self-defense purely. This was forced upon it by the action of the bogus Legislature when it made the issue for itself and its adherent Slavery - Slavery alone. The test laws had so aroused the Free-State men that at the Big Springs convention they not only met the issue, Slavery, and set opposite that barbaric institution, Freedom, but they did more. Stung to indignation, they avowed resistance to all the bogus laws. This new issue was met by the advocates of slavery by the organization of the Law and Order party - a vigilance committee or assassination society as vicious and bloodthirsty as ever walked a Paris street or stole through the darkness of a Corsican waste. At the head of this party stood Governor Shannon, sustained by the President of the United States and his political party. The attempts to enforce this issue drenched the land in blood and made lurid the sky blackened with the smoke of burning homes, and finally sent the Governor away in panic, horror and despair, and with assassins in close pursuit.
This was the condition awaiting Governor Geary. It is well that he was a soldier, and came determined to bravely do a soldier's duty. He interviewed Governor Price of Missouri while on the way to his hopeful government, and prevailed upon that functionary to take steps to reduce or terminate the piracy practiced by the Border-Ruffians on the vessels navigating the Missouri river.
The leaders of the Missouri mob were at this time hopeful that the Governor would delay his arrival. Their most willing and trusted tool was now the Acting Governor. No plan could be proposed for murder or rapine that he would not sanction, could he be brought to believe that the establishment of slavery in Kansas would be forwarded by it. Under a few days of his pernicious and mischievous direction of Kansas TerritoriaI affairs anarchy sprang spontaneously from the disorders of the border and terror took hold upon the people. On the 25th of August he had issued a proclamation "declaring the said Territory to be in a state of open insurrection and rebellion," and calling upon all "law-abiding citizens of the Territory to rally to the support of the country and its laws." This proclamation opened the gates of the border. Urged by their leaders under this sanction of authority, the hordes were hurrying from Missouri into Kansas Territory. At points too remote from the border for the inhabitants to feel interest enough to come over and help at their own expense, companies were solicited and raised at so much per diem, and whisky, per head. The incoming Governor's introduction to the "Kansas militia" was at Glasgow, Missouri, where A company of it embarked for Kansas. The incident is thus described by Dr. Gihon:
On approaching this town a most stirring scene was presented. The entire population of the city and surrounding neighborhood was assembled upon the high bank overlooking the river, and all appeared to be laboring under a state of extraordinary excitement. Whites and blacks, men, women and children of all ages, were crowded together in one confused mass, or hurrying hither and yon, as though some terrible event was about to transpire. A large brass field-piece was mounted in a prominent position, and ever and anon belched forth a fiery flame and deafened the ear with its thundering war-like sounds. When the Keystone touched the landing a party of about sixty, comprising Captain Jackson's company of Missouri volunteers for the Kansas militia, descended the hill, dragging their cannon with them, and ranged themselves along the shore. The captain, after numerous attempts, failing to get them into what might properly be termed a line, got them into as good a military position as possible by backing them up against the foot of the hill. They were as raw and undisciplined a set of recruits as ever shouldered arms. Their ages varied, through every gradation, from the smooth-faced, half grown boy to the gray-bearded old man; whilst their dresses, which differed as much as their ages, gave unmistakable evidence that they belonged to any class of society except that usually termed respectable. Each one carried some description of fire-arms, no two of which were alike. These were muskets, carbines, rifles, shotguns, and pistols of every size, quality, shape and style. Some of them were in good condition, but others were never intended for use, and still others unfit to shoot robins or tomtits. It would have been an afflictive sight to witness the numerous friends of this patriotic band, shaking them affectionately by the hand and pronouncing their blessings and benedictions, had they been enlisted in their country's cause, to repel invasion, or battle with a foreign foe; but knowing the character of their enterprise, the feeling inspired was anything but one of admiration or even sympathy.
Captain Jackson embarked his company, cannon, wagons, arms and ammunition on board the Keystone, and soon after she was on her way. Opportunities now occurred for conversation with the volunteers. Very few of them had any definite idea of the nature of the enterprise in which they had embarked. The most they seemed to understand about the matter was, that they were to receive so much per them for going to Kansas to hunt and kill abolitionists. What this latter word meant they could not clearly define. They had been informed that the abolitionists were enemies to Missourians, some of whom had been killed, and they were hired to avenge their deaths. More than this they neither knew nor cared to know. A vague notion prevailed among them that whatever an abolitionist was, it was a virtue to kill him and take possession of his property. They seemed to apprehend no danger to themselves, as they had been told the abolitionists would not fight; but being overawed by the number and warlike appearance of their adversaries, would escape as rapidly as possible out of the Territory, leaving behind them any quantity of land, horses, clothing, arms, goods and chattels, all of which was to be divided among the victors. They crowded around Governor Geary, wherever he might chance to be, eager to ask questions, volunteer advice, and ascertain satisfactorily, whether, in their own chaste phrase, he was "sound on the goose." One, more importunate than the rest, and who was a sort of spokesman for his companions, having made sundry efforts to receive convincing proofs of the latter-named fact, very knowingly remarked, after putting an unusually large plug of tobacco into his mouth, and winking to those around him, as though he would say, "I'll catch him now; just listen."-
"Wal, Govner, as yer gwoin to Kanzies to be govner, I hope ye'll not do what Reeder done."
The Governor very quietly asked, "What was it that Reeder did?"
"Whoy," said the inquisitor, breathing less freely, and shifting the plug of tobacco to the opposite side of his huge jaws, as if to awaken a new thought, - "whoy, Reeder, you see - Reeder, he - wall, Reeder, he didn't do nothin'."
The following description of the Border-Ruffian is also by Dr. Gihon; It is the best I have been able to find:
Imagine a man standing in a pair of long boots, covered with dust and mud, drawn over his trousers, the latter made of coarse, fancy-colored cloth, well soiled; the handle of a large bowie-knife projecting from one or both boot-tops; a leathern belt buckled around his waist, on each side of which is fastened a large revolver; a red or blue shirt, with a heart, anchor, eagle or some other favorite device braided on the breast and back, over which is swung a rifle or carbine; a sword dangling by his side; an old slouched hat, with a cockade or brass star on the front or side, and a chicken, goose or turkey feather sticking in the top; hair uncut and uncombed, covering his neck and shoulders; an unshaved face and unwashed hands. Imagine such a picture of humanity, who can swear any given number of oaths in any specified time, drink any quantity of bad whisky without getting drunk, and boast of having stolen half a dozen horses and killed one or more abolitionists, and you will have a pretty fair conception of a border-ruffian as he appears in Missouri and in Kansas.
While Captain Jackson's company was being embarked at Glasgow a boat came down the river bearing Governor Shannon. The boat stopped and the two Governors met. One was hurrying out of Kansas, pursued by avengers; the other hurrying in, to be pursued out in the same manner a little later. They had time for a short interview. It is described by Dr. Gihon:
The ex-Governor was greatly agitated. He had fled in haste and terror from the Territory, and seemed still to be laboring under an apprehension for his personal safety. His description of Kansas was suggestive of everything that is frightful and horrible. Its condition was deplorable in the extreme. The whole Territory was in a state of insurrection, and a destructive civil war was devastating the country. Murder ran rampant, and the roads were everywhere strewn with the bodies of slaughtered men. No language can exaggerate the awful picture that was drawn; and a man of less nerve than Governor Geary, believing it not too highly colored, would instantly have taken the backward track, rather than rush upon the dangers so eloquently and fearfully portrayed.
Governor Geary arrived at Leavenworth on the morning of September 9th. He found the town under military control. At Fort Leavenworth he saw refugees seeking the protection of the military, and handbills warning them to depart on the following day. They were Free-State people fleeing from the mobs of Ruffians pouring into Kansas from Missouri on the call of Acting-Governor Woodson. Governor Geary found no abatement in the outrages then being perpetrated on the Free-State people. He believed it his duty to report conditions to the President and wrote a letter, from which the following extracts are taken:
I find that I have not simply to contend against hands of armed ruffians and brigands, whose sole aim and end is assassination and robbery; infatuated adherents and advocates of conflicting political sentiments and local institutions, and evil-disposed persons actuated by a desire to obtain elevated positions, but, worst of all, against the influence of men who have been placed in authority, and have employed all the destructive agents around them to promote their own personal interests at the sacrifice of every just, honorable, and lawful consideration.
I have barely time to give you a brief statement of facts as I find them. The town of Leavenworth is now in the hands of armed bodies of men, who, having been enrolled as militia, perpetrate outrages of the most atrocious character under the shadow of authority from the Territorial Government.
Within a few days these men have robbed and driven from their homes unoffending citizens, have fired upon and killed others in their own dwellings, and stolen horses and property, under the pretense of employing them in the public service. They have seized persons who had committed no offense, and after stripping them of all their valuables, placed them on steamers and sent them out of the Territory.
. . . . . . . . . . . . . . . . .
In isolated or country places no man's life is safe. The roads are filled with armed robbers, and murders for mere plunder are of daily occurrence. Almost every farmhouse is deserted, and no traveler has the temerity to venture upon the highways without an escort.
A paragraph in his farewell to the people of Kansas throws additional light on the conditions existing in Kansas when he arrived to take charge of the government:
Desolation and ruin reigned on every hand; homes and firesides were deserted; the smoke of burning dwellings darkened the atmosphere; women and children, driven from their habitations, wandered over the prairies and among the woodlands, or sought refuge and protection even among the Indian tribes.
The Governor set out for Lecompton on the 10th of September. On the road he detected one member of the bogus Legislature at the head of a band of robbers, coming upon them shortly after they had robbed the store and postoffice at the Stranger Crossing. He arrived at eleven o'clock.
This town of Lecompton he found "debased to a lamentable degree. It was the residence of Sheriff Jones (who was one of the leading members of the town association), and the resort of horse-thieves and ruffians of the most desperate character. Its drinking saloons were infested by these characters, where drunkenness, gambling, fighting, and all sorts of crimes were indulged in with entire impunity."
The inhabitants of the place immediately volunteered to give the Governor information. He was told that all the crimes committed in the Territory were rightly chargeable to the Free-State men. He was not convinced that that was true. He issued an address, in which he counseled reason, and asking that all bloodshed be stopped. He issued two proclamations, one disbanding the "Kansas militia" called out by Acting-Governor Woodson, and the other directing the enrollment of the lawful militia of the Territory. The Adjutant-General of the Territory was one H. J. Strickler. The Governor gave him strict orders on the 12th of September to disarm and disband the "Kansas militia." Notwithstanding, the officials of the Territory, including Strickler, wholly disregarded these orders, and those who should have been in the field hung around Lecompton in open defiance of the Governor.
Woodson kept the Governor in ignorance of his "open insurrection and rebellion" proclamation, and proceeded about his duties of Secretary with such complacency, affability, suavity, and withal bore such an air of confident satisfaction, that the Governor was for the moment deceived as to the magnitude of the storm gathering along the borders of Missouri. The studied contempt and disobedience of the militia officers made it necessary for Governor Geary to take steps to ascertain for himself the true state of affairs in the part of the Territory bordering on Missouri. He now began to realize the significance of the warning he had received at the hands of the Ruffians while in Jefferson City, to the effect that if he dared to interfere with the Law and Order party in its set plans to exterminate the Free-State party in Kansas he would be assassinated. He suspected treachery in the official circles at Lecompton, and not only did this develop, but contempt for the Governor and his orders manifested itself from the first. He reprimanded the militia officers for their disregard of his orders, and dispatched such messengers as he could repose confidence in with instructions to ascertain and report the condition of affairs along the border.
Before daylight on the morning of September 13th the true condition of affairs began to come to the Governor's knowledge. William A. Heiskell, commanding the First Brigade of the Southern Division, Kansas Militia, with the rank of Brigadier-General, reported by special courier that in pursuance of Acting-Governor Woodson's proclamation he had at the time of the writing of his message (September 11), at Mission Creek, eight hundred men, "who are now in the field, ready for duty, and impatient to act." An hour later a second courier arrived, suffering from extreme exhaustion as the result of having ridden a horse almost to death in his haste to have the sanction of the Governor conveyed to the gallant commander of the Ruffians, who were "impatient to act." The second dispatch of the valiant Heiskell, who doubtless expected proper commendation for such manifest diligence, stated, "I now report one thousand men as Territorial militia, called into the field by the proclamation of Acting-Governor Woodson. "
The invasion of Kansas progressed as favorably as the Pro-Slavery leaders could expect. By the 15th of September there were twenty-seven hundred men surrounding Lawrence, under the command of Atchison, Stringfellow, Reid, and others. The number of volunteers the Free-State men were able to assemble to oppose this army of invasion did not exceed three hundred. Brown was offered the command of these, but declined. He preferred to fight in the ranks. But he was looked upon as the most capable military man present, and the people relied upon him for their safety should they be attacked. Brown assembled them one afternoon and addressed them as follows:
Gentlemen: It is said there are twenty-five hundred Missourians down at Franklin, and that they will be here in two hours. You can see for yourself the smoke they are making by setting fire to the houses in that town. Now is probably the last opportunity you will have of seeing a fight, so you had better do your best. If they should come up and attack us, don't yell and make a great noise, but remain perfectly silent and still. Wait till they get within twenty-five yards of you; get a good object, be sure you see the hind sight of your gun, - then fire. A great deal of powder and lead and very precious time is wasted by shooting too high. You had better aim at their legs than at their heads. In either case be sure of the hind sights of your guns. It is from the neglect of this that I myself have so many times escaped; for if all the bullets that have been aimed at me had hit, I should have been as full of holes as a riddle.
As the Adjutant-General of Territorial militia had failed to disband these troops, the Governor resolved to do so himself, and he accordingly wrote a dispatch stating to Heiskell that he would see him on the "following day," i. e., on the same day as soon as daylight would permit him to start, or, if he could not come, the Secretary of the Territory or the Adjutant-General would be sent.1 This dispatch was not completed before the Governor received a communication from one of his confidential messengers conveying the intelligence that Lawrence was threatened by an armed force then marching against it from Missouri, three hundred of which had been seen. The Governor took three hundred United States troops under the command of Colonel P. St. George Cooke, together with four pieces of artillery, and with this force arrived in Lawrence at sunrise on the 13th. He found the city fortified and defended by three hundred men. He addressed the people at considerable length, and was cheered. He was the unexpected friend, the people of Lawrence having ceased to regard the Territorial officers as having any other desire than to "wipe them out," or at least as being entirely willing to permit it to be done. As the danger was not so imminent as had been supposed, the Governor and troops returned to Lecompton.
A crowd of fugitives greeted Governor Geary upon his return to the capital. These people were from the vicinity of Hickory Point, in Jefferson county, where the Free-State forces were operating under the command of Captain Harvey by orders of Lane, who had retired to Nebraska. He had ordered Harvey to cease hostilities at the same time, but the order had not reached Harvey in time to prevent some operations by his forces after the arrival of the Governor. The Governor directed Colonel Cooke to capture or disperse this force. On the 15th the United States troops came upon Harvey's men and captured them; they numbered one hundred and one men, and were commanded by Captain Bickerton. Harvey was absent, and escaped capture. They were taken to Lecompton and by Judge Cato (a villain in ermine) committed on a charge of murder in the first degree. A murderer in cold blood, if he belonged to the Law and Order party, was always admitted to bail on bonds known to be absolutely worthless by this Jeffreys and his equally corrupt associate and superior, Lecompte. It could not but have been known that many of these prisoners were innocent of any crime, but bail was denied in each case. They were confined in a tumbledown house in the outskirts of Lecompton, and guarded by militia. Here they were starved, insulted, almost frozen in winter, and overrun with vermin. They fell into the hands of one man who did the best he could for them. He was a humane Kentuckian named Hampton.2 For his kindness to these prisoners his removal from office was demanded by the chief Ruffians, Sheriff Jones, Surveyor Calhoun, and his chief clerk, one MacLean. The Governor commended him, but the Ruffians found a way to deprive him of his office.
---
1It was then one o'clock A. M., and the Governor meant that he would start at daylight or before. As he arrived at Lawrence at sunrise, he must have set out some hours before daylight.
2 Levi J. Hampton was born in Boyd County, Kentucky. The old family homestead is on the Big Sandy River, three miles above Catlettsburg. This Hampton family is a part of the distinguished family of the same name so widely scattered in the South. Levi J. Hampton was cousin to the mother of this author, whom he visited before starting to Kansas. His family was quite wealthy and owned slaves. The writer's mother was an Abolitionist. Her parents were Virginians, and her ancestors, the McCartys and Elzeys, had been vestrymen with Washington at the old Episcopal Church, at Alexandria, as a reference to Sparks' Life of Washington will show. Her immediate ancestor, Richard McCarty, enlisted in Captain Slaughter's Company, in Culpeper, to go on Braddock's Expedition. That company is still in existence at Culpeper, with an unbroken succession. Richard McCarty was its Captain in the Virginia line in the Revolution. Notwithstanding this relation with the first families of Virginia, she desired to see freedom in all America. When Levi J. Hampton visited her to say good-bye before going to Kansas to help force slavery on that Territory, she urged him to remain at home, saying that it was monstrous to engage in such an enterprise. Hampton, however, was determined to go to Kansas in the interest of slavery. There are numerous references to him and his actions in the early newspapers of Kansas, and they are all complimentary. At one time he led a force against a company under the command of General James H. Lane. Hampton had succeeded in passing the Free-State lines, and found Lane lying on some straw under a wagon. He had a personal acquaintance with Lane. Lane demanded to know what Hampton was doing at that time in his camp. Hampton replied that he had some thoughts of killing Lane. Lane came out and stood by Hampton and said, "No man can avoid assassination. To assassinate me, Hampton, would not stop the Free-State movement. No one man is essential to a great cause. I believe it would be better for you to take your men, go on back to your camp, and endeavor to fight this war out on the principles of war." Hampton felt humiliated that he had entertained any such purpose, and so informed Lane. He went back to his camp and from that day determined to abandon the Pro-Slavery cause as soon as he could find an opportunity to leave Kansas. When he returned to Kentucky he made the family of this author a visit and reported the facts above stated, among a great many others, and he said to his cousin that she had been right and that he had been wrong. It had taken the trip to Kansas and the participation in the troubles to convince him that she was right. His views were completely changed. When the Civil War came on, he enlisted in the 39th Kentucky Volunteers and was made Quartermaster of the regiment. He was taking some supplies up the Big Sandy River when his detachment was attacked at Wireman's Shoal, about ten miles above Paintsville, by a Confederate force under Jenkins. The Union force was small and most of it was captured. Hampton had received an injury to one of his ankles a day or two before and could not get away. He sat down on the hillside and surrendered, but when the Confederates came up they disregarded his surrender and shot him dead.
A Standard History of Kansas and Kansans , written and compiled by William E. Connelley, transcribed by Carolyn Ward, 1998.