| | | |
| --- | --- | --- |
| 1918 KANSAS AND KANSANS | Chapter 37 | Part 2 |
It was long believed that Hamelton was assassinated by Captain Ely Snyder. Snyder himself believed so. He trailed him for some years and finally shot some man believing it was Hamelton. In a letter written by General John H. Rice to Joel Moody, dated Fort Scott, Kansas, July 7, 1890, General Rice Says:
I became acquainted with Dr. Thomas Hamelton, in 1847. He was an eminent Physician. As a Physician and scholar he stood far above the average of his class. His sons were:
| | |
| --- | --- |
| Charles A. Hamelton. | Born about 1822. |
| George P. | " " 1826. |
| Algernon S. | " " 1828. |
Dr. Hamelton, the father, died in Rome, Georgia, in 1857.
In 1854 Milt McGee, of Kansas City, came to Georgia soliciting money to make Kansas a slave State. He made a speech at Cassville. Dr. Thomas Hamelton gave him his check for $1,000.00.
Chas. A. Hamelton was a Planter (as they were called).
Algernon never followed any special pursuit.
Capt. Charles A. and George Peter came to Kansas to carry out the Dr.'s sentiments (I do not remember exact date), I guess about 1855 - What they did in Kansas you know better than I do.
They left Kansas & returned to Georgia in fall or winter 1857 & 8 I think. I was practising law in Rome, Georgia, in 1858, and at Sept. term of court in 1858 Capt. Chas. A. Hamelton came to me and said he was bankrupt, insolvent, and under arrest, then for debt. (Imprisonment for debt was in vogue then) and, we had a State Insolvent law, similar to the last Nat. Bankrupt law. Under certain circumstances the Debtor could file a schedule of property and take an oath that released him from arrest.
I filed proceedings for him - filed his schedule - as well as I remember now contained one item, a watch. And the court on my motion ordered the oath administered and Hamelton released. When done, he says to me. "I will see you at your office directly after dinner (not a word had been said about the fee). About one o'clock he came into my office, and said: "General, you did me a great favor, and I am free, and now I start again in the world (and he shed tears freely); here is all I can give you as compensation for your trouble. (And he threw down on my table four $20 gold pieces.) I am going to Texas, start in an hour, goodbye." That is the last I ever saw or heard from him, except from hear say. He, however, went to Waco, Texas; lived there until 1861. Raised a Regiment and joined Lee in Va. Lived through the War - returned to Texas; lived there till about 1878, when he returned to Georgia. Lived in Jones county, where the old Dr., his father, was born, and died about 1881 of appoplexy. He stood 5 feet 10 inches - weighed about 180 pounds - of a florid complexion. Was intellectually and physically an active man and one of the handsomest men I have ever seen.
George Peter Hamelton, on returning from Kansas, went to Mississippi, where he practiced medicine and died there (so I have heard).
Algernon S. Hamelton went into the Confederate Army and was killed in one of the Va. battles.
Old Dr. Hamelton was my father-in-law's family physician, and I knew them all well.
They were a very "high strung" family, aristocratic, rich, haughty, and domineering.
In June following this massacre, John Brown erected a fort on the Snyder claim and remained there several months. He made a raid into Missouri in which his force was divided into two bands. A number of slaves were liberated and later carried out to Canada. This raid was the occasion which caused the writing of the famous communication known as "Old Brown's Parallels," as follows:
OLD BROWN'S PARALLELS
TRADING POST, KANSAS, JANY. - , 1859.

Gents: You will greatly oblige a humble friend by allowing me the use of your columns while I briefly state Two parallels in my poor way. Not One year ago Eleven quiet citizens of this neighborhood (Viz.) Wm. Robertson, Wm. Colpetzer, Amos Hall, Austin Hall, John Campbell, Asa Snyder, Thos. Stilwell, Wm. Hairgrove, Asa Hairgrove, Patrick Rossi, and B. L. Reed, were gathered up from their work, & their homes by an armed force (under One Hamilton) & without trial; or opportunity to speak in their own defense, were formed into a line & all but one shot, Five killed & Five wounded. One fell unharmed, pretending to be dead. All were left for dead. Now I inquire what action has ever since (the occasion in May last) been taken by either the President of the United States; the Governor of Missouri; the Governor of Kansas or any of their tools; or by any proslavery or administration man?

Now for the other parallel. On Sunday, the 19th of December, a Negro man called Jim came over to the Osage settlement from Missouri & stated that he, together with his Wife, Two Children, & another Negro man were to be sold within a day or Two & beged for help to get away. On Monday night of the following day Two small companies were made up to go to Missouri & forcibly liberate the Five slaves, together with other slaves. One of those companies I assumed to direct. We proceeded to the place, surrounded the buildings, liberated the slaves; & also took certain other property supposed to belong to the Estate. We however learned before leaving that a portion of the articles we had taken belonged to a man living on the plantation as a tenant & who was supposed to have no interest in the Estate. We promptly restored to him all we had taken so far I believe. We then went to another where we freed Five more slaves, took some property; & Two white men. We moved all slowly away into the territory for some distance & then sent the White men back, telling them to follow us as soon as they chose to do so. The other company freed One female slave, took some property; & as I am informed killed One White man (the master) who fought against the liberation.

Now for a comparison. Eleven persons are forcibly restored to their natural & unalienable rights with but one man killed; & all "Hell is stirred from beneath." It is currently reported that the Governor of Missouri has made a requisition upon the Governor of Kansas for the delivery of all such as were concerned in the last named "dreadful outrage;" the Marshall of Kansas is said to be collecting a posse of Missouri (not Kansas men) at West Point in Missouri, a little town about Ten Miles distant, to "enforce the laws," & and all proslavery conservative Free State dough faced men & administration tools are filled with holy horror. Respectfully Yours,


JOHN BROWN.1
In the La Cygne Journal in the year 1895, John A. Hall published an account of the Marais des Cygnes massacre. Concerning the occupancy of the Snyder claim by John Brown, Mr. Hall has this to say:
Charles Crystal Hadsall, who became an associate of old John Brown a few days after the massacre, was born in Northmoreland, Luzerne County, Pennsylvania, April 14, 1825. He is of Dutch ancestry. He removed to Illinois in 1846, made a trip to California in 1852 and came to Kansas in May, 1858.
Hadsall came down through Bates County, Missouri, where he fell in with one of the assessors named "Bushon," who told Hadsall if he would help him write out his report he would assist him in the selection of a claim which Hadsall was looking for, so that after a day or two they were riding around over the country together. At one place they met a fellow named "Matlock," who was boasting about how he and some friends had "killed a lot of abolitionists" a few days previous over in Kansas. The fellow's details of the crime were revolting to Hadsall and he made notes of what he heard.
The next day they were at the house of Thomas Francis, where they met Captain Weaver and Eli Snyder, the blacksmith. Assessor Bushon was visibly excited at meeting Snyder and soon left. Hadsall then told Captain Weaver about Matlock and where he could be found, but Weaver paid no attention to him, but on leaving invited Hadsall to accompany him over in Kansas, and on the way told Hadsall he had already sent men after Matlock and sure enough they had him a prisoner at the Snyder place when they arrived. Mr. Hadsall cannot tell the exact date but distinctly remembers that the ground was still red with the blood of the victims. It is reliably fixed at about the last week in June. He says that John Brown had already begun the erection of the fort and had purchased the claim from Snyder. Brown had a company organized and had the place maintained in regular military order. From that on Hadsall became a daily associate of Brown, and had every opportunity to learn of his doings. Above all he admires Brown's military genius, as in fact do all those who were with him in those days. He showed great skill in the construction of the fort, and at the expense of tediousness his description is related. The site of it was in front of where Snyder had his shop. It was in a little cove in the south end of the mound which extended back about a hundred yards from the road at the base of the mound. At the head of this was a spring of good water and all around rather steep slopes. About fifty feet from the east, north and west wall of the little enclosed valley Brown built out of hewed logs a two-story house, 18 by 20 feet square, with a flat roof. There were numerous port holes on each floor which made it easy to observe the approach of anything from any direction. To the height of a man's shoulder on the outside a stone wall three feet thick had been constructed and the water from the spring ran through the house and into a pit three feet deep at the southwest corner on the outside, at the foot of a fine oak tree. Brown usually took water from this place and was proud of the arrangement. At the east end of the fort was another handsome spreading oak under which, during the summer he cooked and ate and carried on the business devolving upon him as commander. Nearly all of his followers were there at first, among them John H. Kagi, Stevens, Tidd, Leeman Anderson, several of whom were afterward with him and died with him at Harper's Ferry. So far as the claim and the fort could belong to any one it belonged to old John Brown individually by purchase from Eli Snyder, several eminent historians to the contrary notwithstanding. Brown busied himself with the preparations of manuscripts and as Hadsall sat and talked with him he asked Brown what his plans for the future were. For answer Brown passed over to him the manuscripts and upon perusal Hadsall found them to be an exhaustive treatise on military science and rules of war. It was a high moral code in its provision as to the treatment of conquerors enemies and required soldiers to abstain from pilfering and robbery, but permitting them to take their sustenance from the enemy during active war. Beyond allowing Hadsall to read his writings Brown never communicated his plans to him. At times he would entertain them with descriptions of great battles of the world and the strategies used by successful commanders. Brown seldom had more than a half dozen men with him at the fort, but all along the Missouri line sentries were posted and men reported to him at various hours. No man was permitted to enter the territory without satisfactory evidence of good intentions. Frequently prisoners were brought in and a court martial assembled at which old John Brown sat as President. If the prisoner was adjudged all right he was released, but if there was a doubt about him he was marched to the Missouri line and told to travel east. At one time an ignorant squatter from Missouri was brought in and after it was decided he was harmless Brown invited him to dine with them and asked him if he would have a glass of "abolition milk," which the fellow said he would, but showed that he was suspicious by the way he tasted it, and remarked, "Why, that 'ere tastes like cow's milk." Brown laughed and told him it was cow's milk from James Montgomery's cows.
Things went on this way till July 25, when Snyder proposed to Hadsall that he purchase the place from him and say nothing to Brown about it. Hadsall expressed some surprise and told Snyder he would do nothing of the kind, and soon after told Brown of Snyder's proposition to him. On that occasion Brown showed the only anger that Hadsall had ever witnessed, but walked away without saying much. Shortly after he told Hadsall that he was content for him to have the place, but Brown wanted to reserve all privileges of military occupation at his pleasure. It seemed that Brown had not made all his payments to Snyder, who in a way not unusual to him was trying to get some money from Hadsall. That day Brown wrote out and signed the bill of sale to Hadsall, and signed it in his own name, and Snyder, after turning over to Hadsall his three yoke of oxen, cows, wagons and plows, received six hundred dollars from Hadsall and added his quit claim to the bill of sale. Hadsall lost his precious bit of paper during the war.
Along the latter part of the summer of 1858 Brown's sentinels were withdrawn and his company returned to their homes. Brown then was at the place only at intervals, but Mr. Hadsall remembers he was often there after cold weather. During his absence he was at Montgomery's fort and in December was down on the Osage in Bourbon County.
During Brown's stay at the Snyder place Hadsall was impressed with the utter absence of selfishness or egotism or vain-gloriousness in Brown. He was modest and unassuming. All his orders were more like requests and implicitly obeyed. He frequently visited Austin Hall, Dr. Massey and others, and was well known to them, much of his talk being very prophetic of subsequent events. Among strangers he generally passed by an assumed name, usually as Captain Walker, but his men addressed him as "Captain Brown." It was in Dr. Massey's house, the old Jarieu trading post, that he wrote his famous "parallels" dated January 3, 1859, as is proved by the testimony of George A. Crawford. This great character-one of the world's heroes, left a reputation here without the stain of a single act of wrong-doing.
OTHER TROUBLES IN SOUTHEASTERN KANSAS
In the spring of 1856 a colony of thirty men from South Carolina settled in Bourbon county under a leader named George W. Jones. This colony came into Kansas by direction of a Southern Emigrant Aid Society. Upon their arrival in the Territory they were very agreeable in their conduct. They visited the Free-State settlers and ascertained from them, their names, the locations of their claims, and everything which would enable them to later dispossess these first settlers. In July the attitude of the members of the colony changed. They caused the arrest of the Free-State settlers, who were taken to Fort Scott and there advised to leave the Territory if they had any regard for their personal safety. In this way the Free-State men were driven out and the Pro-Slavery men put in possession of their claims.
In August a party of Texas Rangers arrived at Fort Scott. These "Rangers" joined a party under command of Captain William Barnes, which numbered, with their addition, about one hundred and fifty. They marched north looking for adventure and for the purpose of having "some fun." They camped on Middle creek, in Linn County, some eight miles south of Osawatomie, where they were attacked by Captains Anderson, Cline, and Shore, and dispersed. They fled in a mad rout toward Fort Scott. They burst in upon Fort Scott about midnight yelling, "The Free-State men are upon us! The buildings will be burned!" A panic ensued. Many of the citizens fled the town. A large number of them, under command of Colonel H.T. Wilson, took refuge in the cabin of one Brantly, where they spent the remainder of the night in prayer. The Free-State men did not appear, and the panic-stricken citizens returned to their homes. They felt, however, that it would be best to send their families away. George W. Jones owned a large wagon, called Noah's Ark No. 2. Into this he loaded all the women and children who had no other means of escape at their command, and set out for Missouri, his wagon being drawn by four yoke of oxen.
In 1857 the Free-State men who had been expelled the previous year began to return. They came in increased strength, and believed themselves strong enough to maintain their rights. They organized a society known as the "Wide Awakes," which was to offset a society known as the "Dark Lantern Lodge," maintained by the Pro-Slavery men. Leaders in the Wide-Awakes were J.C. Burnett, Captain Samuel Stevenson, Captain Bain, Josiah Stewart, and Benjamin Rice. Having completed their organization, they notified the Pro-Slavery men that their claims must be vacated and restored to them. Many of the Pro-Slavery men abandoned the claims, but others had to be forced out. The incident usually cited in historical works in these particular difficulties is that of Stone against Southwood. Southwood was a minister of the Methodist Episcopal Church, South. He had been placed in possession of Mr. Stone's claim and house. He refused to restore the premises to Mr. Stone, whereupon the Free-State men erected him a cabin near that occupied by Southwood. Into this cabin Stone moved with his family, intending to file on the claim when the land office should be opened. Both families secured water from the same well, which caused a dispute, and Mrs. Southwood assaulted Mrs. Stone. Upon report of this affair to the Free-State men, they notified Southwood to leave the premises by a certain time. On the day before that fixed for Southwood's departure, his Pro-Slavery friends, to the number of two hundred, assembled at the house with the intention of expelling Stone from the claim. The Free-State, men assembled to protect Stone. They were attacked at nightfall by the Pro-Slavery party, who did not succeed in defeating the Free-State men. They left for Fort Scott threatening to return with reinforcements and hang every Free-State man found on the claim. The Free-State men rallied reinforcements until they numbered about sixty men. Southwood's friends returned from Fort Scott and again attacked, but were defeated. Southwood then left the claim in the possession of Stone. Occurrences similar to this were numerous.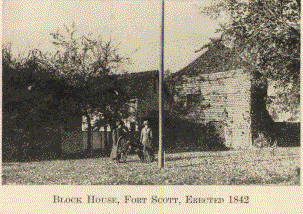 BLOCK HOUSE, FORT SCOTT, ERECTED 1842
In these claim contests the Pro-Slavery men appealed to the District Court at Fort Scott, where Joseph Williams was Judge. He was a rabid Pro-Slavery man, and every claim contest submitted to him was decided in favor of the Pro-Slavery claimant. Frequently the Free-State man was indicted on some trumped up charge, arrested, refused bail, and imprisoned. This state of affairs was intolerable to the Free-State settlers. They appealed to Montgomery, who decided to terminate the procedure followed in the court of Judge Williams. A Pro-Slavery prisoner was treated with great rigor and permitted to hear Montgomery inform some of his followers that he intended to march on Fort Scott and release the Free-State prisoners. When this prisoner was released by Montgomery he appeared before Judge Williams and informed him that Montgomery would soon be down upon the town with a band of Free-State men. Judge Williams immediately had the Free-State prisoners brought before him, when he released them without bail.
Being entirely dissatisfied with the conduct and decisions of the court of Judge Williams, the Free-State men decided to organize a Squatter Court in opposition. Dr. Gilpatrick of Anderson county was made Judge of this court and Henry Kilbourn was made the Sheriff. This court was as partial to the Free-State men as that of Judge Williams was to the Pro-Slavery men. It was determined by the authorities at Fort Scott to break up the court. Deputy United States Marshal Little was dispatched with a posse from Fort Scott, on the 12th of December, 1857, to capture the court, but his attempt was a failure. He determined to try again, and on the 16th he left Fort Scott with about fifty men. The court was held in the house of Captain Bain. When Little appeared in sight, a committee consisting of D. B. Jackson, Major Abbott and General Blunt, was sent out to meet him, bearing a flag of truce. Little was in a very bad humor, and informed the Free-State committee that if the court did not surrender in thirty minutes, he "would blow them all to hell." The Free-State committee returned to the fort, as Bain's house was called, and prepared for defense, knocking out the chinking between the logs of the cabin to secure port-holes. The Free-State settlers having shot, guns were stationed inside, and those who had rifles were placed outside, behind trees. Major Abbott then proclaimed that if Little advanced beyond a certain point he would be fired on. Little did not take this warning seriously, and advanced, when the Free-State men fired a heavy volley. The Marshal's posse returned the fire and retreated about half a mile. Here they took account of what had happened and found that four of the number were wounded and that B.F. Brantley's horse had been shot through the neck. Little determined to make another attack upon the fort, and called for volunteers for that purpose. Ten men stepped out and followed him in the second advance, when they were again fired on. The Marshal then retreated to Fort Scott. He returned on the following day with about one hundred and fifty men. When he was approaching Fort Bain, William Hinton informed him that "his birds had flown." Cautiously approaching the fort, the Marshal found this to be true. The court, during the night, had retreated to the Baptist Church at Danford's Mill, where Free-State settlers to the number of three hundred assembled. They were not molested by Little and returned to Bain's house on the following Sunday. They soon disbanded and returned to their homes.
General James H. Lane was directed to go to the aid of these Free-State settlers. He did so, and the report of his campaign was made to the Territorial Legislature. It is here set out:
HEADQUARTERS KANSAS MILITIA,
LAWRENCE, JAN. 15, 1858.
To his Excellency the acting Governor of Kansas Territory, the President of the Council, Speaker of the House of Representatives of the Legislative Assembly:
Gentlemen: - In the discharge of duty, I submit the following report on a subject which has excited much interest and comment. At the time of my election, by your honorable body, as Major General of the Militia, news was rife, as you will remember, of a disturbance in Bourbon county.
Immediately after the adjournment of your special session, I repaired to the scene of action, sending Generals Phillips and Plumb in advance, to inform the people that a force of U.S. troops were moving in that direction. Accompanied by Gens. Stratton, Whitman, Shore and Leonhart, I arrived at Sugar Mound, where the people were encamped, under the command of Col. J.B. Abbott, shortly after the messenger. On inquiry, I ascertained that the people had been compelled to take up arms, for these causes and reasons:
Two years ago a man named G.W. Clark, notorious for his connection with the murder of the lamented Barber, organized a band of marauders in Missouri, who invaded that district of the Territory, laying waste the country, driving off the Free-State settlers, plundering and insulting them and their families, and then taking possession of their claims and stock, which they were compelled to leave. During the present summer and autumn a number of the settlers thus expelled from that district, returned, and endeavored, by peaceable means, to recover their rights and property. They were met by writs obtained from unscrupulous and unjust officers, many of them arrested on pretended charges, for offenses which were never committed, and imprisoned at Fort Scott, in cells unfit even for felons to inhabit; in several cases their property was sold at nominal prices, and driven out of the Territory, to defray expenses not yet accrued, and other outrages perpetrated similar to those which drove the people to arms in former periods of our history. During the perpetration of these outrages. Col. Abbott, Dr. Gilpatrick and Rev. J.E. Stewart, who had been ordered there, arrived and proceeded to establish a Squatter's court, for the redress of grievances and the restoration of peace. About the time they closed their sittings, having decided all the cases on the Little Osage, they were assaulted by an armed mob, five times their number, pretending to act under the authority of an U.S. Marshal. The assault was successfully worsted-several assailants killed and wounded, and the remainder driven back to their dens in Missouri. It was immediately after this conflict that I arrived at Sugar Mound, proceeded at once to enroll the people under your act of Dec. 17th; sent out scouting parties in all directions, informing the people that we were to protect all actual settlers, without reference to their political opinions. We were kindly received by all, and our authority cheerfully recognized.
On the evening the companies were to be disbanded, our scouts brought news that a company of U.S. troops were moving upon us with the avowed intention of attacking us. We immediately took position, intending, if possible, with honor, to avoid a conflict, but prepared to meet it successfully if forced upon us. We remained in this position, thus taken, until we ascertained that the U.S. troops had marched to Fort Scott, and had received written assurances from Judge Williams that the Free State prisoners would be protected and treated kindly. Peace being restored we disbanded the command, retaining two companies in the field, some thirty men, with orders to protect the inhabitants. On my return to Lawrence, a writ from Judge Miller, Probate Judge of this county, was placed in the hands of Captain Miller, of my command, for the arrest of the judges and clerks of the election in Johnson county, who had participated in the frauds committed at the election held on the twenty-first of December. As the prompt service of the writ was deemed important, I thought incumbent to go in person with the command. The duty was discharged and the command disbanded.
These expeditions have been attended with some expense, a full and concise amount of which has been kept, and will be transmitted, with vouchers, to you, from the Quartermaster's and Commissary's Departments.
As the object of the organization, provided for in the law of December 17th, was the protection of the people of Kansas, and as the action had was indispensable in that direction, it is hoped it will meet your hearty approval.
Respectfully,
J.H. LANE,
Maj. General.
Other conflicts occurred during the winter. They terminated very much as had those already described. Montgomery's men became known as "Osages" because their operations had been largely confined to the country drained by the Little Osage. The people of Fort Scott were in constant terror from rumors that the Osages were likely to attack the town. On the 13th of December, at a public meeting, a committee on Resolutions was appointed. This committee reported at an adjourned meeting held in the afternoon the following resolutions:
Resolved, That the Sheriff and Deputy Marshal be requested to make affidavits to the facts touching the matter now under consideration and that the same be conveyed by express, accompanied by a communication to the Governor of the Territory for military aid.

Resolved, That a committee be appointed, consisting of five persons, to be denominated a "Committee of Vigilance," under whose authority and directions a military organization shall be had, with a view to aid when necessary the civil authorities in the execution of warrants, and any other legal process, and in the due execution of the laws; and it shall be the further duty of the committee Jo organize a night patrol for the security of our town, its citizens and their property.
Pursuant to the authority conferred by the passage of the resolutions, a vigilance committee was appointed consisting of H.T. Wilson, B. Little, T.B. Arnett, George A. Crawford, and J.W. Head. An appeal was made to the Territorial Governor, F.P. Stanton. This appeal was made through the Sheriff as follows:
To His Excellency, F.P. Stanton, Acting Governor of Kansas Territory:
Sir: As Sheriff of Bourbon County, I feel it my duty to report to you that, in consequence of an organized and armed resistance to the civil authorities by a body of armed men in this county aided and assisted by men equally lawless, I am unable to serve processes, make arrests, or otherwise perform my official duties; and I have the honor to ask that you have a body of United States troops sent to this point to aid me in enforcing the laws, and to give quiet to the disturbed state of things in this region. Herewith I send my affidavit and the concurrent statement of Marshal Little.
JOHN S. CUMMINGS,
Sheriff of Bourbon County.
---
1 This is given just as Brown wrote it. The original is in the library of the Kansas Historical Society. It was first published in the New York Tribune and the Lawrence Republican. The original shows some interlineations made with pen and some made with pencil. Mr. Sanborn believes those made with pen were made by Kagi. Mr. E.P. Harris was a compositor in the Republican office when the copy was received. The changes and additions made with pencil, now to be seen on the original, in the library of the State Historical Society, and the changes in orthography, were made by Mr. Harris, as he informed me. He also changed the punctuation. These changes all appear on the original copy in the handwriting of Mr. Harris. The paper as edited by Mr. Harris has been used as the copy of this valuable communication, and may be found in most all the biographies of John Brown. By comparing one of those with this the additions will readily appear.
The original paper bears some evidence that it was contemplated that some one else, probably Kagi, should make additions to it. There are spaces left to be filled if thought necessary; one of these follows the list of victims of the Marais des Cygnes massacre. and another is at the close. The only word in the original not in the copy as printed herein is the word "party." This is the last word, and is below the space and next to the signature. There is no connection between it and what precedes it in Brown's handwriting, and it is in his handwriting. Mr. Harris made it a part of the last sentence in the copy as published generally.
A Standard History of Kansas and Kansans , written and compiled by William E. Connelley, transcribed by Carolyn Ward, 1998.