| | | |
| --- | --- | --- |
| 1918 KANSAS AND KANSANS | Chapter 49 | Part 1 |
CHAPTER XLIX
NEHEMIAH GREENE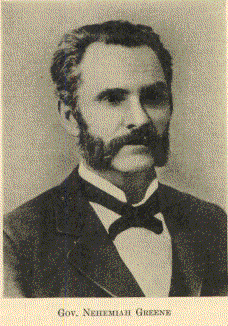 Gov. NEHEMIAH GREENE
[Copy by Willard of Portrait in Library of Kansas State Historical Society]
Nehemiah Greene, the only Kansas Lieutenant Governor to attain the governorship by resignation of his superior, was born in Hardin County, Ohio, March 8, 1847. He was educated in the Ohio schools and at the Wesleyan University. After his graduation he taught school in Logan and Champaign counties.
In March, 1855, he came to Kansas. He settled on a claim in Douglas County. However, as the times were not peaceful nor prosperous, he was almost forced to abandon it. It did not yield a living.
He was admitted to the bar in 1857, and practiced law for two years. At the end of that period he returned to the state of his nativity and there entered the ministry. His sincerity, brilliance, and kindness made him the beloved friend of all his flock.
But, in 1862, when Lincoln called for volunteers, Nehemiah Greene left his church, and became the Lieutenant of Company B, Eighty-fifth Ohio Infantry. In the Civil War, he served under General Cox in his famous West Virginia campaign. He was a brave soldier, and as generous and kind as he was brave. After the West Virginia campaign, he, along with his regiment, was transferred to the Army of the Cumberland, where he served in General William Tecumseh Sherman's army until 1864. He was appointed Major of the One Hundred anl[sic] Fifty-third Ohio, and with them took part in the famous One Hundred Days campaign in West Virginia.
Major Greene was never a strong man physically. His lungs always troubled him, and it was only the undaunted spirit of the man that sustained him in his arduous soldier-life. But in spite of his determination, his failing health finally ended his military career. This came about through the following circumstances.
One hot day, the men of his regiment were compelled to march steadily under the blazing sun. They were loaded heavily with equipment, and Major Greene, his sympathies excited by their plight, tried to relieve them by carrying as many knap-sacks as he could lift. This brought on a violent hemorrhage of the lungs, and left him so ill and exhausted that he was compelled to resign from the army.
In 1865 he returned to Kansas, in the capacity of a minister of the gospel. He was sent to Manhattan by the Kansas Conference of the Methodist Episcopal Church. Here he remained for two years, serving his church faithfully and well.
As the Republican candidate, he was elected Lieutenant-Governor of Kansas in 1866. When Governor Crawford resigned on November 4, 1868, Mr. Greene took the oath of office, and became Governor of Kansas. He held the office a few days over two months. Nothing of very great political importance happened in Kansas during the time.
Governor Greene had in his youth married Miss Ida Leffingwell, of Williamsburg, Ohio. She died in 1870, leaving three children - Glenzen S, Effie, and Alice. In 1873 Governor Greene remarried - to Miss Mary Sturdevant, of Rushville, N. Y. They had two children, Burtis U., and Ned M.
After the election of Governor Harvey, Mr. Greene still retained his interest in political affairs. In 1880, he was elected to the Kansas Legislature. At the end of his service there, he retired to private life. Trouble with his lungs caused him much pain and worry. Though not able to preach often, because of it, many residents of Manhattan and surrounding towns still recall his spirited and witty addresses on public and patriotic occasions.
Governor Nehemiah Greene died at his home in Manhattan, January 12,1890.
A Standard History of Kansas and Kansans , written and compiled by William E. Connelley, transcribed by Carolyn Ward, 1998.