| | | |
| --- | --- | --- |
| 1918 KANSAS AND KANSANS | Chapter 52 | Part 1 |
CHAPTER LII
GEORGE T. ANTHONY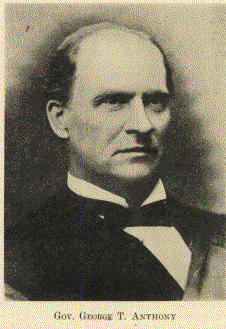 GOV. GEORGE T. ANTHONY
[Copy by Willard of Portrait in Library of Kansas State Historical Society]
George T. Anthony was born on a farm near the town of Mayfield, Fulton County, New York, June 9, 1824. He came of Quaker stock, both his parents being of the Society of Friends. From them he inherited his love of liberty, his unerring sense of justice, his hatred of slavery and all its attendant evils.
When he was but five years of age his father died. He was the youngest of a family of five children, and the mother had a hard time to keep her little ones from want. So he early came in contact with the hardships and serious phases of life.
His youth was spent on a farm. At eighteen he apprenticed himself to a tinner, at Union Springs, Cayuga County. He followed this trade as a journeyman for five years. The necessity of earning his living made his attendance at any regular terms of school an impossibility. His education was acquired during short intervals snatched from his work, when he studied and read to the best of his ability. But though his education lacked the polish and varied accomplishments of a college training, he gathered a broad fund of knowledge, and his intimate acquaintance with the realities of life, with people and their varied problems, deepened his sympathies and give him an insight into human nature that many a graduate lacks.
When nineteen years old he settled in Medina, New York, where he opened a small hardware store. He continued this enterprise for nine years, working fourteen to sixteen hours a day. It was at this time that he met his wife, Miss Rose A. Lyons, of Syracuse, to whom he was married, December 14, 1852. Later he entered the commission business, and in due time was made Loan Commissioner for Orleans County. This position he held for three years.
When President Lincoln issued his call for additional troops, in 1862, George T. Anthony was chosen one of a committee of seven to organize troops in the twenty-eighth District of New York. He threw himself into the work with great fervor, and in four days organized the Seventeenth New York Independent Battery of Light Artillery. He was commissioned Captain of this Battery when it was mustered in, August 26, 1862. He saw continuous active service in the war until June 12, 1865, when the officers and men of the Battery were mustered out. The Battery was noted for its fine appearance and training, and upon its discharge George T. Anthony was brevetted Major of Volunteers for gallant and meritorious service.
Mr. Anthony and his wife came to Kansas in 1865, and located in Leavenworth. There he edited the Leavenworth Daily Bulletin and the Leavenworth Daily Conservative. He subsequently became proprietor and editor of the Kansas Farmer. In this enterprise his broad knowledge of farming stood him in good stead. He held before the farmers a higher standard of home life and recommended a rotation of crops, system in farming, care of machinery and stock, and many other innovations, far in advance of the times.
In December, 1873, he was appointed Assistant Assessor of United States Internal Revenue, and on July 11, 1868, was made Collector of Internal Revenue.
At the expiration of his term Anthony was appointed President of the Kansas State Board of Agriculture, which position he held three years. He was then appointed one of the Board of Managers for the Philadelphia Centennial Exposition, which place he filled with great ability for two years.
In 1876 Anthony was nominated as the Republican candidate for Governor of Kansas, and elected. In his message to the Legislature of 1877 he recommended a reformatory for youths, apart from the penitentiary. Several important acts relating to state institutions were passed at this session of the Legislature.
During the year 1877 the temperance movement advanced rapidly in Kansas. Thousands of persons signed the pledge, and a State Temperance Society was organized. Also the "Woman's Christian Temperance Union." A temperance wave, forerunner of prohibition, was sweeping the State.
Many interesting events of minor historical value filled Governor Anthony's administration. It was during his first year as Governor that the first telephone in the State of Kansas was installed, at Manhattan. A strike of the Atchison, Topeka and Santa Fe Railroad employees became so serious as to demand the presence of troops to subdue it. Governor Anthony sent them immediately to the scene of action and stopped the rioting.
In September, 1878, the Indians on the Western frontier again began hostilities. When they were in the vicinity of Fort Dodge, Governor Anthony appealed to the general government for aid. As this was refused the Governor sent Adjutant General Noble, fully equipped, to protect the threatened districts. After committing a series of outrages the savages were finally subdued. Many were captured, tried in the criminal courts of the State, and punished. This was the last Indian raid in Kansas.
Because of political dissensions, Governor Anthony's candidacy for Governor in 1879 was defeated.
In 1881 he was appointed General Superintendent of the Mexican Central Railroad, which position he held two years. He was elected to the Kansas Legislature in 1885 from Leavenworth County. It was due to his efforts during this session that the National Soldiers Home was located in Kansas. In 1889 the Executive Council of Kansas elected Governor Anthony a member of the Board of Railroad Commissioners. Three years later he was re-elected. He was appointed Superintendent of Insurance by Governor Morrill in 1895, which position he was holding at the time of his death. This occurred on August 5, 1896. He was buried in a Topeka cemetery. His funeral was very simple. He was survived by his wife and one son.
Governor Anthony was aggressively honest, always eager for the advancement of his beloved Kansas, a loyal, great-hearted citizen. His oratory will be remembered for its beauty of logic and reason.
A Standard History of Kansas and Kansans , written and compiled by William E. Connelley, transcribed by Carolyn Ward, 1998.