| | | |
| --- | --- | --- |
| 1918 KANSAS AND KANSANS | Chapter 55 | Part 1 |
CHAPTER LV
GEORGE W. GLICK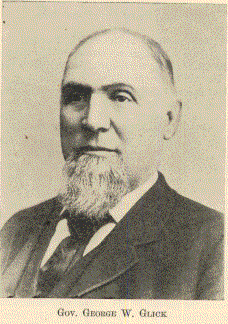 Gov. GEORGE W. GLICK
[Copy by Willard of Portrait in Library of Kansas State Historical Society]
George W. Glick was born at Greencastle, Fairfield County, Ohio, July 4, 1827. He was of German extraction, his great-grandfather having come to America from Germany in time to fight in the war of the Revolution. His father was prominent in local politics, and the boy learned much of honorable public service early in his youth. When he was five years old the family removed to a farm near Fremont, Ohio. Here he lived till he was twenty-one. He received a good education, and showed himself to be of a studious and practical disposition.
When twenty-one years old he entered the office of Buckland and Hayes, as a law student. Two years later he was admitted to the bar with the Cincinnati Law School students by the Supreme Court. He immediately opened an office in Fremont, where his intelligence and capacity for hard work gained him a rapidly growing patronage. He later removed to Sandusky City, where, in 1858, he was nominated for Congress for his district, by the Democrats. He declined the honor, but the same year, ran for State Senator. In this venture he was defeated. Later he was elected Judge Advocate General of the Second Regiment, Seventeenth Division of Ohio Militia, ranking as a Colonel.
In 1858 he was married to Miss Elizabeth Ryder, of Fremont. Two children were born of this union, a son, Frederick, and a daughter, Jennie.
Late in the year of 1858, Glick came to Kansas, and settled in Atchison. He became the partner of Mr. Alfred G. Otis in a law business. The firm was very successful and continued until 1873, when an affection of the throat compelled Glick to discontinue the business.
Glick was a soldier in the Second Kansas Militia, under Colonel M. Quigg. He was wounded at the battle of the Big Blue.
Glick was elected to the Legislature of 1863. He was re-elected in 1864, 1865, 1866, 1868, 1874, 1876, and 1882. In the session of 1876 he held the position of Speaker pro tem. in which place he evinced great fairness and wisdom. Also, in this year, he was appointed Treasurer of Managers of the Centennial Exposition by Governor Osborn, which place he ably filled.
Glick was always a firm Democrat, and was sent by that party as a delegate to the Democratic National Conventions of 1856, 1868, 1884, and 1892. In 1868 be had been nominated for Governor by his party, and, though sure of defeat, he answered the party call, and ran. Again in 1882 he was nominated, and entered heartily into a most strenuous campaign. This time he was elected, over great odds, defeating Governor St. John, the Republican candidate, for a third term. He entered upon his administration in 1883. It was an administration marked by economy, foresight, and fairness. In spite of party prejudices this has been generally admitted.
Kansas had grown so prosperous, that, in 1884, aid was sent by the farmers of the State to the flood-sufferers of Ohio. Sixty-one carloads of corn, the golden treasure of Kansas, were shipped that year, for charity. Also a trainload of corn was shipped. by the Kansas G. A. R. to aid in building a Confederate Soldiers Home, in Virginia.
Governor Glick, while not favoring promiscuous dealing in intoxicants that had existed before the Prohibitory law passed, considered the act premature, rash, and unwise. So he recommended the re-submission of the Prohibitory amendment. Nothing came of it.
On March 31, 1883, the Executive Council of Kansas appointed the first Board of Railroad Commissioners, consisting of three members for the State of Kansas.
On the eighteenth of March, 1884, a special session of the Legislature was called to deal with the "foot and mouth disease," prevalent to an alarming degree among the cattle. Few bills other than those relating to the cattle situation were passed at this session.
In 1884 the Government of the United States established at Lawrence, a school for training and educating the Indians. This school is known as Haskell Institute.
During Governor Glick's administration, the State Woman's Suffrage Association was organized. It was at this time, also, that Congress passed an act establishing a National Soldiers Home at Leavenworth.
At the election of 1884 Governor Glick was again the Democratic nominee. But the Republican candidate, John A. Martin, was elected. In 1885, Governor Glick was appointed Pension Agent, at Topeka, by President Cleveland, to which office he was reappointed when Mr. Cleveland again came into office. He served several terms as President of the State Board of Agriculture, and in 1908 was President of the State Historical Society. His life, after his retirement from politics, was spent alternately between his home in Atchison and an orange grove which he owned in Florida. In the winter of 1910, he fell, while at that place, and sustained the injury of a broken hip. His advanced age made it impossible for him to recover, and after a year of suffering, he died, on the thirteenth of April, 1911. He was eighty-three years old.
Governor Glick was an honorable, upright man. He gave freely of the best that was in him for the good of the State whose destinies he was guiding. Republicans and Democrats heartily agree as to the honesty, foresight, and kindness of Governor Glick.
The Legislature which met in 1913 appropriated the sum of $6,000 for a marble statue of Governor Glick to be placed in Statuary Hall, Washington. This statue was placed in the Hall June 24, 1914, and formally accepted July 18, 1914.
A Standard History of Kansas and Kansans , written and compiled by William E. Connelley, transcribed by Carolyn Ward, 1998.