| | | |
| --- | --- | --- |
| 1918 KANSAS AND KANSANS | Chapter 64 | Part 1 |
CHAPTER LXIV
WALTER ROSCOE STUBBS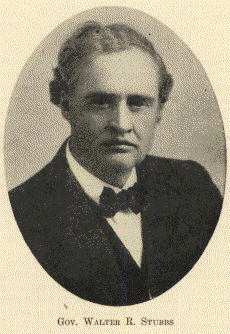 [Copyright by Squier, Photographer, Lawrence]
Walter Roscoe Stubbs, the eighteenth governor of Kansas, was born November 7, 1858, near Richmond, Wayne County, Indiana. He is of Quaker parentage, and boasts as his proudest heritage, the qualities and traits of that people. When he was still a child his parents removed to Iowa. From there they came to Kansas and settled at Hesper, Douglas County.
Stubbs was educated in the Douglas County public schools. For a time he attended the Kansas University, but did not graduate. As his parents were not wealthy, he was compelled to work. He engaged in many occupations, among them, clerking, farming, and driving a mule team. This latter labor suggested opportunities to him. So, before his twenty-first year, he had secured a pair of mules. With these he took a contract for grading a bit of railroad. With the assistance of another team he completed the work and made a small profit. This was the beginning of his contracting business. He came to be one of the best known railroad contractors in the West.
Mr. Stubbs did not enter the political arena until after his fortieth year. In 1902 he was nominated by the Republicans of Douglas County for representative in the Legislature. Though he had not solicited this office, he was elected, and he endeavored to fill it faithfully. He was re-elected in 1904. In that year he was also Chairman of the Republican State Central Committee.
Economy in the management of the State's finances was one of his special issues. As speaker of the House he appointed a committee to investigate the matter of an excessive number of employes of the Legislature. The result of this was the reduction of three hundred and twenty people - in 1903 - to less than seventy people in 1905.
In 1906 he was elected to the Legislature for the third time. He was nominated for Governor by the Republican party in 1908, and was the first Kansas Governor to receive his nomination direct from the people at a state-wide primary.
The Legislature of 1909 elected Joseph L. Bristow United States Senator from Kansas. Governor Stubbs urged the formation of a Public Utilities Commission. Also the need of better roads in Kansas.
An act was passed by this Legislature establishing a standard of weights and measures for staple products, and people appointed to examine and correct scales and measures. Several acts restricting insurance companies were passed. A child labor bill to protect children under fourteen years of age was passed, the use of intoxicating liquors on trains passing through Kansas was forbidden, precautions were taken against floods. An appropriation of $200,000 was made to erect a building at Topeka, as a Memorial to the soldiers and sailors of the Civil War. The building was to house the G. A. R. and the Kansas State Historical Society.
Liberal provision was made for the maintenance of State Institutions.
The Legislature of 1911 passed many progressive acts, protecting the interests of the citizens of Kansas. Among them, the most discussed was Senator Dolley's "blue sky" law - a law providing for the regulation and supervision of investment companies. This made the establishment and operation of a "wild cat" company an impossibility in Kansas.
In addition to a large appropriation for the use of State Institutions, $100,000 was appropriated by this Legislature for the establishment of a new State Insane Asylum.
Some little trouble was experienced in Southeastern Kansas in the enforcement of the Prohibitory law. There was talk of a special session to consider steps to combat a plague which killed many horses. However, the situation proved not to be serious enough to necessitate this measure, and nothing was done about it.
After leaving the office of Governor, Mr. Stubbs returned to his home at Lawrence, Kansas. Here he is the owner of a beautiful estate known as "Wind Hill." He is now engaged in the business of raising cattle, and has large ranches in Colorado, New Mexico, and Texas. He is one of the most enterprising citizens of Kansas.
A Standard History of Kansas and Kansans , written and compiled by William E. Connelley, transcribed by Carolyn Ward, 1998.