Dickinson County, Kansas

Hosted by Patricia Adams / About Me
One of the cities in Dickinson County is Abilene, a Cowtown of the Old West. As such many famous and infamous people have passed through Dickinson County. There is "Old Town" a collection of restored buildings and during the summer on weekends you might be lucky enough to observe a Bank Robbery in progress.
In the past century Dwight David Eisenhower lived in Abilene. His childhood home and his Library and Gravesite are very much a part of Abilene. Abilene and the surrounding county are famous for the Greyhound Racing Dogs. Abilene is a vibrant town and has so many wonderful businesses, and a grand sense of Community Spirit exists. I hope that you will be able to include this county in your Vacation and Research Plans. If you do please check out the Bed and Breakfasts in the area and The Excursion Train, a trip back in time.
Please come in and spend sometime looking through our pages. If you have a story or information to share, please feel free to drop me a line. For questions on ancestors, please use the queries and/or message boards.
Links on the Dickinson County web page may not be specifically within the site itself. If you find a link that does not work, please mail the URL to Patricia Adams. Thank you.
History Classes
Classes in Kansas History (Fall) and Wyandotte County History (Spring) are available at the Kansas City Kansas Community College, taught by Edwin D Shutt II, author of "Silver City, A History of the Argentine Community of Kansas City, Kansas", M.A. Emporia State University. Information is available online at the Community College site. As we gain experience in tracing our genealogy, we become more and more aware of how important it is to have a knowledge of the history of the area. I, personally, highly recommend these classes. Be sure to check into specific prices for credit classes, non-credit and senior citizens.
KSGenWeb - Kansas State Archives: The Digital Library of the KSGenWeb is a non-commercial entity dedicated to free access to records of genealogical value. All documents contained herein may be freely copied for personal and library use, as long as the KSGenWeb Statement of Use remains attached. These records may not be published in any format, including electronic (web pages or CD's) and print, without prior written consent of the contributor. In order to insure continued free access, violators of this policy will be vigorously pursued.
1999 Queries Prior to 7/1/99 / 1998 Queries / 1997 Queries
From the very beginning of the USGenWeb project there has been high interest in providing a place where visitors could post their queries and read those posted by others. In response to the growing interest and the difficulty in efficiently locating surnames of interest, two systems have developed to the point where it is now very easy to search these massive databases.
Surname Helper
Created by Patty Lindsay , Surname Helper is a surname searchable database of queries and surname registrations posted on various genealogy sites. Participating sites include both USGenWeb and WorldGenWeb sites as well as others. As of January 1999, there was a total of 3,203 sites using this system, of which 2,666 were members of the USGenWeb or WorldGenWeb systems. When this writer searched for "Finley" on the total system, 328 listings were returned. In addition to just queries, there was also found a number of biographies, cemetery, census, death, directory, history, military, newspaper, pension, and will records which come from the GenConnect system describe next. To access the Surname Helper search engine:
http://surhelp.rootsweb.com/srchall.html
GenConnect
GenConnect is a query board system where a researcher can post queries and share data. A query board system is where the responses to an initial query are threaded so they appear together as a set of information as the data accumulates. Started in December 1997 by Nancy Trice with a single county in Kentucky, the demand soon spread nationwide and worldwide. There are three types of boards, (1) those where you can post to and respond to queries, (2) those you can post to, but queries are not allowed, and (3) boards which are read only boards. Types of boards at this time, include: Bibles, biographies, deeds, obits, queries, pensions, and wills and as of January 1999 there were 6,008 boards in use. A global surname search on "Finley" on GenConnect returned 206 listings. To access this search engine:
BIOGRAPHIES: Kansas Biographies ( 1918 Standard History of Kansas and Kansans. Cutler's History of Kansas, Dickinson County)
CEMETERIES: CEMETERY EAST OF HERINGTON, KANSAS / Cemeteries in Dickinson County (GNIS) / Comprehensive List of Cemeteries on the Net / Lyona Community Cemetery / St. Patricks Cemetery, Chapman Copied and Submitted by Ellen Anderton / The USGenWeb Tombstone Project
CENSUS RECORDS: 1900 Dickinson County Census (Submitted by Pam Arnold) / 1915 Dickinson County Census / 1915 Solomon City Census (Submitted by Robin DeJarnett) A lot of work was done by the submitters of the census information. Their efforts are sincerely appreciated.
DICKINSON COUNTY LINKS: Dickinson County Links / Dickinson County 1959 Landowners / Dickinson County Surnames
HISTORY: Kansas at the History Channel / 1884 History of Chapman / Lyona Community History Page (Bruce T. Gugler)
IMMIGRATION/NATURALIZATION: U.S. Naturalization, 9747 No. Conant Ave., KCMO 64120
LINKS: Ancestors Resource Directory by PBS / Directory of Genealogical/Historical Societies in Kansas / Finding Kansas Genealogy (Links shared during the presentation at Tri-Conference in Whchita 13 Apr 2000) / Interactive Santa Fe Trail / Kansas/Other Sites to Search / Other Kansas Links / People of the Old West / People of the Trails / Search the USGenWeb Archives / Vital Records Information
MAPS: Kansas Maps circa 1880 / 1910 Kansas Maps (Old Area Maps)
MILITARY: Civil War Pensioner Index (Digital Libry of KSGenWeb)
SCHOOLS: History of Dickinson County Schools / One Room Schoolhouse Project
SOCIAL SECURITY: Ancestry's Online Social Security Death Index
Midwest Historical and Genealogical Society would like to place a link from their KS Cemeteries Page to all of the Kansas pages that have tombstone inscriptions on them (see example: Edwards Co. - Fellsburg). If you have walked a cemetery and would like to contribute please email Helen Bortz and she will get it online for other Researchers to use. Thank you very much.

If you have ancestors who emigrated from Sweden or Scotland to Kansas, please check out
The Swedish Connection in Kansas and/or The Scottish Connection in Kansas
One way to find out about your Scottish heritage and enjoy things related to Scotland (its present and past) is to attend one of the numerous Scottish Highland Games and Festivals throughout North America. There are over 300 games held each year. The MacLachlan Site is a good place to find the locations, dates, times, games information, etc.
Native American History
Indian Graves and Cemeteries in Kansas
Kansas American Native Genealogy
Bibliography of Native American Materials at KY Law Library
KU Student Names Kansas Native American Student of the Year

Surrounding Counties
Clay / Geary/Davis / Marion / McPherson / Morris / Ottawa / Riley / Saline
KSGENWEB INTERNET GENEALOGICAL SOCIETY COPYRIGHT NOTICE: In keeping with the KSGenWeb policy of providing free information on the Internet, this data may be used by non-commercial entities, as long as this message remains on all copied material. These electronic pages cannot be reproduced in any format for profit or other gain. Copying of the files within by non-commercial individuals and libraries is encouraged. Any other use, including publication, storage in a retrieval system, or transmission by electronic, mechanical, or other means requires the written approval of the file's author.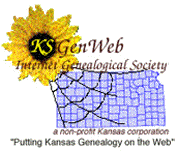 Search all of the Kansas Genealogy Web Site
KSGenWeb logo designed/copyrighted by Tom & Carolyn Ward (State Coordinators) for the limited use of the KSGenWeb Project. Permission is granted for use only on an official KSGenWeb page.

USGenWeb Logo designed by Linda Cole.
Page Updated: 06-Sep-2015