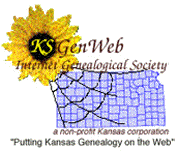 Gove County
Kansas
Lookups
---
Gove County Kansas
Lookups
---
The following list consists of books or resources on Gove County, Kansas.
Resources, the titles in [brackets] below, are unpublished sources, unavailable at libraries or bookstores.
To request a lookup please follow these simple guidelines:
Put GOVE COUNTY LOOKUP in the subject line of your email to the volunteer. This will insure that your request is not overlooked.
Put the name of the book or resource on the first line of your message, followed by the names you are looking for.
Request only one or two names in one book or resource per request.
Don't forget to thank your volunteer!
Book title or resource
Lookup Volunteer
SWEDISH SETTLERS OF JEROME AND LEWIS TOWNSHIP resource person


Mr. Lewis has notes from census records, newspaper articles, and other source material on Swedes who settled in Gove County. He has also written an article on the Swedish Colony in Gove County which has been published in two journals.

Ray Lewis
rlewis70@knology.net
If you have a book or other resources available for Gove County, won't you help? Most lookup volunteers average only a few lookups a month. Remember though that without the author or publisher's written approval you can only volunteer to do lookups for books and articles published before 1924. This is due to the U.S. copyright laws.
Help us make the KSGenWeb pages the first... and best... stop on your quest for your Kansas roots.
---
---
Please email any suggestions to Lynette Wolf or Cristy Tuttle.
---
This page was established by Bill & Diana Sowers on July 7, 1999
Last updated Sept. 4, 2004.
---
---