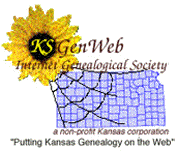 Gleanings
from
Lincoln County Kansas
Newspapers(Harvested by Bill and Diana Sowers, Tracee Hamilton and others)



&nbsp


SPECIAL NOTE
..... The gleanings here come from microfilmed newspapers available on interlibrary loan from the Kansas State Historical Society. Click HERE for more information on borrowing film from the Society.
---
Local newspaper offer a wealth of information and insight into the lives of our ancestors. We have here gleanings from Lincoln County newspapers for your perusal. Included here are marriages, births, divorces, departures, arrivals, special celebrations, tragic accidents, etc. Most newspaper death notices or obituaries please are located on our Lincoln County Obituaries page.
---
An important note... the places, Colorado and Indiana, sometimes refer to locations (i.e. townships) within Lincoln County, not the states... We have tried to indicate this when those names show up.
---
---
The Lincoln County Kansas newspaper gleanings are divided into 16 different pages on this website: