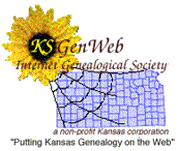 Chase County Kansas
Surnames

Surnames

I invite you to enter your surnames for your ancestors in Chase County.

Enter your CHASE County Surnames Here-------- View Submitted Surnames Below

If you have a surname you're researching in Chase Co. Kansas, please submit them. Be sure to include: Chase Co KS Surnames -- in the subject line. List your Surnames! Enter your name and email address. We encourage you to include your address, in case your e-mail address would change. Submit them via the link below. Be sure to check back in a few days to view them on these pages. Thanks in advance.

Chase County Surnames

ALSO -- Enter all of your KANSAS Surnames Here

Kansas Surname List -- Surname Page for all Kansas surnames (This service is NOT part of The KSGenWeb Project. Please do not ask them about the queries posted on these pages)
View Chase County Submitted Surnames
A | B | C | D | E | F | G | H | J | K | L | M | N | O | P | R | S |

A

Alfrey

Armstrong
---
B
Bailey
Bailey
Baker
Baldwin
Banks
Bastin
Beardmore
Berkshires
Betty
Beverlin
Beymer
Blackburn
Boenity
Boenitz
Books
Bray
Brent
Breese
Brinegar
Bringham
Broom
Brumbaugh
Burnside
---
Return to Chase County | Chase County Lookups
---
Background and KSGenWeb logo were designed and are copyrighted by
Tom & Carolyn Ward
for the limited use of the KSGenWeb Project.
Permission is granted for use only on an official KSGenWeb page.
The USGenWeb Logo was designed by Linda Cole.
---
Last updated 011/17/02
---
Check out these links! Are you interested in hosting one of the KSGenWeb orphan counties?
If so contact Debbie Wafford.
Debbie is our Orphan County Coordinator and will be glad to answer your questions.