| | | |
| --- | --- | --- |
| 1918 KANSAS AND KANSANS | Chapter 59 | Part 1 |
CHAPTER LIX
EDMUND N. MORRILL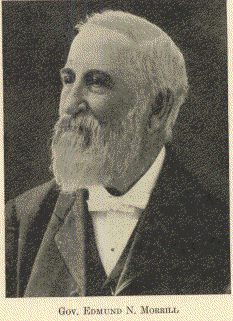 [Copy by Willard of Portrait in Library of Kansas State Historical Society]
Edmund N. Morrill, thirteenth Governor of Kansas, was born at Westbrook, Cumberland County, Maine, February 12, 1834. He came of a prominent New England family. He was educated in the common schools, and at Westbrook Academy, and also learned the tanning trade in his father's shop. After a couple of business ventures he came to Kansas, at the age of twenty-three, and settled in Brown County. In company with a partner he erected a saw mill, which was burned shortly afterward. It required much time and labor for Morrill to pay off the debt occasioned by this misfortune.
Morrill was a member of the first Free-State Legislature, in 1857. In 1858 he was elected a member of the Legislature under the Lecompton Constitution, but the Constitution failed of adoption. At the beginning of the Civil War Morrill enlisted as a private in Company C, Seventh Kansas Cavalry. He was promoted to the rank of Captain, and, later, to Commissary of Subsistence. He was in charge of the Government stores at Forts Henry and Donelson. In 1865 he was honorably discharged. He returned to Brown County and was elected Clerk of the District Court in 1866. In 1867 he was elected County Clerk and in 1868 was again elected clerk of the District Court. In 1869 and in 1871 he was elected County Clerk. In 1872 he was elected State Senator and he was re-elected in 1876.
He was elected Congressman-at-large in 1882 by a large majority. In 1884, 1886, and 1888, he was elected to Congress from his home district. He was ever a friend of the old soldier, and was active in securing pensions for them. Mr. Morrill declined a re-election to Congress in 1890, and retired to private life.
He was twice married, his first wife dying childless. The second one bore him two daughters and a son.
In 1894 he was elected Governor of Kansas by the Republican party. An Appellate Court was established by the Legislature. This was demanded by the immense amount of business before the Supreme Court.
Governor Morrill favored a Constitutional Convention. Among other things to be remedied he called attention to the fact that the legislative sessions were too limited in time, that there should be a constitutional prohibition of trusts and combinations for the purpose of raising prices, and that there should be a change in the apportionment laws, so that representation should be more equal.
An act was passed during Morrill's administration appropriating $30,000 for irrigation experiments, and a Board of Irrigation was appointed. This has resulted in much good for Kansas.
A law was also passed providing a fine and imprisonment for giving or taking a bribe.
But the Legislature of 1896 did not enact any important laws, nor was its session marked by the stormy vicissitudes of the body immediately previous.
Kansas prospered steadily. Her gas resources proved to be far beyond all expectation, and manufactories, and smelters grew up in the gas fields.
In 1896 Governor Morrill was unanimously renominated for Governor. But this year, being the famous "Free Silver" year, when politics were confused and upset, he was defeated.
He then retired to private life, resuming his banking and real estate business at Hiawatha. Here he dwelt, until his death, which occurred in Santa Rosa Hospital, San Antonio, Texas, March 14, 1909.
Mr. Morrill accumulated a large fortune, mostly through land speculations. But his riches never caused him to oppress the poor, and it developed in the campaign of 1896 that he had never foreclosed a mortgage.
A Standard History of Kansas and Kansans , written and compiled by William E. Connelley, transcribed by Carolyn Ward, 1998.