| | | |
| --- | --- | --- |
| 1918 KANSAS AND KANSANS | Chapter 60 | Part 1 |
CHAPTER LX
JOHN W. LEEDY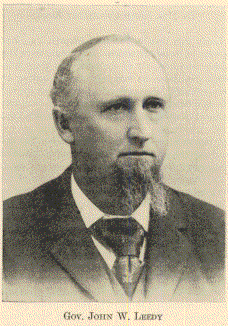 [Copy by Willard of Portrait in Library of Kansas State Historical Society]
John W. Leedy was born in Richland County, Pa., March 8, 1849. His ancestors were of Swiss extraction. His people were Dunkards, and their simple piety and integrity of character had their influence on the boy. His father died when he was very young, leaving his family in straitened circumstances. So the boy was thrown on his own resources, and began life as a farm-hand. This left but little time for school, and a few months spent in rural schools represented his only opportunity for education.
Leedy was fourteen years old in 1864, and he then endeavored to enlist in a military company. But the protests of his mother and his own youth prevented his being accepted. However, he followed the company to the front and was with it until the close of the war.
In 1865 he went to Princetown, Indiana, and for three years clerked in a store. As this indoor occupation proved injurious to his health, he went to Carlinville, Illinois, and worked on a farm for five years. At the end of this period he purchased a small farm with his savings.
He married Miss Sarah J. Boyd, of Frederickstown; Ohio, by whom he had three children. They moved to Coffey County, Kansas, in 1880, and took a farm near Leroy. He accumulated some property, which was later lost through business reverses.
Governor Leedy was a Republican, but in 1872 he went over to the Democratic party, remaining there until the Populist party was organized; then he became Populist. He was elected State Senator in 1892 as a Populist.
In 1896 he was elected Governor, being the second chief executive chosen by the Populist party. The Legislature of 1896 elected William A. Harris, an ex-Confederate soldier, United States Senator from Kansas. This Legislative session was the longest in Kansas history, lasting sixty-seven days. Over 2,000 bills were introduced, but less than three hundred were passed. A Text Book Commission consisting of eight members was created to be appointed by the Governor with the consent of the Senate.
During the campaign of 1898 the matter of regulating railroad charges by law was much discussed. A special session of the Legislature, to consider railroad matters, was called by Governor Leedy, which continued from December 21 until January 9, when Governor Stanley was inaugurated. The old Board of Railroad Commissioners was abolished, and a "Court of Visitation" established. This Court was given a general supervisory power over all railroads operating in Kansas. Other legislation was enacted at this session.
Governor Leedy was renominated in 1898, but was defeated at the polls. During the administration of Governor Leedy, war with Spain was declared by the United States. Four regiments were raised in Kansas. Three of these were not called to the field. The Twentieth Kansas distinguished itself in the Philippines and its record is a source of great pride to Kansas. The work of Kansas soldiers in this war is treated more fully in another article.
Kansas had recovered from the "hard times" and grew and flourished under the Leedy regime. Industries received a new impetus, and agriculture gained immensely. The farm products of Kansas for the year 1897-98 amounted to $288,259,056, which showed a gain of $4,350,631 over the preceding biennial period.
At the close of his term as Governor Mr. Leedy became interested in mining operations around Galena. He went to Alaska in 1901, but finally located at White Court, Alberta, Canada. There he still resides.
A Standard History of Kansas and Kansans , written and compiled by William E. Connelley, transcribed by Carolyn Ward, 1998.